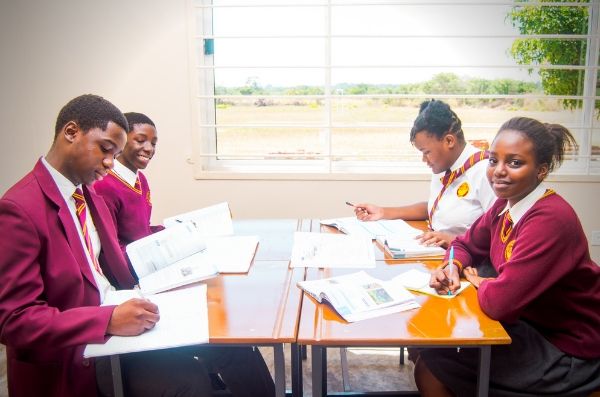 A new library for a Jesuit school in Lusaka will help to close the education gap in Zambia, helping its students to fulfil their potential.
St Ignatius College in Lusaka has been a Jesuit school since 2012, but its history goes back to the 1970s when it was Leopards Hill Secondary School, one of the oldest private secondary schools in Zambia. The community school was built as part of the response to the educational crisis which had resulted in 100,000 students failing to secure a grade eight place, leaving them unable to proceed with their studies. Since then, the school has not only played a significant role in providing spiritual and academic formation to its students but has also responded to the developing needs of the wider community.
The school has a new board, principal, and teaching staff and has embarked on a five-year Strategic Plan giving management a new mandate to expand enrolment and deliver the expected Jesuit education. When it was donated to the Society of Jesus, it was badly in need of structural improvement, most urgently a new library and staff room. Irish Jesuit Missions has helped to fund these improvements, to help to ensure it is an optimum learning environment for its 300 students.
On a national level, only 30% of Zambian students are currently meeting minimum levels of proficiency in reading, mathematics, and science, something that has been largely attributed to poor public spending in education, including poor infrastructure. When students do graduate, they are unprepared with the necessary technical skills for successful careers and positions of innovation leadership that the country desperately needs. Improving the physical environment that students learn in is one factor that will have a positive impact on their academic performance.
Loyce Kasanga, a Guidance Teacher at the school, said "I see that the library will help close the education gap — for students who might otherwise be disadvantaged, the library can provide access to the stories, information, and technology they need. I also see that the library embodies the principles of 'learner agency' — students especially those that struggle to understand in class having the independence to choose their own reading, and to find resources that help them develop their interests and strengths at their own pace. I cannot wait to help our students to use this facility."