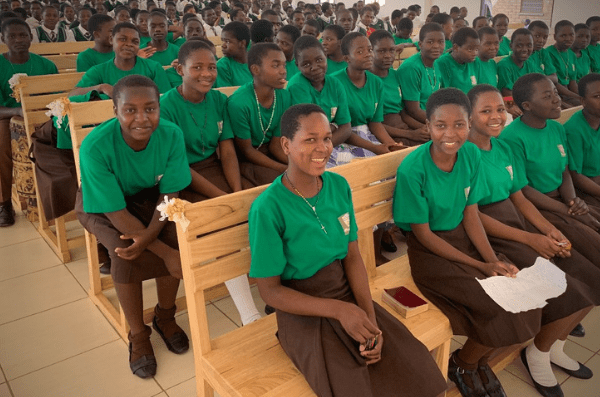 "In looking ahead, it's good to look back!" says Kenneth Simalalo SJ, Head Teacher of Loyola Jesuit Secondary School, Malawi, as he reflects on the last ten years which led to the recent graduation of a class of young men and women who will go on to shape the future.
"In looking ahead, it's good to look back! Those were my thoughts while watching the first graduation of Loyola Jesuit Secondary School (LJSS) in Kasungu, Malawi, in early June. It was a wonderful occasion, joyous, colourful, hopeful. As I saw the graduates – 48 boys and 49 girls – process into the celebration field, I recalled the empty plot of grass and trees and scattered gardens that had been here only ten years ago.
We Jesuits of the Zambia-Malawi Province (ZAM) had made the ambitious – almost dangerous – decision to open a new secondary school in one of the poorest countries in the world. Where less than 30% of the youth have a chance to attend secondary school and less than 10% actually complete the required four years. Sadly, the statistics for girls are significantly lower.
The decision to go where there was great need was made, before the Universal Apostolic Preferences had directed us "to discern who are the most vulnerable and excluded persons in our midst and to find ways to walk closely beside them." That decision shaped the character of our future LJSS: located in a poor rural area, co-educational and all-boarding, and co-funded by the Government of Malawi which sends and pays teachers, bringing down fees for families to less than USD $400 a year.
In a country of 18 million people, more than 50% are below the age of 16. There is no viable future for Malawi unless better educational opportunities are offered to its youth. It was this crucial fact that was influential in the ZAM Province's decision to take the risk of establishing LJSS on a deserted plot of land on the outskirts of a town which was the capital of tobacco crops; a town declining as tobacco sales globally rapidly decrease.
LJSS from the start strove to offer more than excellent education courses. It has made an explicit effort to be a school guided by Jesuit pedagogy. "Come to Loyola not just to learn to make a living, but to learn to make a difference!" And that means we are really concerned about the future – of individuals, families and neighbourhoods, of our nation and of our Church.
We don't want to see a nation where more than 50% of the people live below the poverty line, without decent access to the basic needs of life. We don't want to see a government where high political figures leave office with much more money than they had upon entering. We don't want to see a Church where fewer people have access to the Sacraments because of a paucity of ordained priests.
Our aim is for LJSS students to make the well-known Ignatian pedagogical tenets be real, be realistic, be realisable. On the front of our Administration Building are the words "Forming women and men with and for others." The walls of our classrooms display the four powerful goals of Competence, Conscience, Compassion, and Commitment.
One way of putting this pedagogy into practice at LJSS is through our mandatory "service" programmes. During school breaks and during Lent, all students are obliged to fulfill service obligations of assisting persons in need. Students pick programmes themselves and in reporting back must explain why they picked these and what it meant for them to be involved. Visiting prisoners, taking care of the aged, tutoring primary students, visiting persons hospitalised, planting trees, etc. The most recent Lenten project focused on care of the environment by cleaning up local plastic waste, thus responding to the urgent calls of Pope Francis.
"We try to move students beyond their comfort zones by reaching out to others. This helps them realise that no one is too poor to give some time, material, thought, presence. If our students are formed now for that service, they will make a difference for our future!"
Author: Kenneth Simalalo SJ, Head Teacher at Loyola Secondary School, Malawi.