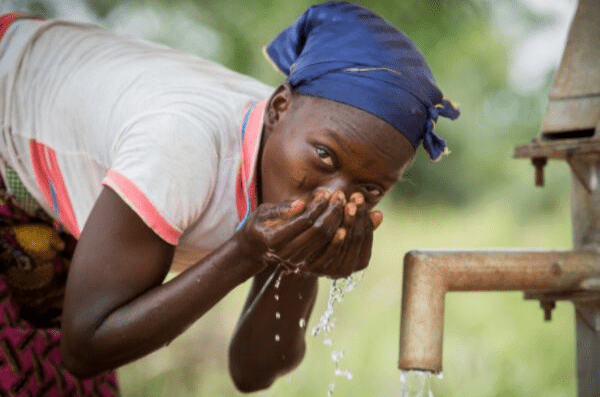 People living in poor, rural communities in Zambia are not informed about their rights to demand access to health services, clean water and better schools. A project run by the Jesuit Centre for Theological Reflection (JCTR) is changing this.
'Promoting Fullness of Life Through the Promotion of Human Rights' funds education and advocating for the economic, social and cultural rights of four communities in the districts of Kasama, Kitwe, Livingstone and Mongu. The JCTR team works with these communities to identify the biggest challenges they face and helps them to engage with local authorities and government, to question why they are denied access to social services.
Healthcare and Sanitation Provision
Health, education, water sanitation and hygiene practices are a big challenge across Zambia, especially in rural and poor communities. Most people are forced to use pit latrines, and access water from shallow wells. There are sometimes water kiosks available, but they cost money to use and most people can't afford the fees. Unsafe water sources cause diseases, and the damage this causes is compounded by the lack of access to health services. There are few health centres, and those available are poorly stocked with medical supplies and understaffed. This is a big risk to the health of the population. Women in rural Zambia travel long distances to give birth in poor maternal facilities that don't have access to clean and safe water.
By collaborating with these communities, the project is changing things. There is increased community action. People are now challenging service providers and questioning the use of resources that are allotted for their community development. Local authorities have responded to this engagement, as they are forced to listen now that these communities know how to articulate their rights.
Improving Conditions in Schools
Most of the schools in these communities were originally meant to have classes from Grades 1 to 7. But to make education accessible to more pupils, they now also include Grades 8 to 10. The buildings have not been upgraded to accommodate the extra pupils. The result has been a reduction in learning hours for all pupils so that all grades can be taught. Teacherpupil ratios have become too high, and learning materials are in short supply. This affects the quality of education children receive in these communities.
Things are now improving throughout Zambia. Schools in Mongu now have improved boreholes for water as well as classroom block rehabilitation, which they received funding for after holding advocacy sessions facilitated by JCTR. Similarly, community schools in Livingstone obtained funding for staff accommodation for additional teachers. Schools have also received funding to update their computer labs.
Embodying the Universal Apostolic Preferences (UAPs)
The JCTR project, aimed at raising awareness on peoples embodies the spirit of one of the UAPs; that of walking with the poor, empathising with their situation and trying to change it for the better, by working with them and advocating on their behalf. The centre and its project are also grounded in Catholic Social Teaching, which has helped with the application of UAPs. However, the work of the centre and the progress of the project could be affected by external forces in Zambia.
The Next Decade
The upcoming general election in 2021 will change the social and political environment and provide an opportunity for JCTR to engage the public and use the UAP guidelines to shape the discourse. Zambia's debt burden is an issue that may affect the work of the organisation over the next decade. As it will affect funding for social services which will impact on rural communities' access to heathcare. Youth engagement will be vital over the next ten years. This is a group that is often neglected when in the context of marginalised communities. We will share our vision of leadership and include the lessons of the Universal Apostolic Preferences as we journey forward with the leaders of the future.
Author: Alice Mapulanga, JCTR Media and Information Officer
*The Jesuit Centre for Theological Reflection (JCTR) is a research, education and advocacy centre that promotes education and action on issues linking Christian Faith and social justice in Zambia and Malawi. Irish Jesuit Missions is a supporter and funder of programmes run by the JCTR.