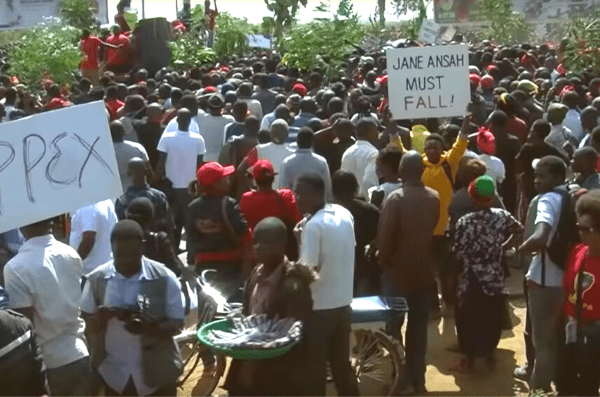 People living in Dzaleka Refugee Camp have fled from conflict in their own countries to the stability of Malawi. But a contested election result has now caused civil unrest in what was until now a very peaceful country.
Malawi, one of the poorest countries in the world, has been relatively stable for a very long time despite enduring the same degree of political corruption as some other African nations. But earlier this month there were protests and demonstrations in the capital Lilongwe and beyond, which were never seen before, because of paliamentary and presidential elections held last May. The parliamentary elections were undisputed; the opposition party won.
However, the presidential election is highly disputed and controversial due to the re-election of Peter Mutharika, the previous president, much to the population's disbelief and disgust. The Malawian people are saying that the election result is not legitimate and protested to call for him to step down. They also demanded the resignation of the election commission chair, Jane Ansah, who is accused of using Tipp-ex correctional fluid to change the vote tallies. The protests, which are mostly peaceful, are a surprise in a country that has been passive in the face of political corruption up to now and reflects the huge protests seen recently in Zimbabwe and the demonstrations and strikes in South Africa. The affair has now gone to court so the country awaits the outcome of the case.
REFUGEES IN MALAWI AND DZALEKA CAMP
Malawi is a small country, and quite fertile, but is desperately poor and differs in its capacity for refugees to somewhere like Uganda which is generous in its distribution of land to displaced migrants. In Malawi, refugees must live in camps, not on settlements and do not get the rights afforded to citizens or any land to farm. However there is no ill-feeling or resentment among its people towards foreigners, despite their poverty.
Dzaleka Refugee Camp is located in the highlands of Malawi, an hour's drive from Lilongwe. The camp was established by the United Nations High Commissioner for Refugees (UNHCR) in 1994 in response to a surge of forcibly displaced people fleeing genocide, violence and wars in Burundi, Rwanda and DRC. It has become much bigger in the last few years and is now home to 41,000 people, when it used to have 35,000. The increase was not sudden, 300 or 400 people arrive every month from DRC, and to a lesser extent, Burundi. Dzaleka was not designed for that many people and it now is operating beyond its capacity which is putting its resources including classrooms and teachers under extreme pressure.
OVERCROWDING DENIES CHILDREN AN EDUCATION
More than half of school-age children in Dzaleka are not in school at all. JRS is responsible for most of the education in the camp, and there are also some small independent schools run by churches and NGOs. JRS has a pre-primary school of 282 children, and a secondary school with 800 students. In the middle is its primary school which has a hige student body of 4,500. The size of the primary school means that classes are too big, with up to 120 children, and the secondary school does not have the capacity to take in the children from it. The UNHCR has decided to build a new school with the international Educate a Child organisation, but even another another secondary school of same size as the existing one would not be enough.
THIRD-LEVEL TRAINING
JRS provides post secondary education, in courses that will be useful to the individual and to the camp community, including Computing, English and Agriculture. At the moment, 400 young people are training via the internet, thanks to new buildings erected by JRS for the purpose. They use solar power to provide electricity. These courses are very popular with young people who finish school and want to know where to go next. JRS employs more than 200 people in Dzaleka, many of them teachers who have been through their own training programmes.
THE FUTURE FOR REFUGEES
The amount of time that a person spends in a refugee camp is on average 17 years, worldwide. In Dzaleka it is often longer. There are many children who were born in the camp; it's the only life they know. The chances of international resettlement for camp residents are very small, and the chance of returning home for refugees in Dzaleka is also slim. Many have closed that chapter in their lives. The camp is here to stay for the foreseeable future, unless the situation in DRC changes significantly in the next few years.
Everyone in Dzaleka is looking for a better future and the majority of refugees in the camp have their name on the resettlement list, seeking to relocate to the Australia, Canada or the USA. The success rate is minimal, maybe 2 percent of families are selected. But still they hope. There is a high demand for psychosocial care and counselling in the camp, as people deal with the stress of unable to escape a situation which is meant to be temporary.
STABILITY IN MALAWI
Malawi has been at least been a peaceful and stable environment for the residents of Dzaleka, a place of respite from the violence and unrest in their own countries. The recent protests may be an indication that this is now changing.
Something that would ease the pressure on Dzaleka camp and its inhabitants is the issuing of identity cards to people who have refugee status by the Malawian Government, which would enable them to move into the city and find employment like ordinary citizens. This has been under consideration for a long time, and JRS is hopeful that it will be implemented in the near future. It would be a very positive move for camp residents who want and deserve the opportunity to contribute to society and the economy in Malawi.
Tim Smith, JRS Southern Africa Regional Director was interviewed by Martina Madden of Irish Jesuit Missions for this article.
(Photo credit: www.africanarguments.org)