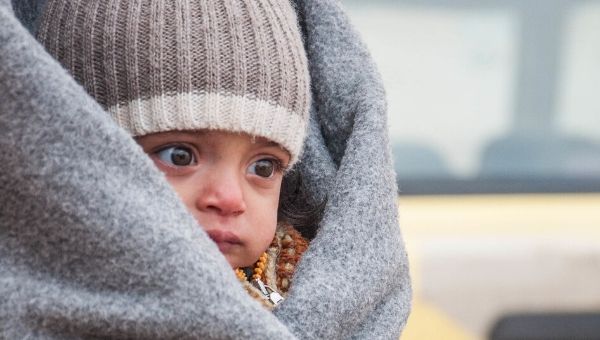 Winter nights are cold and dark, and it's a relief to come home to a warm house. For refugee children in Lebanon, cold weather makes it even harder for them to cope with living in makeshift or inadequate accommodation, many miles away from home.
The winter can be harsh in Lebanon, with low temperatures and biting winds. In the Beqaa Valley, which is home to many thousands of Syrian refugees, the altitude makes winter much colder than on the coast, and the weather is severe at this time of year.
The Syrian war, now in its ninth year, displaced 6 million people internally and turned almost as many into refugees. A million and a half people ended up in neighbouring Lebanon, adding to its own population of just over 4 million, and giving it the highest ratio of refugees to native population in the world. In this time, the Lebanese Government's refugee policy has turned from welcoming, to austere and hostile, something which is exacerbated by the country's crumbling economy and high unemployment rate. It can also be understood as part of a deep-seated culture of sectarian nationalism, in a country that is divided roughly equally among Sunni Muslims, Shiite Muslims, and Christians.
Civil Unrest in Beirut
Lebanon has had weeks of anti-government protests recently, fuelled by anger at corruption among the sectarian political elite who have governed the country for decades. The catalyst for the protests was an announcement by the Government that a tax would be introduced on various messaging applications such as WhatsApp. This came at the end of a month which had seen huge fires across many parts of Lebanon, currency uncertainty, and price increases and was the final straw in an already tense environment. The influx of Syrian refugees has put pressure on what was an already dilapidated civic infrastructure and placed a additional burden on Lebanon's public finances.
Life for Syrian refugees in Lebanon is increasingly difficult because of these tensions and due to discriminative conditions (social, legal, and infrastructural) being imposed by the Government which compromise their right to health, employment, education, safety, and mobility. There are heightened security requirements in Baalbek, enforced by Lebanese authorities. Syrians do not have permission to travel on the road late in the evening and at night, and the municipality is preventing them from starting small businesses, leaving them with limited options of obtaining income. Most families are in debt. They are stranded in an increasingly hostile environment, struggling to survive.
JRS Supports Refugees in Lebanon
The Jesuit Refugee Service (JRS) in Lebanon works with these people, providing education and training to enable them to create fulfilling lives and look towards a positive future. The organisation works in three private schools in Baalbek, in the Beqaa Valley region, to help refugee children and recover a sense of living normally and maintain some continuity in their schooling. As well as education, they run projects in the schools to help children to deal with the trauma they have endured. JRS, with support from Irish Jesuits International, distributes food and winter clothing to vulnerable students in the schools as the weather worsens at this time of year.
Irish Jesuits International and JRS Lebanon are working together to provide the simple gift of warm blankets for refugees in the Beqaa Valley region. Will you help?
This gift will help a Syrian refugee child to cope with a harsh winter in a cold place, far from home.
Click here to give the gift of winter blankets
(Photo: Salat Albareed/JRS International)