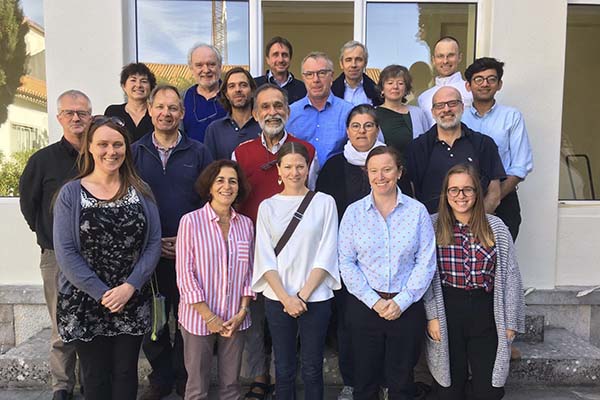 Members of the Xavier Network (XN) met in Portugal from 4th to 6th of October for a three-day workshop on Supporting XN Partners in Child Safeguarding. The workshop was held at Torre d´Aguilha Seminar, located in Cascais municipality, around 20 Km west of Lisbon. The participants included Directors of the different member organizations in Europe, Canada and Australia, as well as personnel working in international programs and with volunteers.
The goal of the Child Safeguarding workshop was to get a deeper understanding of safeguarding issues within our partner organisations and our responsibilities around recognizing and reporting child abuse; to equip XN members with the skills to support Partners more effectively in implementing their child safeguarding policies and procedures; to develop our skills in monitoring child safeguarding to ensure a consistent culture of protection within the XN.
The sessions were facilitated by Emer Kerrigan, of the Irish Jesuit Missions who is also on the XN Child Safeguarding Steering Committee and Brian Cranmer, the Jesuit Refugee Service (JRS) International Child Safeguarding Advisor. The participants benefitted from the invaluable presence of Fr Kyara Corbinian SJ, Director of the East African Province Development Office; Fr Augostine Ekeno SJ, Parish Priest of St. Teresa's Parish in Rumbek and Director of Multi-educational and Agricultural Jesuit Institute (MAJIS) in South Sudan; and Fr John Guiney SJ, Coordinator of the Promotion of a Consistent Culture of Protection Project.
The workshop was a dynamic and pedagogical experience that allowed participants to build better knowledge and skills on how to recognise child abuse and how to prevent child abuse and how to work together with Partners to create a safer environment for children. Sessions included:
• Legal Frameworks
• Policies and Procedures
• Preventing Harm to Children
• Implementation and Monitoring
• Communicating the Message
• Local Advice & Support
• Training and Education
• Applying and Validating the XN Minimum Requirements in Child Safeguarding
The workshop created a respectful and safe environment where participants exchanged their practical experiences in supporting partners on safeguarding. Participants were able to explore the pool of resources developed by the XN Child Safeguarding Steering Committee through the various case studies and exercises, and refer to the additional Child Safeguarding Resource Section on the XN website.
Written by Emer Kerrigan, Operations Manager at the Irish Jesuit Missions. Emer has 10 years of experience in supporting partner organisations in developing countries on developing child safeguarding policies, implementing such policies and monitoring implementation. She has 18 years within the international development sector, having worked previously with JRS in South Sudan (2004-2006) and supported Jesuit Provinces and Jesuit works as partner organisations prior to her joining the Irish Jesuit Missions.