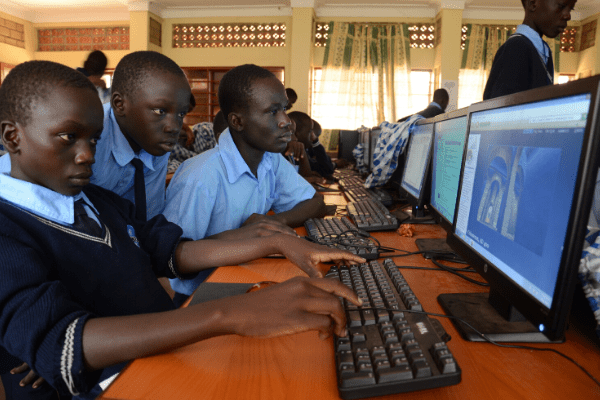 Irish couple Martin and Laura gave the gift of computers to a school in northern Uganda and are regular donors of Irish Jesuit Missions. Their generosity is a reflection of their gratitude for Martin receiving a heart transplant in 1988 which saved his life.
Students in Ocer Campion Jesuit College in Gulu, Uganda now have 25 new computers for their school, thanks to the generosity of an Irish couple. Martin and Laura have been loyal supporters of Irish Jesuit Missions for many years, and have donated to several of our projects. They have a long history of giving to charity, which started when they were first married.
Their children have had the ethos of giving instilled in them from a young age, when the family began to buy chickens and goats for people in developing countries, from the Irish charity Bóthar.
Gratitude for a heart 
More than 30 years ago, Martin was one of the first people in Ireland to undergo heart transplant surgery. Aged just 47, he had been diagnosed with the heart condition cardiomyopathy and was forced to take early retirement from his job at a teacher. His surgery in The Mater Hospital made him one of the first people in Ireland to receive a heart transplant. Its success has added years to his life and it is gratitude for this and the "many blessings" that the family has received that has inspired he and Laura to give back to those who are in need.
"We have so much to be grateful for", says Laura. "Thank God, Martin got a heart transplant in 1988. No money could buy that, and helping others is our way of thanking God and the donor family. People don't realise how much good a little sacrifice can do."
Ocer Campion Jesuit College 
Ocer Campion Jesuit College is a co-educational boarding school which opened in 2010, in Gulu, in the north of Uganda. The school was set up to give children in the region, which was badly affected by the violence and chaos caused by Joseph Kony and his Lord's Resistance Army (LRA), the chance of a decent education and a positive future.
The college has a dedicated teaching staff and students, and is achieving academic excellence, but has been hindered by a lack of resources, including an adequate number of computers. Before Martin and Laura made their donation to Ocer Campion, the computer laboratory had very few machines and some students were trying to learn how to use a computer by following their teacher's written instructions on a blackboard. Their gift will have an immense and lasting impact.
Legacy of Gift
Laura told us a story that indicates what motivates her and Martin to be so generous with their money. One day she was in the local branch of her bank, getting a draft for a donation. "You again" said the manager who had to come to sign the draft. He told Laura he had just returned from holiday, to which she replied "Your holiday is done and dusted but this draft and the good it will do will be there long after me." He smiled and had to agree.
Akumu Lillian, a Senior 6 Student in Ocer Campion was asked about her opinion about the new lab and she said:
"Now the computers are fast. Before it used to take so long to open a file, or to save a document. Also you would find about six students crowded on one computer. Now every student can use his or her own, which makes learning easy."