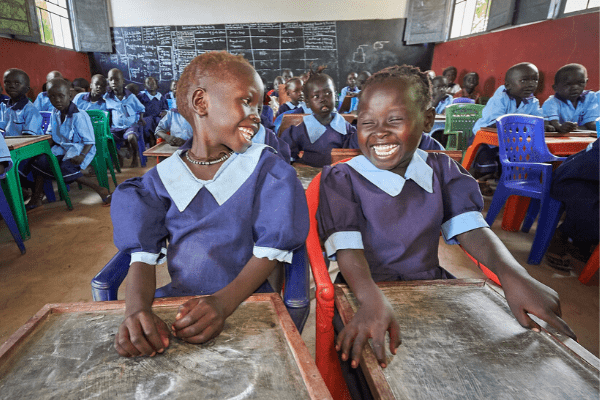 Girls laugh as they hold chalkboard tablets in a primary school in Bunj, South Sudan, sponsored by JRS. (Paul Jeffrey/Misean Cara)
One of our youngest donors, 12-year-old Sarah from Milltown in Dublin, raised money earlier this year for the education of refugee girls in South Sudan.
It is not the first time that Sarah has reached out to help people in need. Her family got to know a family from Syria who arrived in Ireland as refugees. They assisted with getting their children into the same school as Sarah, who helped their son with his school work as he settled into his new life.
This experience inspired her to seek opportunities to help children in difficult situations, especially girls. A story on the Irish Jesuit Missions website about the barriers that refugee girls in South Sudan face in accessing education led to her holding a cake sale after mass to raise money to help. Sarah and her family, joined with other parents and children in the parish to hold this lovely community event.
Sarah said that the stories of refugee children changed her attitude and made her feel lucky to be able to attend school when she thinks about girls who don't have the opportunity to do so. We are grateful to Sarah, her family and the parishioners in Milltown for their generosity and kindness, which will help other girls to feel lucky to go to school too.
"When I was reading about the children of south Sudan having the highest illiteracy rate in the world I felt so lucky to get to go to school and learn." – Sarah, 12 years old from Milltown, Dublin