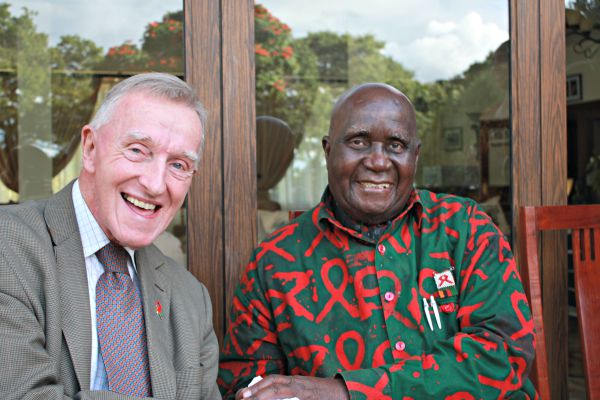 The pioneering work of Irish Jesuit, Michael J. Kelly SJ, as an educator and a campaigner for HIV/AIDS in his adopted home of Zambia, has been honoured on a postage stamp from An Post which is part of a set to mark St. Patrick's Day.
The Irish Abroad series of five stamps, marks the contribution that emigrants from Ireland made to their respective communities overseas. Fr Kelly (1929-), who was born in Tullamore, shares the stamp with award-winning author Edna O'Brien (1930-) from Co. Clare, and also with Cork-born humanitarian worker Mary Elmes (1908-2002) who saved the lives of 200 Jewish children in France during the Holocaust.
In 1955 Fr Kelly left Ireland for Northern Rhodesia, which would become the Republic of Zambia in 1964. Over the next 60 years, he held a series of appointments across the country, which resulted in his nomination as Deputy Vice-Chancellor of the University of Zambia in 1980 and a promotion to Professor of Education in 1989.
He worked tirelessly to get rid of the stigma of HIV/AIDS through education and advocacy work across Zambia and further afield.
Very soon after the world became aware of this terrible scourge [HIV/AIDS], I saw that it was a challenge that we would have to do something about through our schools, not only in Zambia but all over the world. This realisation drew me into thinking, teaching, writing and speaking about the give-and-take between AIDS and education, into speaking out on behalf of orphans, and eventually into a wide range of AIDS-related areas.

In my AIDS work I have met and been influenced by many remarkable people infected with the disease. I don't think I could have continued were it not for them, above all the women and the children. I felt driven by their suffering and the way it had undercut their very humanity. But equally I felt driven by their resilience, their spirit, their determination, their courage, and their cheerfulness.
In 2006, the Irish Government established the annual Father Michael Kelly Lecture on HIV and AIDS, which is now an annual event. In 2019 the theme was 'HIV & AIDS: Women, Sexual Reproductive Health and Rights'.Fr Kelly delivered a compelling video message to the audience about the need to educate women and girls in Zambia to protect themselves from HIV infection.

Fr Kelly has been the recipient of many awards, in Ireland and abroad for his aid work. In recognition of his contribution to education in Zambia and worldwide HIV advocacy, the Association of Commonwealth Universities presented him with the Symons Award in September 2003. He has received several honorary degrees including Doctor of Science (2004), from the University of the West Indies, Doctor of Laws from NUI (2006) and an honorory doctorate from the Royal College of Surgeons (2012).
The Forum for Women Educationists in Africa (Zambia Chapter) awarded him the first ever Kabunda Kayongo Award for "immense contribution through research on girls' education" (2006) and the First Lady of South Africa, Madame Thobeka Zuma, presented him with a Humanitarian Award for commitment to health and HIV and AIDS in the southern African region (2010).
He received the Presidential Distinguished Service Award from President Michael D. Higgins at Áras an Úachtaráin in November 2012, which honours the Irish diaspora in recognition of its sustained and distinguished service abroad.

Fr Kelly's is also one of over 320 emigrant stories that is featured at EPIC: The Irish Emigration Museum in the CHQ Building in Dublin.
 (Photo: Fr Michael J. Kelly SJ with Kenneth Kaunda, first President of Zambia.)