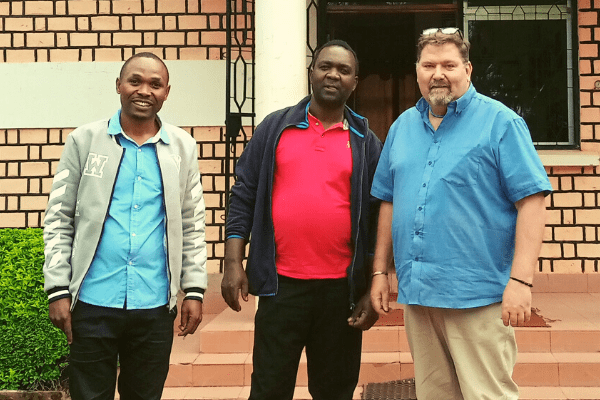 2020 marks the 25th anniversary of Radio Kwizera's foundation. It was set up in 1995 by the Jesuit Refugee Service (JRS), UNHCR and the Catholic Diocese of Rulenge to serve refugees fleeing to Tanzania from the genocide in Rwanda. The station provided many vital services in relation to information, peace promotion, education, health, and family tracing as well as providing entertainment for the refugees. It was staffed by local Tanzanians as well as members of the refugee community. As the Rwandese community returned home the radio continued to serve Burundian, Congolese and refugees from other African countries. Programmes for the Tanzanian host community were also produced and broadcast.
In 2009 the refugee camps in Tanzania ceased operations and Radio Kwizera was handed over by JRS to be run by the East African Jesuit province as a regional community radio station. From its initial home in a small building provided by the local parish the station now has its own three-storey premises in Ngara. It is run by a team of three Jesuits with a staff of almost 40 local people. Over the years Radio Kwizera has grown and now has a coverage area of about 10.3 million peoplemaking it the radio station with the largest coverage in Western Tanzania and the Great Lakes region.
Promoting a Culture of Peace
The vision and mission of Radio Kwizera is to defend and to promote a culture of peace and to enhance individual and collective development in the region. It does this through promoting issues including Social Justice, Human & Socio-Cultural Rights, Health, Gender Perceptions & Mainstreaming, Peace & Reconciliation, Inter-Religious Dialogue and Multi-Culturism.
Since September 2019, Fr Angelo Munduni Dema SJ has been project director of RK (as the station is affectionately known). He shared with Tim his vision for the station:
"RK is currently preparing to develop our Strategic Plan for the next three or five years. We will focus on how we can make this radio more relevant to the community and to achieve the desired impacts. We want to have journalists who understand the Jesuit ethos, mission, identity and values of the radio station. We want to see the staff embracing these values and disseminating them in their programmes.
I would like to have an office that looks at community and involves commmunity at all stages of our programmes. This office could also have professional volunteers who could assist with research, the designing of programmes, monitoring & evaluation and how we can incorporate new media with traditional media. We need work on our website and I also look forward to the station networking with other media networks in East Africa and globally.
For programmes, Radio Kwizera's areas of focus include:
Addressing the issue of womens' empowerment.
Food security and better farming methods and how we can address climate change issues.
Access to education, especially for girls – in this area girls get married young and drop out early from school, and there is also a lot of poor quality education.
Health – service provision is poor and there are many problems in relation to health. There is a need for people to be better educated about their own health – better nutrition, public hygiene, malaria, etc.
Freedom of speech and access to information. This area has become a bit tricky in Tanzania. It could be said that levels of freedom of speech are going down in Tanzania. The political environment is a bit tense. In certain areas elections for candidates to vie in the upcoming election were not carried out as some people got an automatic pass by being declared winners at ward level in some rural areas. Elections this year will be tough. There is a need for programme on Civic Education so that the leaders we will get will have a positive impact on our lives."
Bridging the gap with the online world
Even in today's world, where online communication and social media dominate, Fr Angelo believes that radio is still one of the most trusted channels of information, as people believe it is balanced and well-researched. With advances in technology new media allows people give input and share their own opinions. But it is like a jungle and full of chaos – it can be like playing a game of football with 100 people on the pitch.
With the circulation of fake news on Facebook and other social media channels now a huge issue, professional radio programming still has a space and a valuable role to play. To bridge the gap between the two, Radio Kwizera plans on a promotional campaign on social media to add a visual and online aspect to their communications. When Radio Kwizera's journalists go to the field they ask for permission to take videos. Some of these can be viewed on the station's YouTube channel – Kwizera TV.
Following the example of Radio Chikuni
Fr Angelo gave the example of a Zambian health radio project funded by Misean Cara & the Irish Jesuit Missions office, Radio Chikuni, as an example of what local radio can achieve in a community. Staff were trained on investigative journalism with a focus on the local health services, which resulted in high-quality health programmes being produced. These programmes advocated for improved services for local people and led to concrete changes being made in the local health facilities, and improvements in infrastructure, staff numbers, and the quality of service.
After 25 years, things have come full circle at Radio Kwizera. Currently over 210,000 Burundians and 76,000 Congolese are living as refugees in Tanzania. Radio Kwizera is at present looking at how it can again best serve a refugee population through its radio programmes.
Tim Flynn
Irish Jesuit Missions
30 March 2020