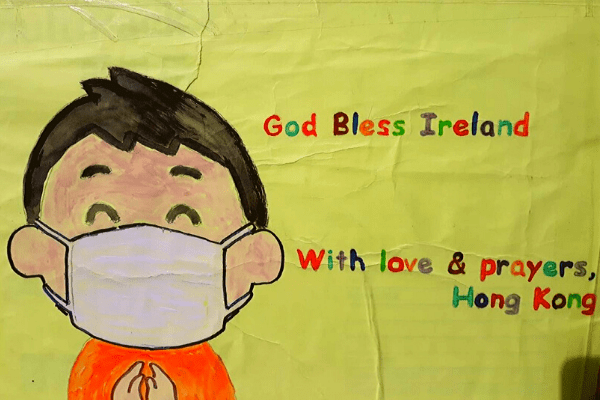 This pandemic is challenging us like nothing I have seen in my lifetime. Countries are experiencing the first wave of Covid-19 within weeks of each other. It is us in Ireland, in the relatively affluence of Europe that experiences the pandemic before our more vulnerable partners in developing countries. Numbers of cases in most of the countries we support, are still only in double figures. South Sudan has yet to record a case. Yet the fear in these countries is immense of what is coming in the months that lie ahead.
Some of our partner countries have closed their borders and shut their airports. Most humanitarian organisations are working from home trying to keep their programmes running remotely/over the phone and online where possible.
In Lebanon, the Jesuit Refugee Service (JRS) teams are working hard to continue to provide psychosocial support by phone and teach adult education classes online.
In Kakuma Refugee Camp, Kenya the JRS programme team are preparing for a Covid-19 response, while their community health workers try to continue their psychosocial support to vulnerable refugees over the phone.
The Jesuit Centre for Theological Reflection (JCTR), Zambia has reshuffled its programmes so as to get as much activity done before Covid-19 takes a firm hold of the country and has already had to put its face-to-face community campaigns on hold.
Loyola Secondary School, in South Sudan has closed, yet the teachers are continuing to work tirelessly to prepare lesson plans for when it reopens.
As the first wave of the pandemic eases in China, the continued commitment of our colleagues there brings us great hope as they resume the scale of their previous support to vulnerable and marginalised communities. As I live near Dublin Airport, I shared with them the elation we felt this week when the Aer Lingus planes landed with the personal protective equipment from China. We could hear the sirens from the Garda escort and see the Garda helicopter hovering over as the PPE was transported to the hospitals. The roads and skies in Dublin hadn't seen that much excitement in two weeks! On hearing this news, our friends in Hong Kong swiftly packed and shipped two boxes of masks to Ireland, for us to share with a local healthcare facility and with those who need them most.
All our partners are trying to assess what they can do in terms of a Covid-19 response for the people they serve. Accessing hygiene kits, and protective equipment for a prevention response is even a challenge with suppliers being closed and global supply chains interrupted due to the high demand and travel restrictions. Yet they persevere. Some of our longer-term development grants which were due to commence in April, May and June are being diverted to assist the Covid-19 response, to purchase and distribute items to vulnerable communities as a preventative measure for the wave of infection that is now looming in many countries. The message is clear that the time to act is now.
Irish Jesuit Missions and our overseas partners will continue to mutually assist each other during this time of enormous need. We are grateful for the continued support and generosity of you, our community in Ireland. We pray for the health and wellbeing of you and your loved ones as we face the surge of the pandemic in the weeks to come.
Yours in solidarity,
Emer
Emer Kerrigan
Operations Manager
Irish Jesuit Missions
3 April 2020