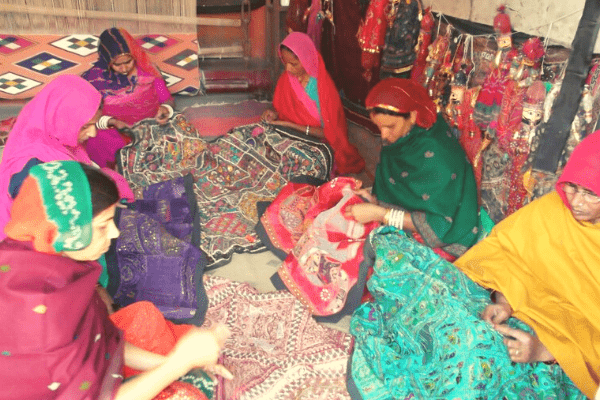 As per UNHCR figures, a full 84 percent of the world's refugees are hosted by low or middle-income countries where health, water and sanitation systems are frail. 34 of more than 100 countries affected by the global Covid-19 outbreak hosts refugee populations. Refugees and forcibly displaced people largely find themselves living in overcrowded places where public health and other basic essentials are either over-stretched or inadequate.
Social distancing and hygiene practices are a luxury for refugees
Under India's lockdown strategy to contain the spread of Covid-19, the situation remains grim for the vulnerable refugees, migrants and daily-wage earners. The impact of the pandemic on these vulnerable groups is manifold – physical, economical and psychological. Despite government orders and awareness-raising through social media and public information campaigns, the refugees in camps and shanty setups are simply unable to practice social distancing. This is mainly because they already have been living in socially distressed situations and are unable to grip the deadly reality of Covid19 infection. Moreover, the cramped housing condition inside camps and in urban low-end colonies deters the possibility of practicing social isolation for many refugees. The WHO guidelines on hygiene and sanitation practices are a luxury for some refugee groups who have limited access to water and other sanitising resources.
Daily-wage earners walk for days to reunite with families
Thousands of migrant small-job workers and daily wage earners are also facing the wrath of the lockdown as they have lost their means to livelihood. Due to economic loss and uncertainty for survival in the coming days, they are heading back to their homes in rural regions. As the public transports have stopped operating since March 25th 2020, many of them, including the elderly and children, are left with no choice but to walk for several days to reunite with their families in their homeland. But these are the people who face the fury of state police personnel who are given the responsibility of ensuring the compliance of the lockdown orders. They accuse the police of beating those who were out on the roads. Fear of hunger and being beaten by the police officials are bigger worry for these people than being infected by the Covid-19 as they have no prospect for making income for at least three weeks.
Hence the threat of Covid-19 for refugees, migrant workers and daily-wage earners is much higher than for any other population.
Refugee youths raising awareness of Covid-19 in own communities
The UNHCR announced that it is preparing and arranging contingency plans to respond in case Covid-19 begins to spread among refugees. This included advising staff to check stocks of medical supplies, equipment and protective gears to deal with such misfortunes. Despite not being a signatory to refugee conventions, India hosts refugees of various origins, both in refugee camps and in urban settlements. In the absence of UNHCR protocols, the refugees in India remain ultra-vulnerable.
Fortunately, the partner agencies in India are supporting government to step up preventive and preparatory measures for possible outbreaks of Covid-19 among the affecting refugees, displaced people and host communities. In some cases, the refugee youths have initiated to generate awareness on hygiene, sanitation and social distancing practices in their community.
Tamil Nadu camps introduce compulsory screening
In the Southern Indian state of Tamil Nadu, the government officials have made the medical and thermal screening checkup compulsory for any person who enters the camp. In a few camps, hand sanitiser and anti-bacterial water-mix of turmeric and neem leaf (indigenous methods) are kept at the entrance of the camp and the refugees are instructed to wash hands whenever they enter the camp. Still, multiple marginalisation due to absence of legal status, lack of clarity on aid services and economic loss is overall psychologically damaging for the refugees.
According to the ILO, about 90% of India's workforce engages in the informal sector as security guards, cleaners, street vendors, rickshaw pullers, waste pickers and domestic help. They don't have any employment security provisions and mainly live hand to mouth on daily cash earnings.
Several state governments in northern and southern states of India have promised financial aid through cash transfers into the bank accounts of daily-wage and migrant workers affected by lockdown. But as many informal sector workers do not possess either a bank accounts or a government scheme cards, reaching out to them to supply cash aid remains a challenge.
Consequently, some civil society organisations have come forward to provide food through community kitchens, and basic essentials by crowdfunding to the migrant, daily-wage earners and the homeless population. It is doubtful whether the slew of emergency measurers announced by government will reach the poor on time or remain on paper.
Louie Albert SJ
Regional Director for JRS South Asia
29 March 2020