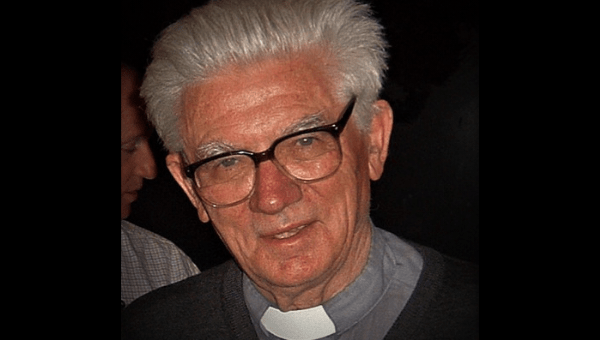 James Hurley was born in Ardmore on October 1st 1926, to Martin and Johanna (neé Foley). He was the youngest child in a family of four; two boys and two girls and is predeceased by his siblings. His sister Eileen Colbert died in 2006. His other sister, Siobhan (Josie) Lincoln died in 2011, as did his brother Michael Hurley, who was also a Jesuit.
Becoming a Jesuit
James attended Mount Melleray Abbey, Cistercian Secondary School (Cappoquin), as a boarder, from 1939 to 1944. He achieved a University Scholarship, but did not avail of it. Instead, he joined the Society of Jesus (Jesuits) on November 11th 1944. He lived first at the Emo Noviciate from 1944 to 1946, and then moved to the Hall of Residence in Rathfarnham, while studying for a BA in Classics at UCD, graduating in 1949. He studied philosophy in Tullabeg Jesuit Institute from 1949 to 1952, and opted to work in the Jesuit mission to China upon leaving.
Departure for Hong Kong
The move to China implied that he was departing from Ireland forever, never to return. It was a difficult decision for James and his family. His mother had already died in 1947, and his father passed away a year after his departure, in 1953. James first travelled by train to Rome, where he and the three scholastics travelling with him had a fortuitous, and much treasured, personal audience with Pope Pius 12. They then travelled by boat, from Rome to Hong Kong, a journey of some two months.
James spent the first two years in Hong Kong (1952-1954) learning Cantonese, followed by a year teaching in Wah Yan College, a Jesuit secondary school in Kowloon. He returned to Milltown Park, Dublin to study theology from 1955 to 1958, and was ordained as a priest in July of that year by Archbishop John McQuaid. In 1960, he completed his Jesuit tertianship and took his final vows. He then returned to Hong Kong.
Messages of Condolence from Chinese Province
James was highly regarded by his Jesuit colleagues in Hong Kong who sent messages of condolence conveying their respect and affection for him.
Fr Stephen Chow SJ, Provincial, said:
"Jimmy was an exceptional Jesuit who had given so many years of his life to Hong Kong. He was always energetic, curious, daring, caring, and active. Many of us have been awakened by his passion for social justice. And he is dearly remembered for that. Many have left words and prayers on my Facebook after I have posted the announcement this afternoon. Cardinal Tong of Hong Kong also sent me a condolence message this evening. This has never happened before with Jesuits who had gone before him, and some of them were famous and well-loved priests."
Message from Cardinal Tong:
"On behalf of the Diocese, I would like to offer my condolences and sympathy to you on the demise of our dear Fr. Jim Hurley. Jim had served the Diocese in different ministries for many years with much love and dedication to every ministry he was assigned to.

He served as spiritual Director of the Justice and Peace Commission, Chaplain to Students of some universities in HK, Pastor of St. Vincent Church in Wong Tai Sin, Christ the Worker Mass Centre in Ngau Tau Kok, Star of the Sea in Chaiwan, and St. Ignatius Chapel in Waterloo Road. He was a very capable man. He spoke very good Cantonese and was able to reach out to the different sectors of people in Hong Kong. He was well-loved and appreciated by everyone. He was a good example for priests in our Diocese."
Return to Ireland
In November 2014, following a number of illnesses, James agreed to depart Hong Kong, and return home to Ireland; and a well earned retirement in Milltown Park, Dublin. He continued to liaise with the Chinese community worldwide, and served the Cantonese-speaking, Catholic Chinese community in Dublin.
James had an accident in November 2019, and broke his ankle. He was slowly convalescing from this when he passed away, peacefully, in Cherryfield Lodge Nursing Home, Milltown Park, on Easter Monday last, April 13th.
Due to the Covid-19 restrictions, he was buried in a private family funeral service in Ardmore on Wednesday, April 15th. Fr Tom Casey SJ contributed to the very short service that was lead by Fr Milo Guiry in St Declan's graveyard (Round Tower), Ardmore.
His family made a video of his burial ceremony for those who would have liked to attend but were prevented from doing so because of government restrictions. You can view it here
The Ardmore GAA club honoured him with a guard of honour en route to the cemetery, and flew the club and national flags at half mast at the club, as a mark of respect to their deceased honorary vice-president.
He is sadly missed by his Jesuit colleagues worldwide, especially in Dublin and Hong Kong, as well as by his family and his many friends at home and abroad. James is survived by his niece, Helen Colbert Murray, and his nephews Martin Colbert, Colm and Richard Lincoln, and their extended families.
Ar dheis Dé go raibh a anam dílis.