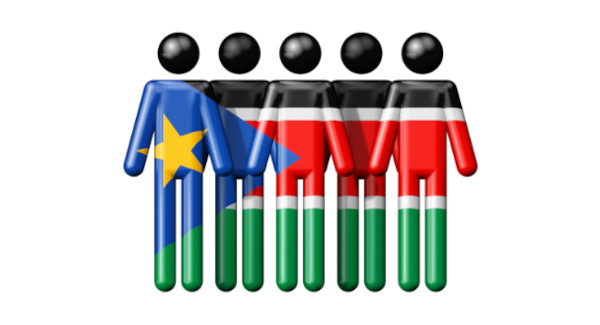 People within the communities have expressed their gratitude for the personal approach JRS is taking to this risk communication work. One-on-one visits (keeping a social distance) enable people to ask questions about Covid-19 and discuss coping mechanisms with the JRS Home Visitors, whom they know and trust on a personal level.
Steps taken to prevent spread of the virus
As of April 17th there were four confirmed cases of Covid-19 in South Sudan restricted to Juba and Torit. All of these cases were of UN staff. This resulted in some rise in anti-UN, NGO and foreigner sentiment which was evident on social media which was a cause of concern for JRS staff and all non-nationals in the country.
The Government of South Sudan (GoSS) has taken steps to contain and mitigate the effects of the virus, and announced the suspension of all passenger internal flights effective midnight on 15/4 until 29/4) to prevent its spread. By order of the GoSS all public institutions are now working on half-day basis, including the banks, and public gatherings continue to be banned including church services. The government this week reiterated the decision made at the end of March to close all institutes of learning.
Limited ability to adhere to Covid-19 restrictions
Despite the closure of non-essential businesses/shops, normal market activity continues in many places including Juba. The JRS team in Yambio reported reduced market activity this week with more active policing of the town and market place to ensure compliance with the order that non-essential services be halted. Increased pricing of core commodities is noted in Yambio and Juba but to a lesser extent in Maban. The reality in South Sudan as elsewhere in Africa is that by economic necessity people continue to move and trade with limited capacity to adhere to restrictions introduced to respond to the Covid-19 threat. Depressed global oil prices will impact severely the capacity to withstand any serious Covid-19 outbreak.
How JRS South Sudan is responding
In Maban and Yambio partners remain operational with small core teams in place facilitating scaled-back operations. All have suspended non-essential operations and the focus is now on key health messages and preventative measures with the host and refugee communities. Health partners are leading efforts to prepare medical facilities and isolation units. JRS is ensuring community education and prevention messages are coupled with psychosocial support, especially for the most vulnerable. Whereas other key actors are focused on the wider dispersion prevention messages with mobile megaphone, the JRS approach is rooted in its accompaniment model – sharing key messages in a personal, face-to-face way built on pre-existing relationships.
As of Wednesday, April 15 in Maban 43 Home Visitors and JRS mobilisers have been trained on WHO best-practices by local health officials, and equipped with basic protective gear, to share with individual beneficiaries in the host community and refugee camps. 140 host community beneficiary families have been visited so far, and over two hundred more will be visited in the coming week including in the outlying areas.
Home visits to refugee families began on Friday, April 17 in all four camps. Hygiene support packages are being prepared for all full-time and incentive staff who remain in Maban and are contributing to the Covid-19 prevention campaign. In Yambio, 66 communities' focal persons, including community leaders and religious leaders have been engaged addressing misinformation and rumors around the Coronavirus disease. In collaboration with the South Sudan Red Cross home visitors and community outreach workers have also been trained about Covid-19.
More community workers within the JRS Yambio Peace programme will be targeted in the coming period. Soap will shortly be distributed to facilitate adherence to hand washing to the 800 most vulnerable beneficiaries as part of the contingency plan to prevent the spread of Covid-19. Other materials such as hand sanitisers and face masks will be made available to the community outreach workers as may be appropriate once they are procured from
Juba since they are unavailable in Yambio.
Irish Jesuit Missions is supporting Covid-19 initiatives
Irish Jesuits International is supporting the staff and community outreach workers of the Jesuit Refugee Service (JRS) in Yambio by facilitating funding for personal protective equipment – including face masks, hand sanitiser and surgical gloves – to enable them to work safely with the community.
Funding is also being supplied for core relief items such as soap to help refugees to protect themselves from infection. As community engagement with social distancing and hygiene practices form such a vital part of stopping the spread of the virus, JRS is also running a series of radio programmes to inform people about the risks and to hear about their experiences which are being facilitated by IJM support.
With thanks to Noelle Fitzpatrick, JRS South Sudan Country Director. 
 21 April 2020