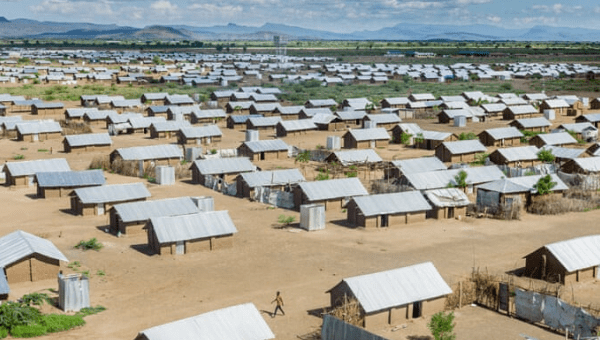 Irish Jesuits International has approved funding for JRS Kenya to implement their Covid-19 Emergency Response in Kakuma Refugee Camp. The camp, which was established in 1992, is located in the northwestern region of Kenya and is home to more than 190,000 people from South Sudan, Ethiopia and Somalia, making it one of the largest refugee camps in the world.
Kenya has recorded 384 cases of Covid-19 to date [30th April] but has not yet reported any infections in the camp. The government has implemented a night-time curfew and restricted movement around the Kakuma region, but has not yet put a full lockdown in place.
Experts agree that an outbreak of Covid-19 in the crowded confines of a refugee camp would be disastrous and JRS Kenya's emergency response measures aim to prevent or mitigate the spread of the virus. Its priority is ensuring that the refugee population can stay well despite the restrictions being imposed on them.
The foremost issue in this community and in many parts of Kenya is the availability of food, which is affected by the restrictions on movement and crowds. Funding from Misean Cara which has been facilitated by Irish Jesuits International will go towards providing essential food supplies for the refugees – staples like maize, vegetables, fruit and meat. This will help to prevent the most urgent cause of illness – undernourishment.
Non-food essentials for the crisis will also be funded. Sanitation items including soap and disinfectants as well as towels and handkerchiefs will be provided so that this community which already is limited in its access to water can protect itself against the virus.
The UNHCR (which jointly manages the camp with the Kenyan Department of Refugee Affairs) has restricted movement between humanitarian workers and refugees in the camps to stop the infection being brought in, and information is being sent to residents via WhatsApp and other mobile phone apps. All JRS activity in the camp is conducted within the guidelines for social distancing advised by the WHO.
With thanks to JRS Kenya
30 April 2020