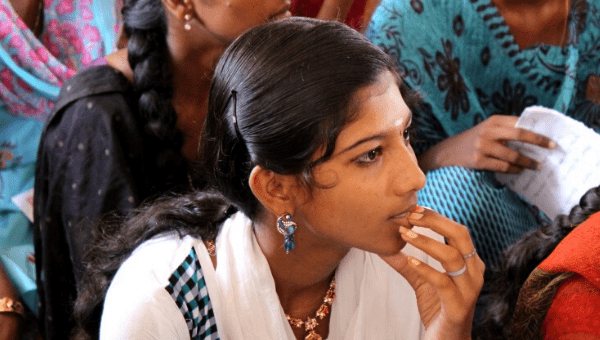 Sri Lankan Refugees in Tamil Nadu
JRS India will provide raw materials (cloth, elastic, thread) for the production of 4,200 reusable face masks for the refugee community. The masks will be stitched by women who have taken tailoring classes run by JRS Livelihood Skills Training. The women, who are among the most marginalised in the camps, will be paid piece rate for the masks to provide an income for them and their families.
Elderly people are most vulnerable to the effects of Covid-19, but social distancing in camps is almost impossible. JRS will distribute blankets for 3,300 distressed Sri Lankan Tamil families living with their elderly relatives in Tamil Nadu refugee camps. Providing a blanket will allow an older person to move out of cramped housing into the open to rest, using their personal bedding.
Irish Jesuit Missions and Misean Cara are supporting this initiative, which is part of the emergency relief response to Covid-19 in India. The relief funding will focus on 7,500 Sri Lankan Tamil refugees from across 98 camps from Tamil Nadu State in southern India and 180 Chin and Afghan urban-refugee families in the capital, Delhi.
Soap, hand sanitiser and towels will be provided to the most vulnerable households of refugees in these groups to help maintain the scrupulous hygiene needed to mitigate the spread of the disease. Because the main health threat to people living as refugees is undernourishment, funding will also support rations of basic food items including rice, dhal, sugar and baby food.
Chin and Afghan Families in Delhi
While the Sri Lankan Tamil refugees live across 107 cramped camps in the Tamil Nadu State, urban Chin and Afghan refugees are often found living in ghettos of semi-urban colonies in Delhi. The existing absence of legal status, having the bare minimum of life-sustaining facilities and a lack of access to social, cultural and economic opportunities makes refugee groups like this extremely vulnerable to the Covid-19 crisis. A large number of refugees are daily-wage earners, so the sudden decision to lockdown the country has left them with no way to secure income for their families, causing an enormous economical, physical and psychological impact.
JRS provided short-term protection and emergency assistance of dry food rations, rent and medical care to the most distressed households in this community even before the Covid-19 pandemic. The lockdown has resulted in unhygienic conditions in the cramped locality, resulting in the possibility of another outbreak of disease. The loss of income to the families also means that women can't buy sanitary protection for menstruation. The emergency response to this group will include sanitary pads for women and girls as well as rations of food, hygiene products and mosquito nets.
JRS South Asia
JRS South Asia has responded to most pressing emergencies, resulting out of natural or human disasters, for the most vulnerable individuals within larger refugee communities living in India. Despite not being a signatory to Refugee conventions, India hosts refugees in refugee camps as well as urban settlements. JRS initiated the emergency response to the Sri Lankan refugees in Tamil Nadu in 1983 and intervention among the urban refugees in Delhi since 2012. Due to absence of UNHCR refugee protocols, some refugee groups in India do not receive government or UNHCR direct support for life-sustaining services. For decades, JRS South Asia has reached out the refugee communities in need, through education, psychosocial support, and livelihood training.
If you would like to support the Jesuit Covid-19 Emergency Response click here
(Photo: JRS International)