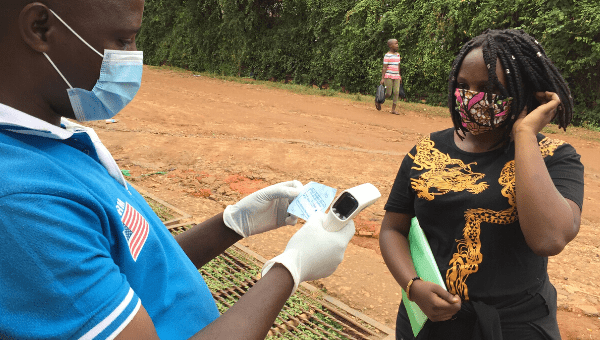 JRS Uganda works with refugees in the capital Kampala and also in the Adjumani region, close to the border with South Sudan.
At the centre for urban refugees in Kampala, the JRS basic needs and psychosocial support programme is running at full capacity, due to the situation in the city. The team has overcome the difficulties of the first weeks, when the centre was totally overrun by the large numbers of hungry people. They started to give out admission cards via the leaders of the different refugee communities, which worked out well. The leaders selected the most needy people and gave them the cards, so that those people could enter the JRS compound with all security measures in place.
As an indication of the level of need in Kampala, Fr Pfleuger reported that from 19th May to 19th June, JRS served 5,650 households with 25,760 individuals (on average per day: 270 households with 1,230 Individuals) with food and basic provisions. The World Food Program (WFP) only started their support in Kampala in the first week of June, which left many in dire need and added to the demand for JRS assistance.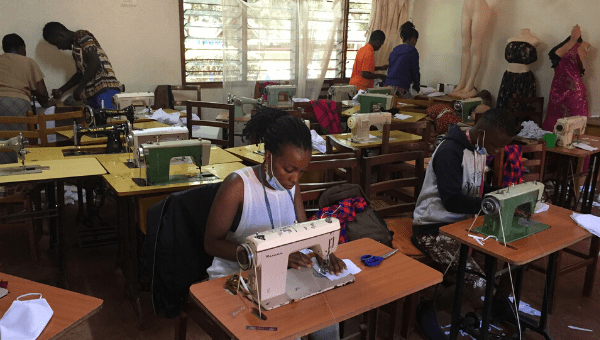 The fashion and design instructor in the Kampala centre organised seven of her trainees to produce face masks in their classroom, and support their work with a small incentive. The trainees produce about 200 per day, which the team distributes to JRS staff and to refugees coming to the compound.
 Education in Adjumani
In Adjumani, all the schools are still closed and teacher training is suspended for now. Lessons are being broadcast over radio for a population of more than 95,000 students (63,000 host community, 32,000 refugees) from 168 primary schools and 12,000 students (7,000 host community, 5,000 refugees) from 21 secondary schools in the district. The JRS team has also printed and distributed self-learning materials for secondary school students.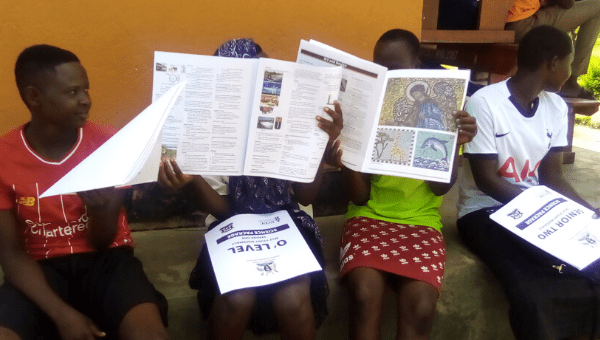 In preparation for re-opening, JRS is planning to provide thermometers, detergents and PPEs for all 21 secondary schools. It will also provide hand-washing facilities and install water tanks for the neediest schools. At least 200 teachers will be trained in infection prevention, control measures and risk communications to combat COVID-19, in collaboration with the District Health Office (DHO), and District Education Office (DEO), and UNHCR. The training will also include Mental Health and Psychosocial Support (MHPSS), Child Protection, and school management training.
In spite of all restrictions JRS was able to construct classrooms, an administration block and library in Nyumanzi and Pagirinya Secondary Schools in Adjumani during the lockdown.
 Healthcare Response
JRS is working with the Ugandan Government and is advocating for the inclusion of refugees in the national COVID-19 preparedness and response plans, in collaboration with the district COVID-19 task force, UNHCR and OPM. The team has already distributed personal protective equipment (PPE) for health staff (surgical masks, gowns and gloves), disinfectants and soap in 46 health centres. In addition, they have started the donation of 39 hand-washing facilities to be placed in markets and public areas.
JRS will support the training of health workers in centres and in the community on Covid-19 preparedness and response. They have already begun to train health care workers in refugee settlements to equip them with knowledge and skills in surveillance for COVID-19, case management, contact tracing, and infection prevention and control in collaboration with the district task force. The team will also work to halt the spread of the disease by increasing the number of hand washing stations at collective shelters, reception and transit centres and other gathering points.
 Radio for Health, Pastoral Care and Peace
JRS works closely with OPM Radio Usalama to educate refugee and host communities on public health matters. Refugees, the host community, and health workers within the settlements are receiving the key messages on how the Covid-19 virus spreads, how people can protect themselves, and how to identify symptoms through radio talk shows.
JRS is helping refugees, children and the community to cope with their emotional and psychosocial distress during Covid-19 related to quarantining and potential loss of livelihoods. We are also targeting individuals who have experienced Sexual Gender Based Violence, and children facing abuse and violence. Additional free telephone helplines are already in place and frequently used.
There is a radio talk show dedicated to Child Protection which aims to help conflict-affected and vulnerable children through raising awareness about the physical, emotional and sexual abuse of children and the role & responsibility of parents, religious leaders, and the community at large in child safeguarding during the Covid-19 lockdown.
The JRS pastoral care radio ministry gives listeners an opportunity to interact with God during the lockdown by providing prayer services and Mass through radio, as well as broadcasting youth and married couples programmes. An unfortunate effect of the Covid-19 crisis has been a rise in the number of cases of violence within the refugee settlements. A Radio Talks show 'Nothing but Truth, Justice, Mercy and Peace' has been developed and is already on air to create awareness about the effects of Covid-19 on human behavior and reinforce peacebuilding for the mitigation of conflicts.
Fr Frido assures us that despite the challenges they have faced, that "the JRS Uganda team is in good mood, driven by our mission: to serve, advocate and accompany the displaced people in need, and I as the country director appreciate their dedication and selfless service very much".
With thanks to Fr Frido Pfleuger and JRS Uganda