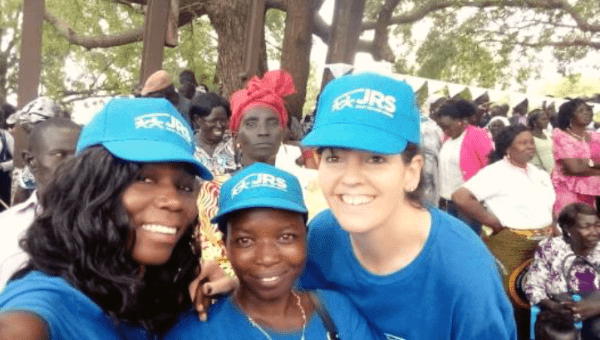 Political Challenges and New Leadership in Maban
Politically, Covid-19 has in one way or another slowed the process of completing the formation of the Transitional Government of National Unity. With that, the implementation of the last key components of the Revitalised Peace Agreement are also delayed. In the last months Covid-19 played havoc with bureaucratic processes in South Sudan. As elsewhere, leaders here were challenged to adapt travel and authorisation processes to curtail the spread of the virus outside of [the capital] Juba, and still enable vital humanitarian operations to continue. That has taken quite a while to work out.
All the political and Covid-related challenges that have presented since March 2020 require strong, courageous leadership and effective management. After a period of three months as Acting Project Director, I have appointed Sean Kenney as the new Project Director for JRS in Maban, as of 1st July 2020. Sean came to us last August with a strong programming background with CRS in Lebanon, and a great history of engagement with the Jesuits primarily in the USA. Sean – together with Felix our Project Director in Yambio – has shown exceptional committment and leadership during these past months.
One of the particular challenges we now face in Maban is to transition to new ways of living and working without our compound, to ensure our staff and learners remain Covid-19 safe. That is not an issue we will resolve overnight. We continue to support some of the Maban team to work remotely, and explore how we can enable more to work safely from the JRS Country Office compound in the short term. From her, remote IT based tutorials and counselling can be scaled up and delivered.
Though as yet there is no clarity as to when schools might re-open, we have work to do in Yambio and Maban to help prepare for their safe re-opening and also to continue to evolve effect remote learning methodologies. Teaching and learning environments, practices, and achievement levels during Covid-19 will not be the same as before. The focus now needs to be on protection as well as sustaining existing foundational skills.
Remote Learning in Maban
Getting the remote learning and counselling work off the ground required a lot of time and effort. Internet capacity to deliver uninterrupted tutorials needed to be tried and adapted. Specific support brought in to orient staff and users on the use of the appropriate technology, and to work out effective methodologies for delivering and accompanying the online learning. Time has also been needed to work out effective ways of providing support to the small group radio based learning for children slowing evolving in the communities where we work. Construction work in Maban is underway again, having grappled with quarantine requirements for construction workers and other supply challenges.
Risk Communication in Yambio
JRS Yambio will shortly begin work on some short term Quick Impact initiatives designed to support the voluntary relocation of IDPs and refugees. These initiatives fit uniquely with the JRS focus on protection and accompaniment of people on the move. They will also contribute to some income generation within those communities. Our Home Visitors in Maban and Yambio continue to engage people at household and community level to support on-going COVID-19 risk communication and adaptation work. This is also time consuming, but needs to be repeated and reinforced often to help ensure the most vulnerable with the communities are protected."
Risk communication work through targeted radio programming also continues in Yambio, with JRS a lead contributor to content and format. With the particular support of Dr Rebecca Horn, the team in Yambio are documenting their learnings from all this risk communication and community engagement work. This is a great support to internal learning, and it may also be something that could be published as a modest but meaningful piece of research that showcases the JRS approach to supporting an enabling community response to Covid-19 which may be of interest to other practitioners.
Author: Noelle Fitzpatrick
21 August 2020
Listen to an interview with Noelle from February this year, when she was interviewed by journalist Susan Cahill who travelled to South Sudan with the support of Irish Jesuit Missions.
(Photo: Lydia, Christine and Noelle of JRS South Sudan.)