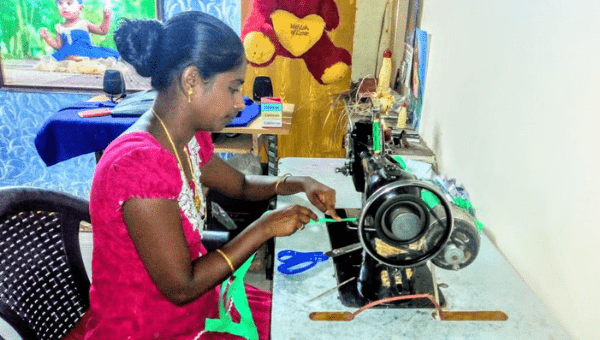 Covid-19 is spreading rapidly across the Indian subcontinent. It has been recording the biggest daily increase in cases for weeks. There are now more than 5 million confirmed cases of the virus in the country, the second-highest number in the world. India's total coronavirus caseload is closing in on the United States' highest tally of more than 6.6 million cases and is expected to surpass it within weeks.
Lockdown measures implemented by the government at the start of the pandemic severely affected lower-income workers who depend on a daily wage. It also had a negative impact on people living in substandard housing or in camps, including refugees and migrants. The Jesuit Refugee Service in India has been working with Chin and Afghan refugees in Delhi, and Sri Lankan refugees in Tamil Nadu, among others.
With the help of Misean Cara, we helped to fund the emergency response to refugees which provided them with the basics needed for survival during the crisis, and with the materials to produce reusable facemasks for their community. JRS India has updated us about the effect that this crucial intervention has had on the lives of these people.
Sri Lankan Refugees in Tamil Nadu
Networks of collaboration that were established through years of JRS interventions in Tamil Nadu were an effective way to respond to the needs of vulnerable Sri Lankan Tamil refugees during the Covid-19 pandemic.
Partnership with the UNHCR, local NGOs, resettled Sri Lankan refugees, Jesuit institutions and supporters within the host communities, allowed JRS to provide humanitarian aid (dry rations, blankets, and footwear) to over 2,000 vulnerable Sri Lankan refugee families, who were identified with the active involvement of the Camp Committees.
JRS Complementary Education Centre (CEC) children, youth club and Camp Committee members participated in the Covid-19 Prevention and Awareness campaign. Support from government officials, meant that JRS could arrange to disinfect the camps by engaging skilled workers from the refugee community. They also gave protective facemasks to over 30,000 refugees, frontline workers, and host community members.
Anusia's Story
Eighteen-year-old Anusia was born in Thapathi refugee camp of Tamil Nadu, where her parents had arrived from Sri Lanka in 1997. Her family once repatriated to Sri Lanka after the war in 2009 but due to unfavourable life circumstances they returned to India in 2015. Unfortunately, because of their late return, the family could not get camp registration but the camp authorities allowed them to occupy a vacant house in the camp.
Due to having no registration number, the family is not entitled to government sponsored cash assistance or the subsidised rations which are provided to other Sri Lankan refugees in the camp. Her father (47 years old) is a woodcutter and her elder brother (20 years old) is a third-year undergraduate student at a college in the neighborhood.
Anusia attended the JRS Life Skills Training at Mullaikudi, Trichy district, from May to November 2018. Later, she attended a month-long camp based JRS advanced level training. Having managed to buy a sewing machine, she would stitch dresses on orders placed by the camp residents as well as by the host community members. But since the onset of curfew on 24th March 2020, neither she nor her father could earn any income. Deprived of entitlements, the family was borrowing money from the neighbours to buy their ration supplies and the family is pushed to the brink of poverty and misery due to Covid-19.
To support her circumstances, Anusia was approached by JRS Field Officer to sew facemasks to be distributed among the refugees. She saw it as a God-given opportunity and immediately agreed. Being well versed in operating non-motor sewing machines, she was able to apply herself immediately and produced 310 masks in 10 days.
"I worked hard and stitched more masks than expected from me just to show my gratitude to JRS which gave the skills I have now. I also wished to support the noble cause of JRS to support the refugees. The opportunity also brought timely benefit to me and my family as well. I am happy we can pay back at least a part of the money we had borrowed."
Anusia, Tailor at Thapathi Camp, Thoothukudi District
Urban Refugees in Delhi
During the lockdown, JRS in Delhi has responded to the emergency needs of refugees of various nationalities settled in the metropolitan area, who are still at risk from the pandemic by providing emergency supplies and support. A collaboration with two freelance fashion designers enabled JRS to train urban refugee women in the design and production of facemasks. This experience helped the women to gain confidence in reaching out to a wider society during the pandemic. The two designers continue to participate in livelihoods training with refugees.
"Our collaboration cuts across cultures and creeds to open a platform for community engaged design for a common purpose. Nothing compares to the joy of using one's creativity to bring about change in the lives of those no different from ours."
 Corrine Sequeira-D'souza – Fashion Designer
The JRS team reached out to the most vulnerable urban refugee groups, including children, especially girls; widows and pregnant women. Partnering with the UNHCR, BOSCO and other NGOs in Delhi, allowed them to use their limited resources to benefit the refugees they work with, especially the most at-risk host community members. They also teamed up with other NGOs for the UNHCR campaign 'Give as you take, this time', to distribute masks for preventive care to refugees.
"Our sincere thanks to JRS for the generous donation of 25,000 reusable cloth masks, made by refugee women and distributed to refugees and the local community. We appreciate JRS' efforts to support the livelihood for refugee women at this crucial period and to ensure the safety and health of persons during Covid times by promoting the use of masks. Such community-led small scale initiatives will go a long way in the fight against Covid-19."
As the numbers of Covid-19 cases continue to mount, all over India, it is clear that the impact of this crisis will be far-reaching for its population. We will continue to support JRS in the country as it works with refugees in camps and urban settlements, to enable them to get through this pandemic.
With thanks to JRS India
16 September 2020