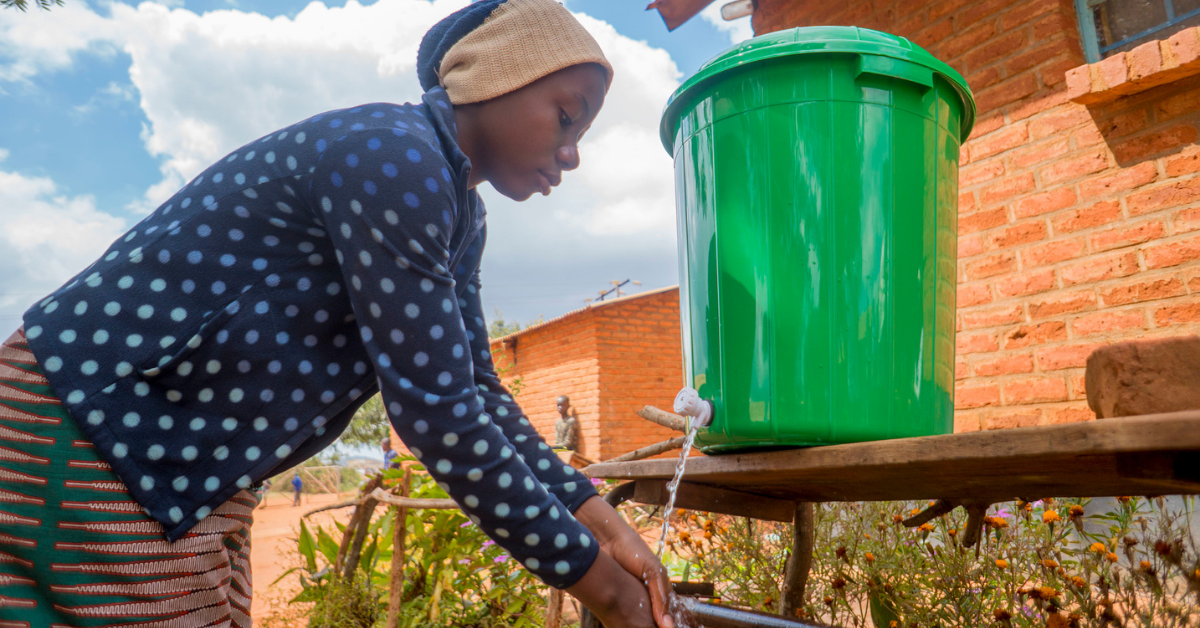 For people in many of the countries where we work, the most immediate threat posed by the Covid-19 pandemic was not the risk of infection, but hunger and a lack of income. For people who live day-to-day, lockdown meant they could not go out to earn money or gather at the market to buy food. Accommodation in refugee camps or in impoverished urban environments is not suitable for social distancing or even to contain all members of the household, other than for sleeping.
Our response and that of our partners the Jesuit Refugee Service (JRS) was holistic; providing people with food and other household basics as well as Covid-19 preventative healthcare supplies. Water stations with soap were installed in many locations, which previously had little or no access to running water. JRS also moved quickly to adapt new media to continue to deliver its education and healthcare programmes to refugee communities, wherever possible. Trainees from livelihoods courses were employed to make reusable face masks, using their skills in return for a small stipend.
Below are some examples of the emergency response to the Covid-19 crisis. Infection rates are still rising outside of Europe and we will continue to work to provide vital support to at-risk communities for as long as is necessary. Cura personalis – care for the whole person – remains at the core of our mission.
WhatsApp and Radio
JRS Ethiopia delivered an awareness-raising campaign to refugees about Covid-19 using telephone, SMS messages and social network platforms including WhatsApp. In Adjumani, JRS Uganda ensured that school lessons were broadcast over radio for a population of more than 95,000 students (63,000 host community, 32,000 refugees) from 168 primary schools and 12,000 students (7,000 host community, 5,000 refugees) from 21 secondary schools in the district.
In Lebanon, WhatsApp was used for group distance learning for children and also for adult English and Arabic language classes. It was also used for weekly psychosocial support groups and to distribute information and videos about Covid-19 and mental health issues associated with isolation.
Facemask production by refugees
JRS India in Tamil Nadu provided raw materials (cloth, elastic, thread) for the production of 4,200 reusable face masks for the refugee community. The masks were stitched by women who have taken tailoring classes run by JRS Livelihood Skills Training. In the JRS Uganda urban refugee centre in Kampala, the fashion and design class teacher asked seven of her trainees to produce face masks. The class produced more than 200 masks per day, which the team distributed to JRS staff and to refugees coming to the compound. JRS Ethiopia also employed the skills of refugee women to make masks. All were given a small incentive, to help provide for themselves and their families.
Food distribution to at-risk households
In the informal settlement of Kangemi, outside Nairobi, households who could no longer earn an income were given food essentials including maize and wheat flour, cooking oil and pulses such as beans and peas, to help them prevent malnourishment. JRS Kenya gave staples including maize, vegetables and fruit to refugees in Kakuma Camp, in the north-western region of Kenya. JRS Ethiopia distributed basic food items including spaghetti, sugar and cooking oil to Chin and Afghan refugee households in Addis Ababa who are the guardians of 100 unaccompanied and separated refugee children – a particularly vulnerable group.
Sanitation Supplies
Once people's basic needs have been taken care of, they can begin to focus on protecting themselves from Covid-19 infection. Because there is no running water in informal settlements and in many refugee camps, water tanks were installed, and hands-free washing stations and soap were provided so that people could keep their hands clean.
Additional Support
Families in slums like Kangemi who were unable to pay rent due to the loss of income were given subsidies to enable them to remain in their housing while the restrictions are in place, giving them a stable home until they were able to earn again. JRS India gave blankets to 3,300 distressed Sri Lankan Tamil families living in cramped conditions with their elderly relatives in Tamil Nadu refugee camps, so that their elderly family members (the most vulnerable to Covid-19) could socially distance and rest out in the open.
Personal Touch
JRS in South Sudan ensured community education and Covid-19 prevention messages were coupled with psychosocial support, especially for the most vulnerable. Whereas other NGOs in the country focused on the wider dispersion of prevention messages with mobile megaphone, the JRS approach was to observe social distancing but share this information in a personal, face-to-face way built on pre-existing relationships. This was appreciated by people in the refugee communities, who are often recovering from trauma and in need of support.
Thank you to all of you who have donated to our Covid-19 Emergency Appeal and helped to make the services above possible.