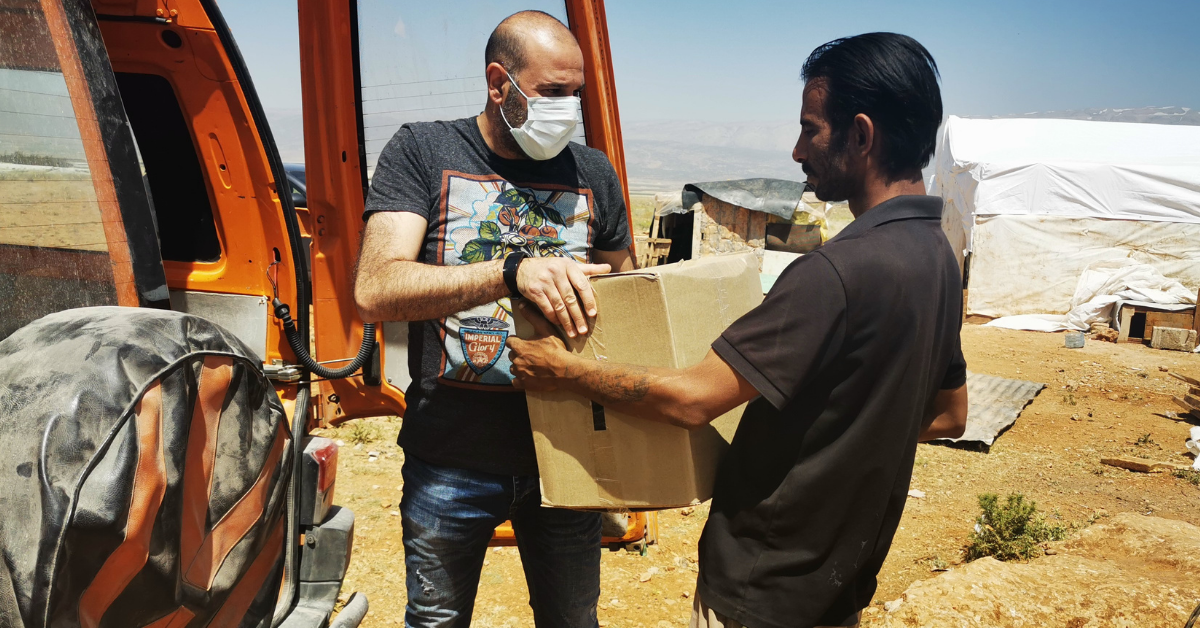 Refugees from Syria and Palestine in Lebanon were enduring lives of hardship even before the Covid-19 outbreak. Heba Al Basha and the Jesuit Refugee Service have accompanied and supported these communities throughout it all.
"Pope Francis encourages each one of us to act to bring hope to refugees. At the Jesuit Refugee Service (JRS), we believe that we can all #Do1Thing to welcome, protect, promote, and integrate refugees in their communities. This call has been our guide for the past few months.
Before October 2019 Lebanon's economy was stagnant and since the "Lebanon revolution" began, the economic crisis has resulted in the devaluation of the Lebanese Lira. On top of this, many economic activities came to a halt due to the outbreak of the Covid-19 pandemic, which lead to a 70 percent devaluation of the Lebanese currency, a loss of confidence in the banking sector, an increase in domestic and imported goods, and the imposition of (unofficial) capital controls by banks, affecting JRS's ability to procure essential items.
Thanks to Irish Jesuits International's (IJI) generous support, JRS was able to secure 988 Hygiene kits and distribute them among the most vulnerable Syrian refugees. Together we can fight this pandemic!
The collaboration with IJI during 2020 started with support for refugees after a Storm Karim hit Lebanon. The aim of the campaign was to distribute diesel within the informal tented settlement so that the people could heat their homes. But suddenly, the first case of Covid-19 in Lebanon was reported – on 21 February 2020. This meant we had to act to adjust our services and programmes to enable us to support and engage refugees while also providing the means to keep them protected from the virus.
Covid-19 added to the challenges facing refugees, who were already enduring worsening poverty. The Lebanon government took strict preventive measures to contain the virus, including a complete lockdown of the country, imposed car restrictions based on number plates, and in some municipalities, strict constraints on refugees' movements even within the camp. These extreme circumstances hindered the refugees from being able to get food and hygiene kits – the minimum requirements to stay well.
In response to these measures, JRS Lebanon decided after collaborating with UNICEF to distribute hygiene kits to refugees who now had no income due to Covid-19. We had to intervene to help to provide them with information about the virus and the need for strict sanitary measures to prevent its spread.
"You can really be surprised with the number of needy people, you just need to know where to look, where no one else is looking"  Mohamad Al Khalil (Procurement Officer)
Distribution of the kits took place in the Bekaa Valley, specifically in Baalbek and Bar Elias. In Baalbek we proceeded with the door-to-door distribution of 500 hygiene kits in Jalil Camp (which had the first case among refugees who tested positive) in cooperation with Shahd Association, 151 in Addous Camp, and 12 in the newly established Maane Camp. The hygiene kits included soap, liquid bleach, surface cleaning cloths, washing powder, and a bucket with lid.
In Bar Elias, JRS team distributed 308 Hygiene Kits in Telyani School for five nearby informal tented settlements which surround the school. We also reached out to the most vulnerable Syrian families through our procurement officer and the Telyani School administrator who managed to identify 60 families. All the distribution happened while strictly abiding with JRS protocol and the Ministry of Health recommendations – keeping physical distancing, using hand sanitisers, keeping mask/face shield on, taking temperatures.
"It is great that you considered not just camps but also families in houses, I live among them, and I can tell you that they are now having severe conditions, rarely taken into consideration these days as most of those who are helping are focusing on camps only"
Telyani School Administrator
Irish Jesuits International is as an important partner whose support helped in protecting refugees during the Covid-19 outbreak. Hygiene kits were not viewed as essential items by refugees since they were more immediately concerned about securing food parcels and rent supports. This saved many lives in Lebanon, where the capacity for site isolations, and respiratory machines is very limited."
With thanks to Heba Al Basha, Country Director of Jesuit Refugee Service Lebanon.