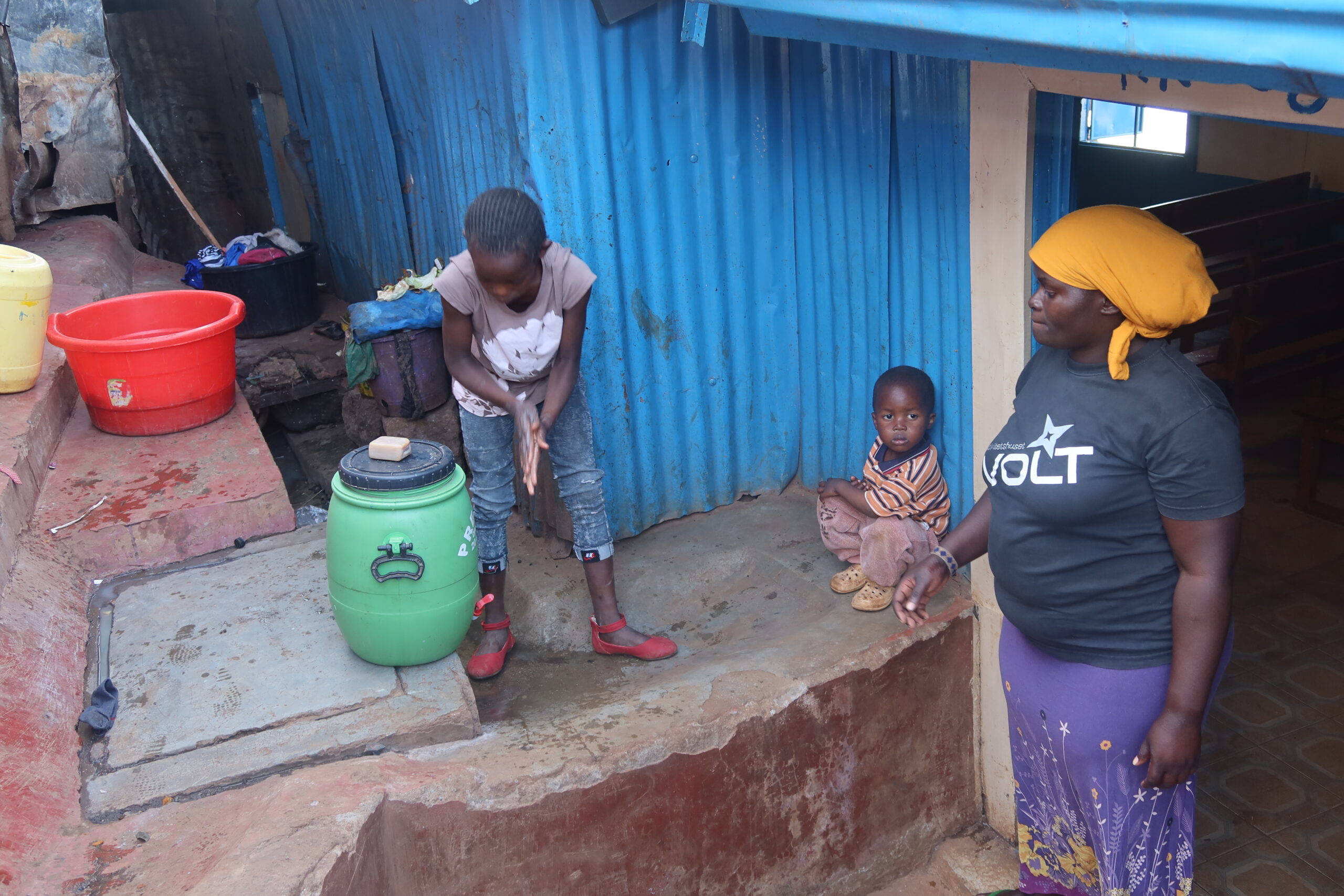 Thank you to everyone who generously donated to our Tippy Taps Appeal, which gave clean water for handwashing to communities in several countries across East Africa.
Two neighbouring parishes in Kangemi, Nairobi – St Joseph's and Christ the King – have received money raised by the appeal to install the water stations, and we have also received a grant from Misean Cara for a Covid-19 response there.
Kangemi is an informal settlement in a valley on the outskirts of Nairobi. It has a multi-ethnic population of more than 100,000 people. Of these, over 20,000 belong to the St Joseph Catholic Parish, which is one of the places Pope Francis visited during his visit to Kenya in November 2015. Inhabitants of Kangemi slum are poor, many work in the informal economy living day to day on their wages. Sanitation is a problem in the settlement, a lack of sewerage systems and clean water supplies make it difficult for people to stay safe from Covid-19 and other communicable diseases.
Millicent, a single mother in St Joseph's Parish has struggled since Covid-19 restrictions were introduced as it meant she could not earn money. She has now been able to provide her family with food and she is thankful to have been provided with access to clean water and sanitation supplies.
Funding from your donations and the Misean Cara grant has made a significant difference to the Covid-19 response in Kangemi. The need for sanitation – water and soap – was addressed. Five 'Tippy Taps' – hands-free community hand washing stations – were installed with water tanks, a clean water supply of 60 litres a day, and soap. These stations were put in key areas where people gather in the locality.
Millicent is just one of many people who were helped by funding from IJI and Misean Cara. 100 households were provided with a water supply and soap, and another 200 families were supplied with just soap. Families most in need were also provide with reusable facemasks to help stop the spread of the virus.
As people who work in the informal economy – selling at markets or stalls – could not earn money, they were provided with basic provisions to help them survive the most immediate threat to their health – hunger. Packages with flour, cooking oil, beans, and green peas were distributed to those most in need. 50 families, who could not afford their rents while unable to work during lockdown were given a subsidy for three months to ease the worry of losing their homes in what was already a stressful period.
We wish the inhabitants of Kangemi settlement continued good health, and sincerely thank you for your contribution to our appeal.