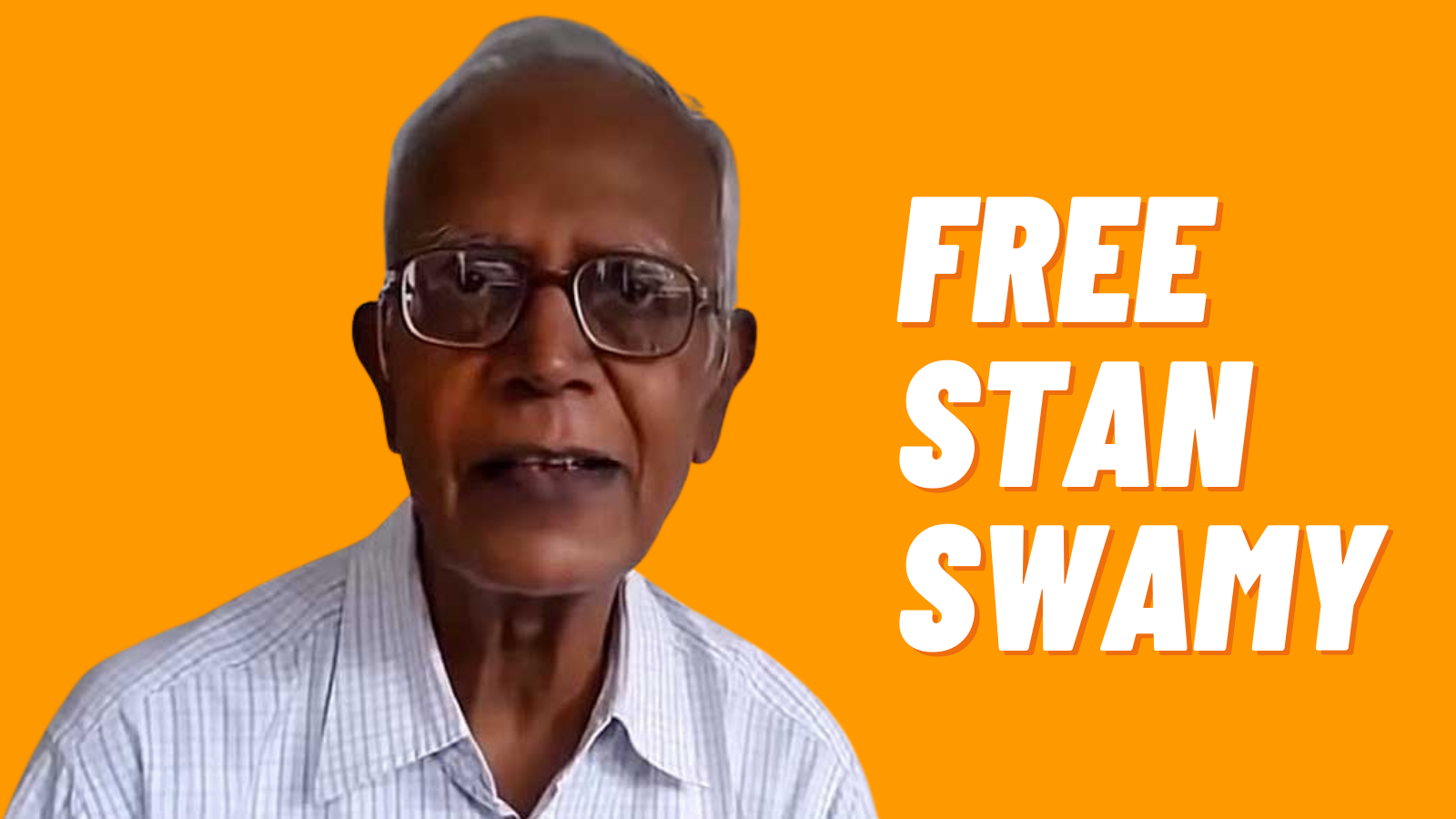 Stan Swamy SJ is an 83-year-old human rights defender in India. He has worked for five decades with marginalised and vulnerable communities, especially the indigenous Adivasi peoples and the Dalit, in Jharkhand, India. He was arrested on 8th Oct 2020 by India's National investigation Agency for alleged links to an armed Maoist group.
Fr Swamy is in poor health. He is hearing impaired and has Parkinson's disease, and there have been calls from around the world – including from Pope Francis – to free him. He had been harrassed by authorities for some time and anticipated the likelihood of his arrest. He spoke about it in a video he made just two days before it occurred. But he is still in prison, and had his application for bail rejected on 22nd March 2021.
Jesuit Response
On hearing the news of the bail refusal, the Jesuits' Social Justice and Ecology Secretariat (SJES) in Rome released a Statement of Solidarity in which Fr Xavier Jeyaraj SJ said:
"We stand united with Stan and many other human rights defenders at this crucial juncture. We commit ourselves to continue our effort, both nationally and internationally, to bring truth and justice to light and advocate for the rights of vulnerable people in a peaceful, non-violent way."
United Nations Response
Fr Swamy's imprisonment has come to the attention of human rights agencies within the United Nations.
In a news release on October 20, 2020, Michelle Bachelet, the UN High Commissioner for Human Rights,  expressed her unease about the case.
"I am concerned that such actions based on the grounds of vaguely defined 'public interest' leave this law open to abuse, and that it is indeed actually being used to deter or punish NGOs for human rights reporting and advocacy that the authorities perceive as critical in nature. Constructive criticism is the lifeblood of democracy. Even if the authorities find it uncomfortable, it should never be criminalized or outlawed in this way."
Bachelet urged the Indian authorities "to release people charged under the Unlawful Activities Prevention Act for simply exercising basic human rights that India is obligated to protect."
On November 3, 2020, the UN Vice-Chair of the Working Group on Arbitrary Detention, the Special Rapporteur on the situation of human rights defenders, and the Special Rapporteur on minority issues released a statement raising concerns over the arbitrary detention and harassment of Fr Swamy.
"Without wishing to prejudge the accuracy of the information received,we would like to express serious concern as to the arrest of Mr Swamy, which would appear to mark the escalation of harassment the human rights defender has been subjected to since 2018. We would like to also express our serious concern about the alleged content of the questioning Mr Swamy was subjected to by NIA officers, as it appears to have been made in response to, and with the intention of delegitimising, his peaceful human rights work."
Irish Jesuits International Response
IJI is part of the Irish Jesuit network's advocacy group which is being led by the JCFJ and includes JRS Ireland and the Irish Jesuit Province. We are appealing to our political representatives and human rights advocates, at home and internationally, to pressure the Indian authorities to release Fr Stan Swamy.
How you can help
If you would like to be involved in campaigning for the release of this innocent man, please contact Simon Coveney, Minister for Foreign Affairs or your local TD, using this template letter to urge them to advocate for Fr Stan Swamy's freedom.
We are using our social media channels to raise awareness of the plight of this human rights defender . You can add your voice by following us on Twitter and using the hashtag #StandWithStan to share articles and tweets about his unjust detention. April 26th is Fr Swamy's 84th birthday and we will be using this date to bring the world's attention to his cause.