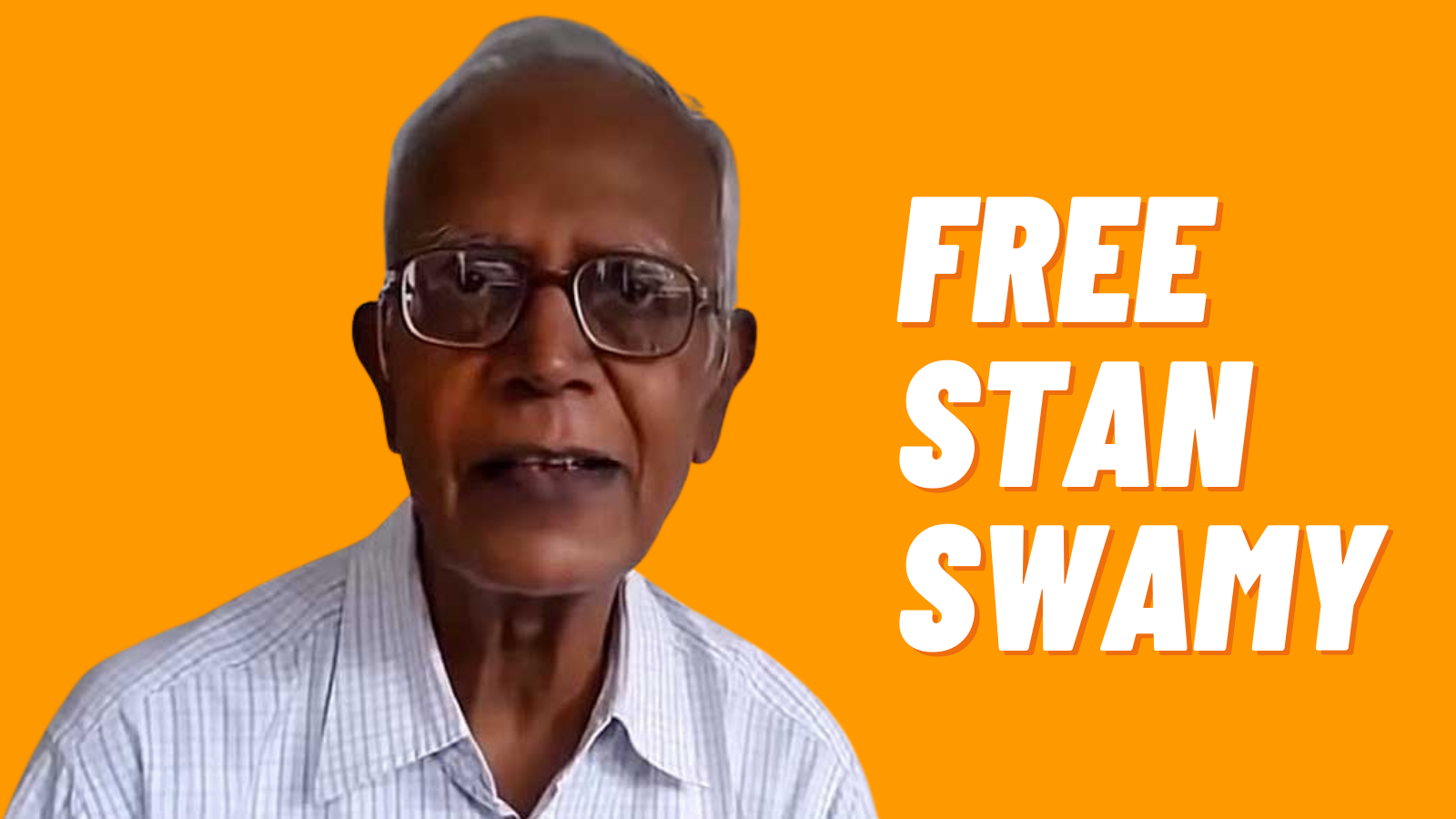 84-year-old Jesuit gravely ill in prison with "headache, fever and cough"
 Fr Stan Swamy SJ, the 84-year-old Jesuit, activist and defender of the rights of indigenous peoples who was incarcerated on 9th October 2020 in Taloja prison, Mumbai, is now ill with the symptoms of Covid-19.
"The allegations against Stan Swamy SJ – a man of charity, peace and dialogue, who has spent decades being a voice for the voiceless – are a real injustice. He is an elderly man with Parkinson's disease, in an overcrowded jail with suspected Covid-19 cases and no testing or vaccination. We are seriously concerned that Fr Swamy will not survive his incarceration, and join with the Jesuit community in Ireland and globally in appealing for his immediate release on bail." John K. Guiney SJ
Despite having advanced Parkinson's disease and being hearing impaired, Fr Swamy is being held in an overcrowded facility with no medical staff, in which several staff are reported to have the virus. He has not been tested or vaccinated despite being 84 years old. Visits to prisoners have been stopped and only three-minute phone calls are allowed once a week. Joseph Xavier SJ, a friend of his said that in a telephone conversation on Saturday 14th May, Fr Swamy said: "I feel bad, I have a severe headache, fever and cough. I feel very weak."
BACKGROUND TO FR SWAMY ACTIVISM AND ARREST
Fr Stan Swamy has worked for more than 40 years to defend the rights to land and resources of the Adivasis or indigenous communities in the Indian state of Jharkhand.  Together with other organisations, he documented in a study how young indigenous activists were imprisoned and languished in jail for years without trial on charges under the Unlawful Activities Prevention Act (UAPA), a law that has led to the arrest of more than 5000 people under the nationalist Narendra Modi government. Many of those imprisoned are minority rights defenders, accused of conspiring against the government or having links with extremists and Maoists.
Fr Swamy has always strongly denied the accusations against him. In a video  message recorded two days prior to his arrest, he said: "What is happening to me is not something unique happening to me alone. It is a broader process that is taking place all over the country… Many activists, lawyers, writers, journalists, student leaders, poets, intellectuals, and others who stand for the rights of Adivasis, Dalits, and the marginalised and express their dissent to the ruling powers of the country are being targeted and put into jail."