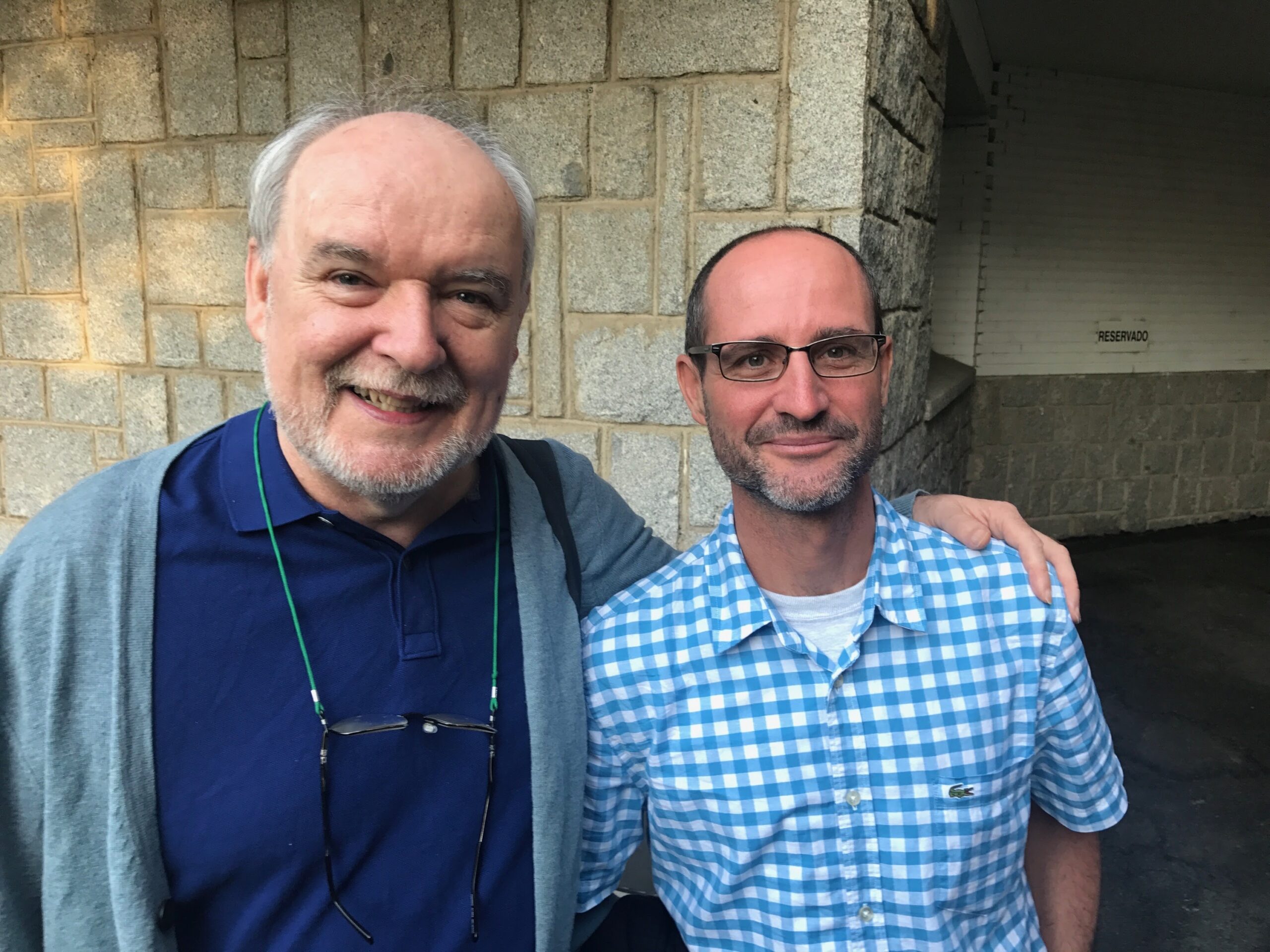 To be asked to write on your jubilee is both shocking and humbling. Shocking in realising how fast the years have passed. I am becoming an old man. Humbling to recognise that someone might be interested in reading about my 50 years as a Jesuit.
I am alive and well because of so many people I met along the way. There is a wonderful Bantu proverb in Ubuntu philosophy that says "I am because we are." It means that one's life and work is made up of a tapestry of relationships and human connections from conception to death. I am, because of the love and kindness of so many. I have learned what I know from others on the way and I am still learning.
I attended Mungret College in Limerick for the last two years of my secondary education. It was a moment of change for me meeting some wonderful Jesuits and also encountering some eccentric ones. Being a farmer's son from West Limerick I wanted to do a degree in agricultural science until I had what I would call a conversion retreat, at the end of my sixth year at school. It was led by a Jesuit, Dom Hendrick. He introduced me to the person Jesus in a way that turned my life upside down.
I joined the Jesuits in 1971, as an 18-year-old, much to the surprise of my friends since joining a religious order even in the '70s was not a popular choice of vocation. My early formation was marked by the wonderful influence of a man called Joe Dargan our Novice master – a great human being who had deep respect and patience for the awkward searching and growth of a young man. In the turbulence of the '70s more men left the Society of Jesus than joined. Most of my contemporaries left and everything was in flux.
Key moments in my 50 years.
Accompanying People with Leprosy in the Village of Peace in Tanzania
The wonderful gift of the Jesuit formation is the discernment with the individual in how the God-given talents and desires of the person can be harnessed for the greater glory of God. I was blessed to have such discerning Superiors. And my deep desire to become a missionary in Eastern Africa was fulfilled in 1979.
As a student (or scholastic in Jesuit terminology) I arrived in Tanzania, Eastern Africa. As a student of political science in College I was in awe of President Julius Nyerere who was the founder of East African socialism. He envisaged building up his new nation from the foundations that was based on the philosophy of Ujamaa which translates as 'familyhood'.
The operating principle of this type of philosophy and state is rooted in the spirit of the first Christian community 'the faithful all lived together and owned everything in common; they sold their goods and possessions and shared out the proceeds among themselves according to what each needed' (Acts 3.4).
This vision of Nyerere was never fulfilled but the underlying values of sharing and generosity remain part of Tanzanian culture. I had a profound experience of this Ujamaa type of living in my work with a community of people with leprosy who lived in our parish. These people tended one another with actions full of care – binding up each other's bleeding leg and hand wounds with bandages – a wonderful metaphor for the Christian life.
Walking with People who Lived and Died with HIV/AIDS
I returned to Ireland for theology and ordination and went on to further studies in Belgium. I returned to Africa in 1986 where after some work in formation I was sent to work in our church in Mwanza on the banks of Lake Victoria in Tanzania. At this time HIV/AIDS became known as a killer disease. It was at that time a death sentence, unlike today when with the proper medical care it can be treated. In the Lake Victoria Region a 15% HIV rate existed, mostly affecting young people.
Working with people with HIV and accompanying many in their death was a profound human and spiritual experience for a young priest. I was called to 'bind up the wounds' of my brothers and sisters, many of whom wanted to end their lives when they heard they were infected by the virus. Our role in the Church at that time was to break through the walls of shame and secrecy and reach out in compassion and healing to the suffering and their families. I received the grace of compassion from my young brothers and sisters who lived with and died of AIDS.
Upendo School and Accompanying Refugee Communities
In 1991 I was missioned to Kenya, where I worked in the parish of St Joseph the Worker, in the Kangemi slum of Nairobi. The makeshift, unplanned nature of the slum meant that people there lived in dehumanising conditions without adequate sanitation, leaving them vulnerable to infection from communicable diseases. The community spirit in this parish was moving and together we opened a technical training college, a clinic, a primary school, and women's projects for arts and crafts. HIV and AIDS affected many families and we decided to open a special school for the orphans of parents who had HIV or who had died from AIDS. We called it the "Upendo School" – upendo means love. It became the access school to our primary school and over the years it has given hundreds of children who may have been forced to live on the streets, other options.
At this time also the Rwandan Genocide took place and hundreds of refugees flooded into the overcrowded slum.The spirit of welcome and generosity of the local people was truly moving. The poor were reaching out to those who were even poorer and this was done in a spirit of welcome and deep joy. The living gospel of the poor really struck me on the chin and shook me to the core. How can one have a depth of generosity and joy in giving when one has little to give? The community continued to prompt me to question my false assumptions about life.
Finding Hope in Situations Beyond Hope
In 1996 I began working with Jesuit Refugee Service in the Burundian camps in Tanzania and later in South and North Sudan, Kenya, Uganda and Ethiopia. Witnessing the cruelty and devastation that war and conflict causes in the lives of innocent people, exposed me to both the depths of the cruelty of humanity, and also its greatness. Accompanying people who were living with immense suffering and who still wanted to forgive and let go of bitterness and hatred was a balm for my soul.
I experienced working with refugees in war zones both traumatic and grace-filled because many of the people I worked with had lost relatives in conflict, and were widows and orphans. People who lived with tremendous amounts of grief, but also tremendous amounts of hope. People wanted to forgive rather than avenge especially women and mothers .
They taught me that God works in the darkest places and circumstances. These women and mothers -the victims of war – gave me hope. Hope that our world can move beyond conflict and war, find light even in the darkness and have a depth of joy in the midst of sadness. 'In hopelessness we find hope' was a lesson shared by the innocent suffering around me.
Education is the Key to Freedom and Development and Peace
The Swahili proverb elimu ni ufunguo wa uhuru, maendeleo na amani (education is the key to freedom, development and peace) is a living mantra for me. Providing young people with access to education affirms their gifts, rights and dignity and by doing so, helps people, especially women, to take control of their own lives. This is also the Jesuit mantra – holistic education develops great human beings – people who can move beyond the traps of their history and shape and build a better world.
The work of Jesuit Refugee Service in providing education in the camps I worked in in East Africa and in camps around the world is a testament to that. Graduates from our refugee schools are now the teachers of peace in their home countries in many parts of Africa.
The Ubuntu proverb – I am because we are – is true today as it was when I was born. We continue to grow as human beings and Christians to the extent that we reach out and support one another in the winding road of life. When we do that, the grace of consolation touches our lives even in the midst of desolation.
Fr John Guiney SJ, Director of Irish Jesuits International.