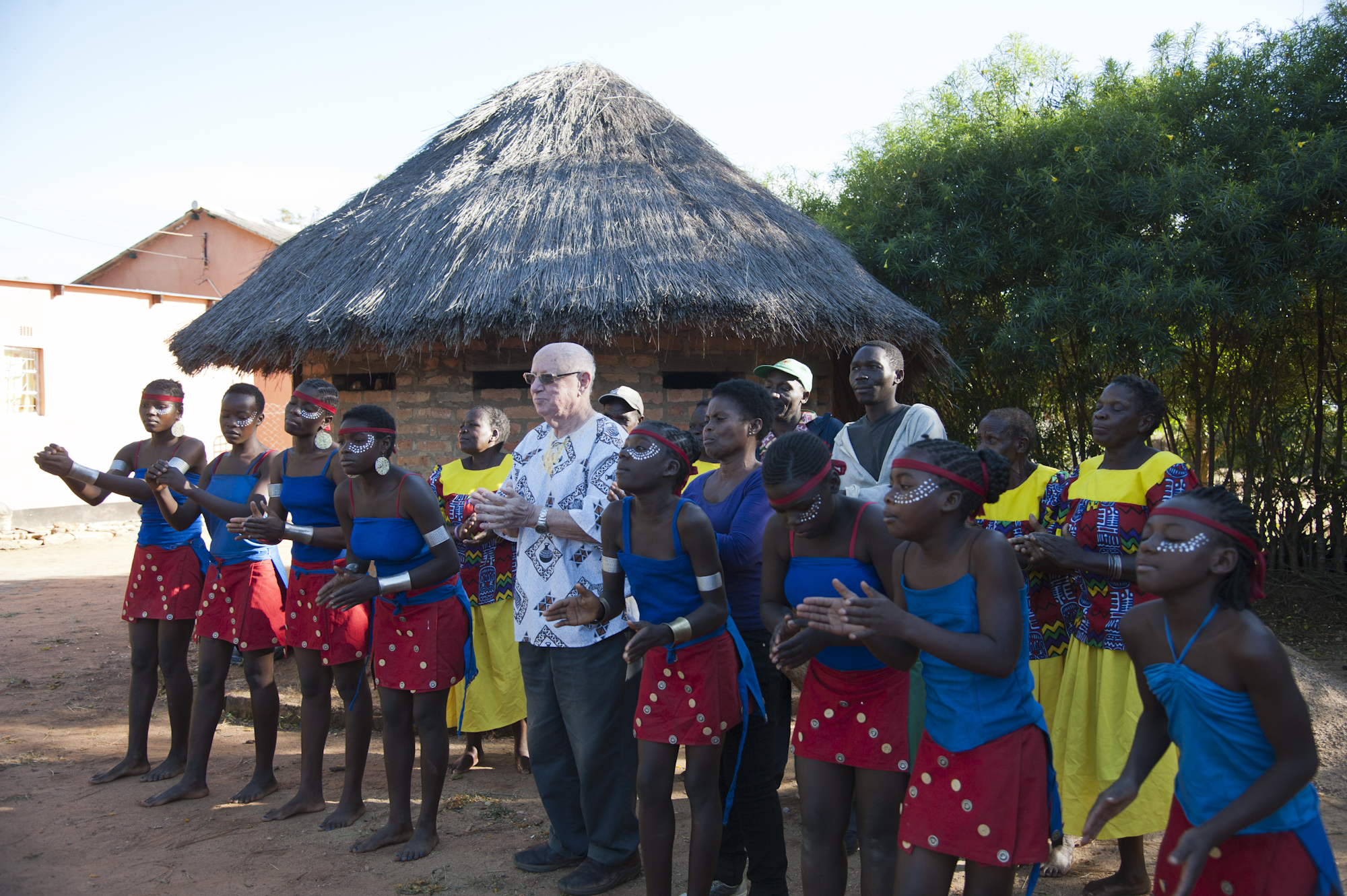 Padraig Swan, Director of Faith and Service Programmes in Belvedere College, reflects on the life of Frank Wafer SJ, who worked with the Tonga people in Zambia to preserve their language and music.
This year, Frank Wafer SJ marks his 70th anniversary in the Society of Jesus, an incredible achievement and celebration of a lifelong vocation.
Frank was born in 1934 in Dublin and attended Christian Brothers' schools in Dun Laoghaire and Monkstown. He joined the Jesuits in 1951 when he was just 17. He completed his Bachelors' Degree in UCD before going to Tullybeg for Philosophy. He first went to Zambia in 1959 for his Regency, and spent the next two years in Chivuna and Chikuni. In 1961 he went to study theology in Innsbruck, Austria and he completed this part of his Jesuit education in Milltown, Dublin, where he was ordained in 1965.
He completed his Tertianship in 1966, obtaining an MA from the London University School of Oriental and African Studies. That year he also went back to Zambia as a missionary, following in the footsteps of many Irish Jesuits. It was the beginning of many years living and working in rural Chikuni in the diocese of Monze in Southern Zambia.
Preservation of Tonga Culture
Andrew Lesniara SJ, who worked with him in Chikuni spoke of his love of music and of the Tonga culture and described his work to preserve the heritage of the people who lived there.
"At the very beginning of his work in Zambia Fr Frank Wafer recognised the importance of music and dance in the life of the Tonga people. He was one of the first missionaries of inculturation that was not being talked about or addressed. He drove on his motorbike and recorded traditional music. Based on these tunes, he worked with a team of people who composed Catholic hymns in native Tonga for use at Mass and other occasions.
These became very popular and from them sprang activities of local composers who were given the green light to break tradition of singing Latin hymns and translating lyrics into Tonga. The music was recorded on reel-to-reel tape recorders and these recordings were used to teach hymns and songs to others in their native language. The collection is currently being digitised to preserve them, otherwise the unique and large collection will be lost. These audio archives will eventually be available online for researchers and cultural enthusiasts."
In addition to writing and recording liturgical music – which is still in use today – Frank spent much of his priestly life writing dictionaries. He created the only Tonga-English dictionary available in the world. He also established the Mukanzubo Institute and Museum in Chikuni for the promotion of Tonga culture, music and dance for the next generation.
The One Who Sings
Frank is known as maembo in the Tonga language, meaning 'the one who sings'. He recognised the importance of holding on to the traditions for the younger generations, and in particular the music. In June 2019, I travelled with a radio producer and professional photographer to Chikuni to start the work of preserving the many recordings made by Frank. In all there are 343 'reel to reel' tapes and 201 cassette tapes of recordings. I had been visiting Chikuni and Mukanzubo for many years and responded to an ongoing request to help preserve the recordings that were stored in a metal filing cabinet and in danger of deteriorating giving a sense of urgency to the project.
The process of preserving the recordings was to first create a catalogue of what recordings were there and to index them with details such as numbering each tape, describing the box, writing a note of the description on the box, the condition of the tape, the size etc. Each tape and associated notes were also photographed. This process took several days and was facilitated by Yvonne Ndala and Mabel Chombe from the Mukanzubo Institute. The final result is most likely the only comprehensive record of all the recordings made by Frank.
Retirement in Lusaka
Since his retirement from Mukanzubo and Chikuni Frank has spent his time in John Chula House in Lusaka where he is cared for by the Jesuits and a medical team. We were delighted to see him look so well and to be able to share with him the news that work had begun on preserving the large archives of recordings he made, when we visited him in 2019. The news that his recordings would be kept for posterity brought him great joy.
As he marks his 70th anniversary in the Jesuits it is without doubt that he has already left a great legacy – to the Zambia Jesuit Province, to his own personal vocation as a missionary, and to the Tonga people. He has indeed served his mission for the Greater Glory of God. AMDG.