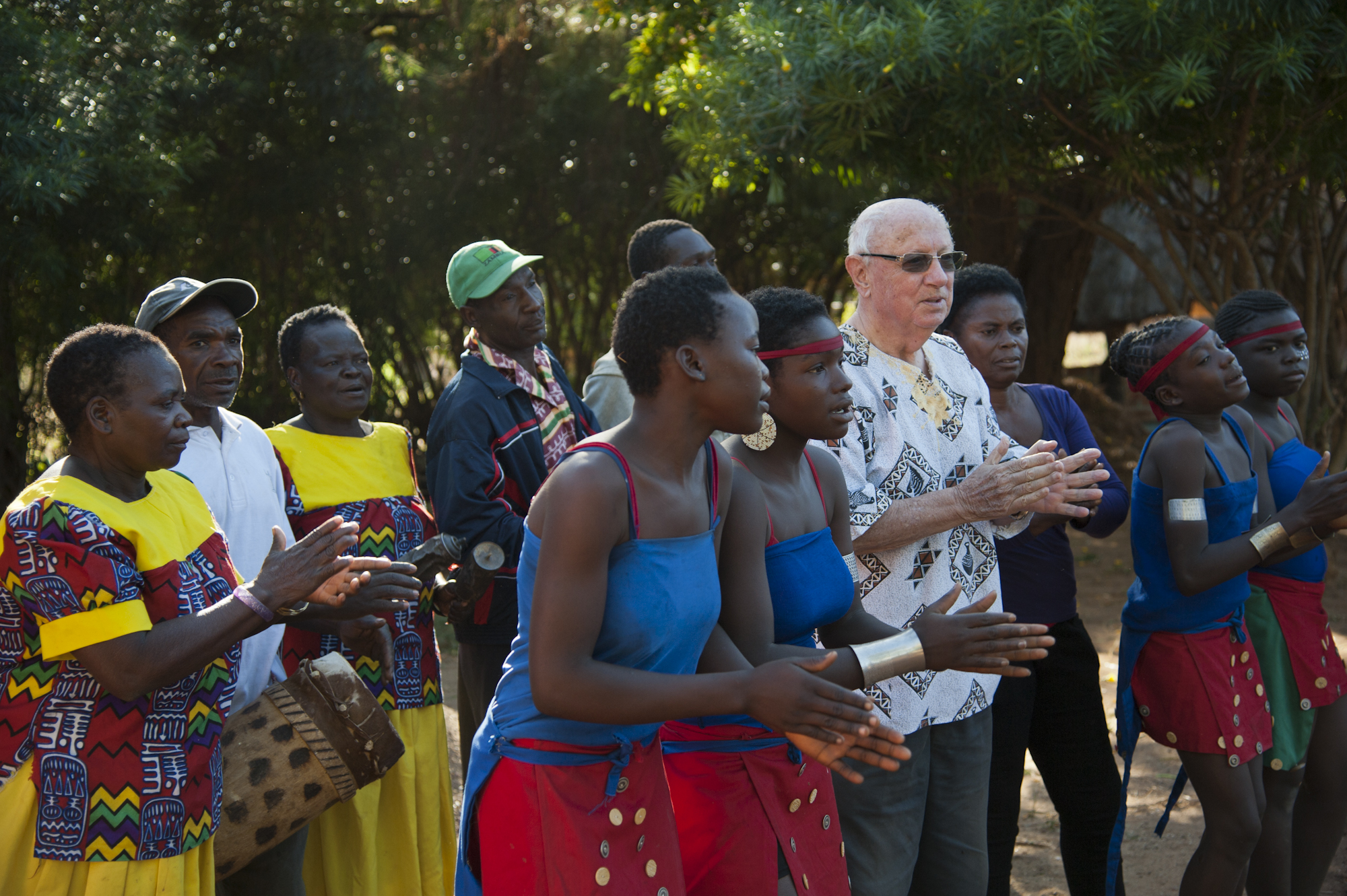 Dónall Ó Murchú was on the staff of Charles Lwanga Teachers' College in Zambia from 1967 – 74. He lived in the Jesuit Community House with several others, including Frank Wafer SJ who died recently. Here he shares his memories of Frank's love of music and his commitment to the preservation of the music and culture of the Tonga people.
After his ordination, Frank Wafer took up his post on the staff Charles Lwanga Teachers' Training College, which was when I got to know the man and his work. It didn't take very long for his mark to be observed. From the very start it was the music. Very soon the Sunday church choir and 'orchestra' had a much greater variety of instruments. Kalimbas and silimbas appeared.  Shakers from the baobab and other trees were added. I soon learned that a drum was not just a percussion instrument. There were many different drums and used for different occasions. The Budima drum was used at gulila's – wakes and funerals. The tone of the drum could be modified.  The villagers rubbed beeswax and our students used plasticine on the skin of the drum, which was then left out in the hot sun to cure.
There were Lozi, Bemba and Nyanja choirs. They soon upped their game and added instruments local to them like kalimba and silimba  It was some time before Frank managed to get them away from the direct translations in both language and music of English and Latin hymns. Liturgical music and hymns was a much longer project. To this day I still have 'Muchu chiti rayyy' from the Nyanja group ringing in my ears.
Eclectic Group of Residents of the Jesuit Community House 
I was a long term 'temporary' resident in the Jesuit Community House while I was on the staff of the Teacher Training College. Having lived there while the College was run by the Sacred Heart Brothers, before the Jesuits regained it, I could claim to be in residence there longer than anyone else. Charles Lwanga and Zambia was a very exciting place for a young newly qualified teacher from Andersonstown Belfast.
At different times a great variety of people lived in that house. Some were attached to the College including the Principal, Fr Roddy Guerrini and his sidekick Tom O'Brien.  Frank McDonagh had been Rector of Belvedere regaled us with stories of his experiences there. Others to come through were Frs Des O'Lochlainn and Paul Brazil.  Joe Hayes spent a year as a Scholastic with us.  Br Pat McElduff and for many years Br Al McAndrew from Canada looked after the essential maintenance work on the campus.  Alan Freeburn from England was, like myself, a lay member of staff.
Dan O'Brien, a psycholinguist, ran the Tonga language school in Chikuni.  Liam Browne, an anthropologist, had written a controversial book on the customs and traditions of the local people.  Bishop James Corboy always came to Lwanga for his annual retreat and visited on other occasions also.  Bill Lane would often come in from Monze for a game of tennis or later on, a game of squash and a swim – we worked hard to provide top class facilities for our students at Lwanga.
Can't Separate the Music and the Dance
Independence Day, which falls on the 24th October, was always a day of music and dancing.  We in Ireland have managed to separate the music from the dance. This has not happened in Zambia.  Even in the liturgy where there is music there is movement. And so, Frank got involved in these celebrations. The quality of the music, the instruments used and the authenticity of the costumes were all vastly improved.
Soon the reputation of our students and their performances was spreading beyond the college. I recall we were invited to perform in Monze. I drove the 30km in the lorry with about 45 students aboard.  I did two runs.  We agreed the time for the return journeys.  However, when the first return trip was due to depart, we only had about 20 passengers.  We couldn't round up the others.  We set off with half the contingent.  This meant the second trip had to pick up the stragglers.  We were very overloaded.  I still have nightmares of the 10km of dirt road from Chisekesi home!
Into the Villages on a Motorbike, with a Tape Recorder 
Meanwhile Frank was also making contacts in the villages.  He would often borrow a vehicle and head off.  I think he may have had a Philips cassette tape recorder at this time.  Sometimes he could miss meals, other times he would come back and his excitement was palpable.  He had found a new mudaala (elder) or baama (grandmother).  They were repositories of music and song, traditions and lore.  He found a drum maker.  He moved from village to village always respecting and admiring the knowledge and wisdom of the people he met.
Around this time, we had visitors to Charles Lwanga. Eamonn Valkenburg from Belmullet was a year behind Roddy Guerrini in Clongowes.  At this time, he was married to Joan with sons Peter and Stephen and working on the mines in Mufulira. Eamonn and Joan were very interested in the work both Frank and Dan O'Brien were doing and offered to help. Through Eamonn the Catenians on the Copperbelt were willing to buy them tape recorders. In an era before Google and Amazon the research was a little more tedious. I think it was through an agent in Birmingham the two state of the art Bauer reel-to-reel tape recorders were sourced. Top quality and battery driven they were ideal for the work of the two men.
The 'Honda' came the same way. Now Frank was never interested in the things of the world and this extended to driving or riding a motorbike.  Tom O'Brien was a very skilled driver and you could feel safe as his pillion passenger.  I wouldn't have said the same of Frank but I never travelled too far with him.  I do recall him returning home having had a bit of a turnover. The 'roads' in the bush could be very sandy so skidding was easy.  I remember him saying, the hardest thing was to right the bike again, if he was on his own.  Also, one of the house jokes was – what is the most dangerous animal in the bush? Answer – Frank on his Honda!
The tape recorder and Honda meant Frank got deeper into this aspect of his work.  Roddy helped in this by astute timetabling of his college programme.  More meals could be missed and Frank could be seen working late into the night. He would work himself to a standstill and maybe a touch of malaria would befall him. He would be laid up for a few days and then off he would go again until the next time.  He was tireless in his work and he was battling against time. Most of his sources were elderly but at the same time he was nurturing the spark in other younger people.
Seeing Potential in Others
Isabel Nanja was one of his first recruits.  He heard the quality of her voice and saw the value of her knowledge and potential. She came into teacher training and then rapidly climbed the ladder in her career. Frank was forever willing to shed the credit for the work done and rarely took what was due to himself.
Among others he also saw the potential in Yvonne Ndala. He organised that she did a course in the Grafton Academy to further her skills. I met her in Dublin and was happy to meet her back in Muganzubo Kalinda Institute on my visits there. Muganzubo was founded by Frank with the help and support of others.  Muganzubo is not just a museum but a place where culture and tradition lives. The 'nkolola' which prepared the girl for womanhood and took months is not lost.  The young women come to Muganzubo on several weekends and Yvonne and her team help them prepare for their adult roles in the community.
A Humble Man
Since 2005 I have visited Zambia on three occasions and was very happy to meet up with Frank.  He gave me a copy of the hymnal 'Wabota Mulumbe', a CD of 'Traditional Tonga Hymns' and also the Tonga dance CD produced at Muganzubo.  When I left him for the last time in 2011 he was somewhat frail but was deeply immersed in compiling his Tonga English dictionary.
Frank Wafer was a humble man and committed Jesuit who gave his life to God and to the people of Zambia and especially to the Tonga people. His archives will remain as a national treasure to the people of Zambia. I compare the value of his legacy to The Book of Kells.
I was very blessed and privileged to know this man and others like him.
Mairfidh a chuid oibre sa'n Eaglais agus sa phobal. Suaimhneas síoraí do'n a anam uasal.