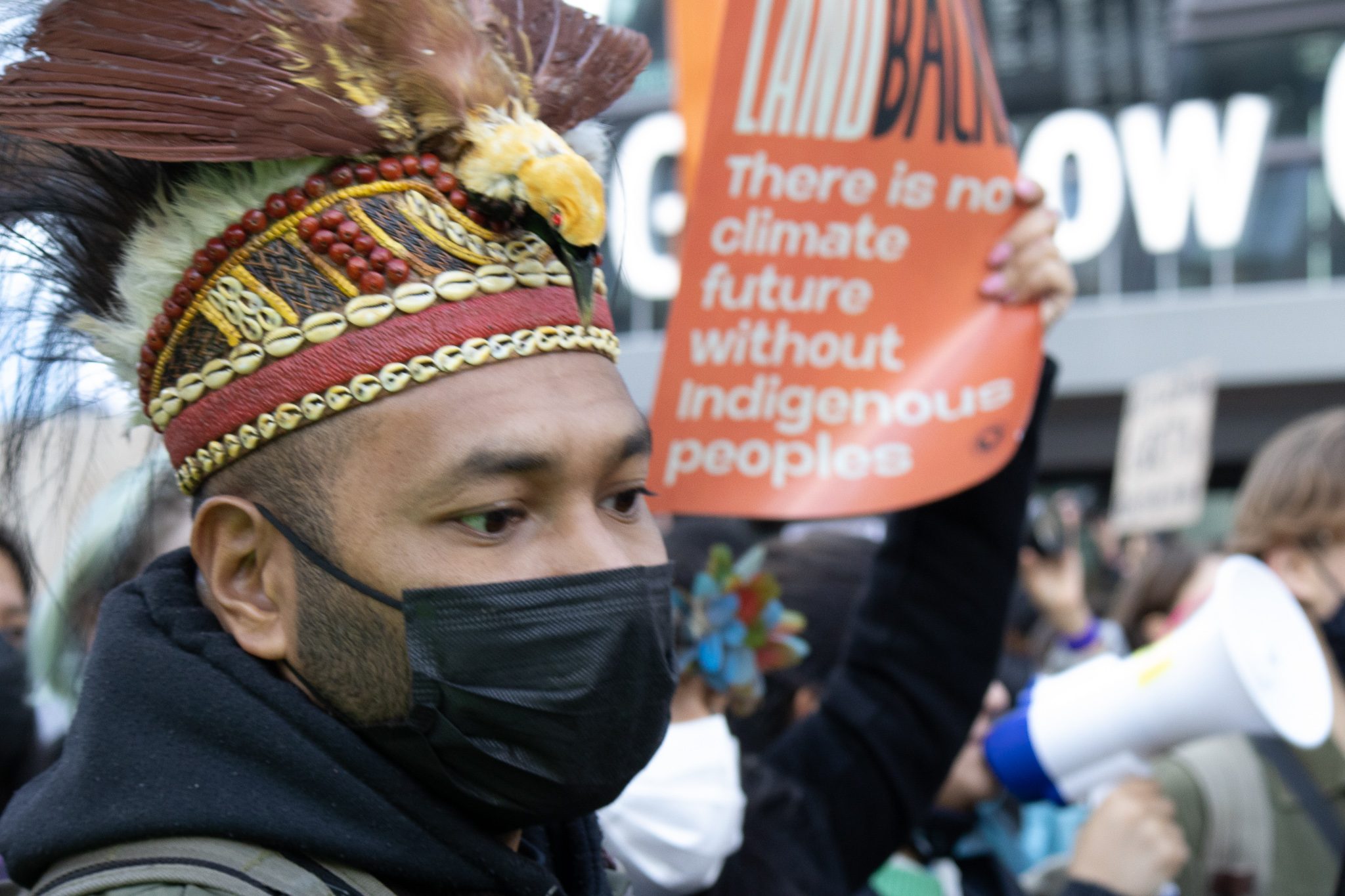 The recent COP26 climate summit in Glasgow was criticised for the relative lack of representatives from the countries which are most affected by climate change, yet have done the least to cause it. People from the Global South were unable to travel in many cases because of the inequity of Covid-19 vaccine distribution globally, or because the cost of making the long journey to Glasgow was prohibitive.
I travelled to Glasgow for a few days with my colleague Ciara Murphy [Climate Policy Advocate at the Jesuit Centre for Faith and Justice], to see what was happening on the ground and to listen to the voices of those who are least heard.
Girls' Education and Climate Justice
On my second day in Glasgow, I attended an event called 'The Power of Knowledge: Girls' Education as an Accelerator of Climate Action'. Irish Jesuits International supports a number of education programmes – many of them focused on the education of girls – in countries ranging from Afghanistan to South Sudan, therefore this session is of particular relevance to me. There are two speakers at the event that I am particularly interested in – Malala Yousafzai, Pakistani activist for female education and the youngest Nobel Prize laureate, (known just as Malala) and Vanessa Nakate, a climate activist from Uganda, who is less well-known but has been in the news recently.
The women talked about the interconnection between gender inequality and climate change in their countries and others like them "There is always the prioritising of the boys over the girls" said Nakate, who talked about the patriarchal culture in Uganda where girls miss out on schooling to be given as child brides in return for money or cattle; or are taken out of school to help the family at home. Uganda is heavily dependent on agriculture and has one of the fastest changing climates in the world, making it particularly vulnerable to climate change. Women are responsible for preparing food, gathering firewood and getting water which means they are at the frontlines when disasters like floods and droughts occur, making the existing gender inequality even worse. Malala said that more than four million girls worldwide are out of school because of climate-related disasters, therefore they are "interlinked and should be addressed together". She gave examples of indigenous girls that her charity The Malala Fund works with in Brazil who are fighting for the right to go to school, and simultaneously fighting deforestation and campaigning for land rights in their region.
When asked if they believe the promises of world leaders like Justin Trudeau to 'do better' on climate action, the young women laughed at the suggestion. Vanessa Nakate's answer was particularly powerful. She said "When leaders call us amazing they are handing over responsibility to us", and added "I hand the responsibility right back to them". She stated that as an activist she can organise a protest, but as she is not in the negotiating rooms, the power and therefore the responsibility for change does not lie with her or other activists.
The women agreed that the route to effecting real change was through education. Girls need to be educated so they can go on to be the ones who have seats at the tables of power, representing their countries and other women. This is in keeping with what we in Irish Jesuits International believe – that empowering girls through education is better for society and the world. Climate change and its effects on subsistence farmers in countries in Africa, as well as its role in exacerbating conflict worldwide makes it vital that people in the countries most affected are equipped with the knowledge and resources to find solutions and campaign for action.
Women are responsible for preparing food, gathering firewood and getting water which means they are at the frontlines when disasters like floods and droughts occur, making the existing gender inequality even worse.
Indigenous Peoples and Faith at the Climate Frontiers
The highlight of COP26 for those who were there not to participate but to protest was Saturday's march which was organised by the COP26 Coalition and attended by tens of thousands of people. What was distinctive about it as well as its size was foregrounding of indigenous peoples from Central and South America, protesting against the destruction of the Amazon and their land. Representatives of this group spoke about the injustice of what they are enduring because of a climate crisis caused by wealthy countries.
The issue of the destruction of the land of indigenous peoples is one that is close to the heart of our colleagues in Ecojesuit, a climate action group headed by Limerick Jesuit Peter (Pedro) Walpole SJ. They held an event on Monday 8th November 'Faith at the Climate Frontiers' – Consequences for Oceania and Asia' which took place at the Ignatian Spirituality Centre in Glasgow and also online. "The average indigenous is the average of all of us, of humanity", said Pedro Walpole SJ. This interconnection is the reason why their problems are our problems and we should work together for solutions. The event had several interesting speakers, including Dr Siji Chacko SJ (Director of Conference Development Office of Jesuit Conference of India/South Asia), who said that the global context is very clear to us – in Bangladesh – 15 million people could be displaced due to soil erosion. When any of these climate affected events happen we know that the poor and vulnerable are most impacted.
Despite these stark figures and the worsening effects of climate change, the speakers felt that there was still space for hope, and Pedro Walpole SJ among others restated their commitment to accompany communities in their climate action and in their battle for climate justice.
Changing the Narrative
What the criticisms of COP26 as an elite white event made clear is that people can see through the 'greenwashing' – false promises of change to mitigate reputational damage – and want to hear more from the people who are blameless in this crisis, but who are losing their land, their homes and their livelihoods. Let's hope that COP27 makes space for them.
Author: Martina Madden, IJI Communications Officer.