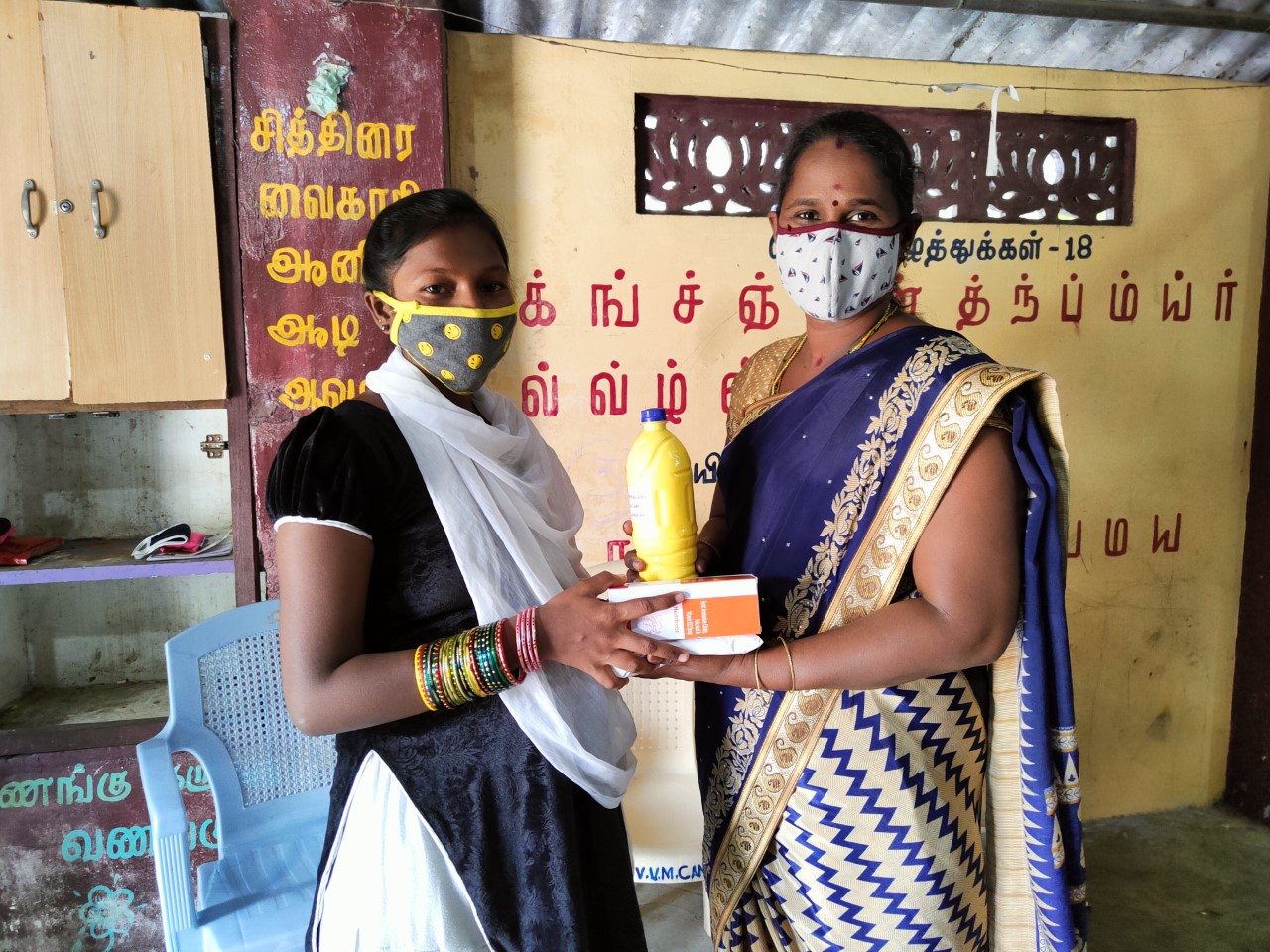 This year, people who are internally displaced or refugees in Tamil Nadu and Delhi, India have faced challenges not only from the threat of Covid-19 but also from lack of income because of pandemic restrictions, leaving them short of food and basic medical supplies. The Jesuit Refugee Service (JRS) in India has responded with emergency relief materials and women from the refugee communities have been involved in its distribution, becoming frontline workers among their neighbours.
A report we received this month from JRS India has given us a better picture of the work being done to surmount the challenges faced by these vulnerable communities and how grant money from IJI and Misean Cara is being used.
Our grant reached 12,499 individuals and indirectly affected another 43,985 people (61% being female).  The figures below give an idea of how donations to this emergency has been allocated and the impact it has had on these people.
467 refugee families received dry rations of food
30 young women were provided with reusable sanitary pads and soaps.
200 pregnant women received water, sanitation and hygiene (WASH) support.
233 additional pregnant women from marginalised families received Vitamin Tonic.
100 nursery students received Health Mix and soaps, improving their immunity.
Digital thermometers supplied and used in 42 remote camps and in learning environments for 3,916 children.
230 elderly people were given a steam vaporiser and soap to carry out their home based Covid-19 prevention practices.
8 refugee women produced reusable sanitary pads for JRS to distribute.
42 refugee women who have attended training courses with JRS produced hygiene materials (detergent and soaps) to distribution.
22 staff were trained by the Jesuit Ministry of Alcohol Addicts and Drug Dependents
3,061 people from 100 refugee camps (56) attended group awareness sessions, facilitated by 79 Alcohol Anonymous members and 22 staff members.
22 staff were trained on preventing new variant Covid-19
Covid-19 awareness sessions were held for 4,082 people from 100 camps.
49 families received a WASH kit.
In addition, through the Covid-19 campaign launched by the IJI, funding continues to come in which has been sent to JRS India for water filters for 814 Chin and Afghan refugees (73% female) and equipment for the Youth Recreation Centre at Tamil Nadu for 44 young people.
Prae Onitra Amatavivat, JRS Asia-Pacific Regional Programme Officer says: "The second wave pandemic has claimed many lives in India. The collapsing health care system and shortage of life saving essential supplies have affected the psychosocial wellbeing of the refugee communities who already lived a distressed life. Indefinite lockdown and crashing economy have hampered the livelihood of the Sri Lankan Tamil refugees in camps and urban refugees in congested localities of Delhi metropolitan. Loss of livelihood opportunities have deprived the refugees of basic life necessities. The livelihood assistance to budding Self Help Group and IGP groups not only provided health safety and protection to the refugees but also gave some income generation opportunity to the refugee women in the camps. Their sense of responsibility towards community welfare has enhanced which has also boosted their confidence in their own skills and newly launched micro businesses. The hygiene and medical assistance provided to the most vulnerable elderly people, pregnant women, young adults and children gave them basic protection to live a dignified life and prevent health complications. The hygiene products supplied helped the families to protect themselves from Covid19 and other illnesses. The loss of income due to the lockdown caused most refugee families to rely on the daily distribution of food rations. The provision of balanced nutritious food helped the families, especially elderly people and children, to develop immunity. Lastly, the awareness raising sessions addressed serious concerns like addiction that is likely to resurface among refugees confined in camps under the stressful conditions caused by Covid-19. The Covid-19 prevention awareness sessions were instrumental in encouraging refugee community to dismiss rumoured apprehensions against Covid19 vaccination and avail free Covid19 vaccination services offered by the Government".

Fr Stephen Raj SJ, JRS South Asia Regional Director adds "I would also like to take this opportunity to thank Misean Cara for generous support and partnership extended to JRS South Asia which enabled us to accompany refugees in this difficult time of greater uncertainties posed by the Covid-19 pandemic."
We in IJI would also like to thank our supporters for your donations to help these vulnerable people in India during this crisis.