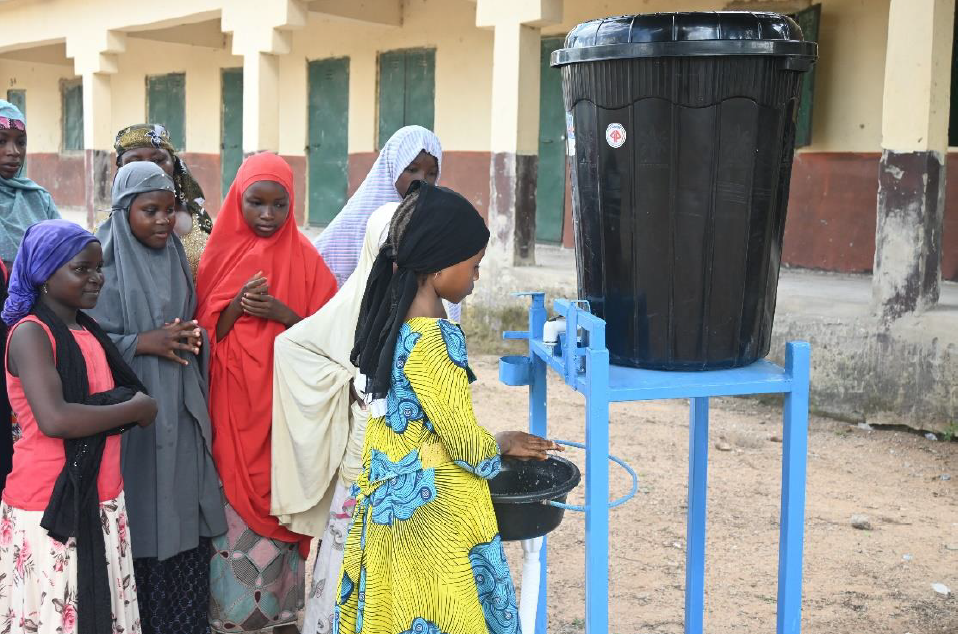 The team of the Jesuit Refugee Service in Nigeria sincerely thanks all of you who have donated to the Covid-19 Appeal, which has supported families, students and teachers, and children in their learning programmes to overcome the challenges of the pandemic.
Hand-washing Stations in Schools
Funding helped the JRS team to set up 30 hand-washing stations in 15 primary and secondary schools in 13 communities throughout Askira-Uba, Hawul and Biu LGAs in Borno State. The team distributed water containers with taps and soap reaching over 4,000 children. This intervention was carried out to enable people to maintain good hand-washing hygiene, ensure that children are safe and to reduce the likelihood of contracting the virus while in school.
"Though located at the center of Uba town, my school had never received any Covid-19 prevention support. I am grateful, and I am confident that my pupils' handwashing hygiene will increase immensely as a result of this support." Malam Salisu Bobbo Uba – Head Teacher Uba Central Primary School, Askira/Uba LGA, Borno State
JRS Nigeria provides an Accelerated Learning Programme to give out-of-school children who have been affected by the Boko Haram insurgency in the country the opportunity to improve their literacy, numeracy and life skills so that they can make the transition to the formal school system. Support from the IJI Covid-19 appeal funded face masks for 115 teachers, volunteer teachers and students on the programme, helping to prevent the spread of the virus as they carried out their work.
Support for Families Affected by Restrictions
"Covid-19 has had a disastrous impact on the livelihoods of many Nigerians already living below the poverty line. Lockdown measures put extra strain on the millions who are daily wage earners and have to depend on the earnings of the day to eat and feed their families." Tamara Hart, JRS Nigeria Directors of Program Operations.
Donations through Irish Jesuits International helped these families access other sources of revenue to complement their dwindling incomes by training 210 women and 40 men in skills including making soap, hand sanitiser and face masks for Covid-19 protection. With the increased market demand for these products, and the presence of humanitarian and development agencies in the region, this has proved to be a successful source of income for these families.
From all of us at Irish Jesuits International, thank you for your generosity.