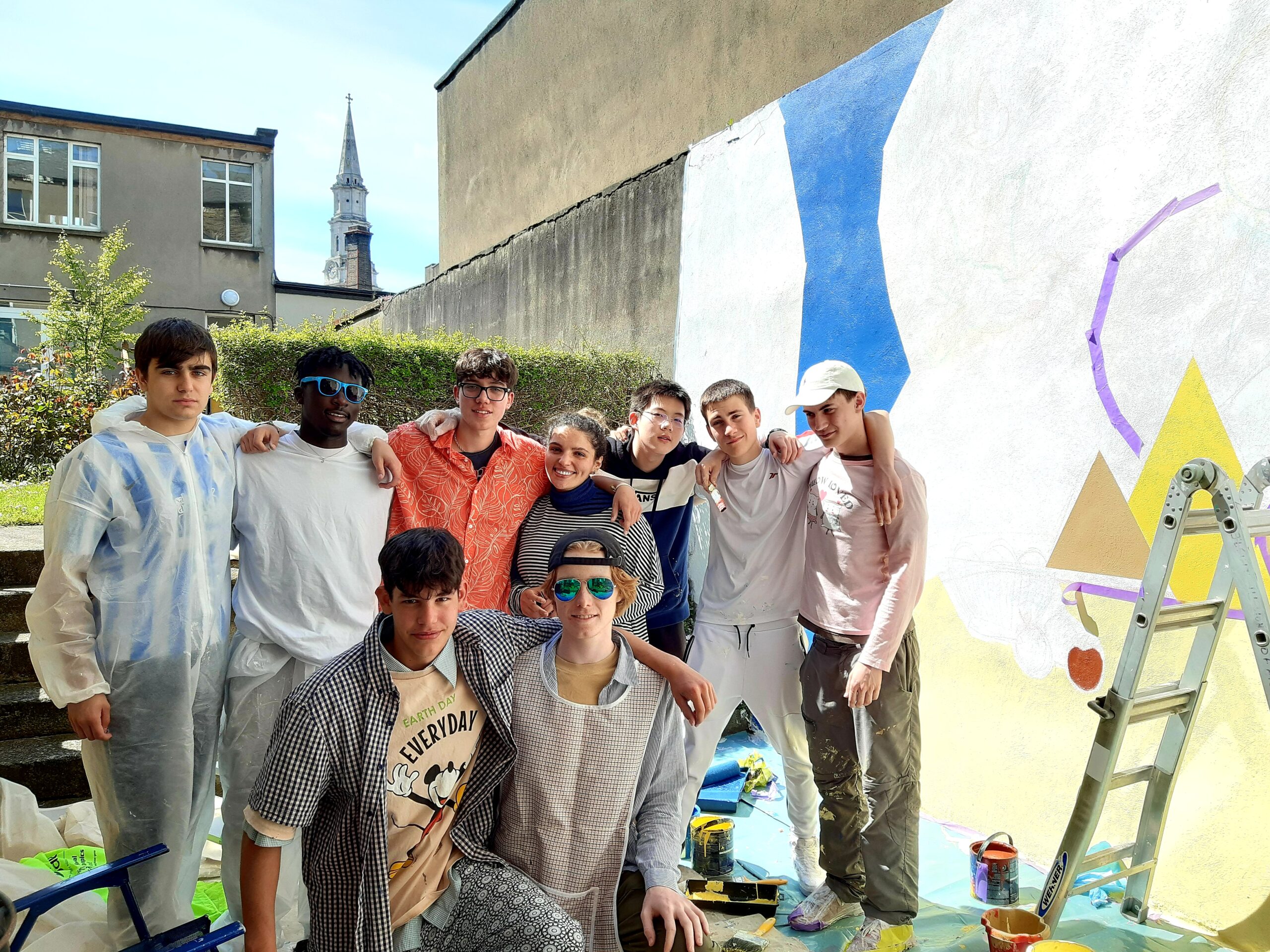 I first met the team at IJI while doing a Peter McVerry trust social placement, where we came into their offices to briefly meet them before attending a mass at the parish across the street. While I was there, they showed us the pretty backyard garden they have, however I couldn't help but notice a large blank wall which stood out disrupting the scenery.
Later in the year many students in TY were attending the Camino, however a group of my friends and I were staying in Dublin for the week and we wanted to find a bit of work experience we could do. After a bit of brainstorming, we came up with the idea to paint a mural on the wall on the Gardiner St IJI building.
Mr. O'Rourke has connections with the organization and with his aid we were able to set up the project. The next step was to prepare for the week ahead of us, and in order to do that our group composed of Daniel, Cyril, Allen, Benedict, Alfonso, Javi, Eoin and myself started drawing possible ideas and concepts for the mural. The central idea we were basing the mural on was 'Laudato Si' and therefore we wanted a design which related to nature and culture.
After two weeks of preparation, we had a solid design as well as the majority of the paint we needed prepared and mixed for the right colours. Additionally joining the group was a woman called Manar, who is a Syrian refugee in Ireland who appeared in an Irish Times article. This article highlighted her struggles over the course of five months as her refugee status was put on hold and she was unable to get proper accommodation or work. Manar is an unbelievably sweet woman who was working on her master's art degree in Syria before fleeing from war. I was able to contact her through Instagram which showcases some of her work. I was very impressed with her artwork and the mural project happened to be happening near the time we had corresponded. I asked her would she be interested in helping us out a few hours every day throughout the week.
Manar outlined an impressively accurate sketch of our design freehand! It was from this first moment we truly knew with her help we would take this mural to the next level.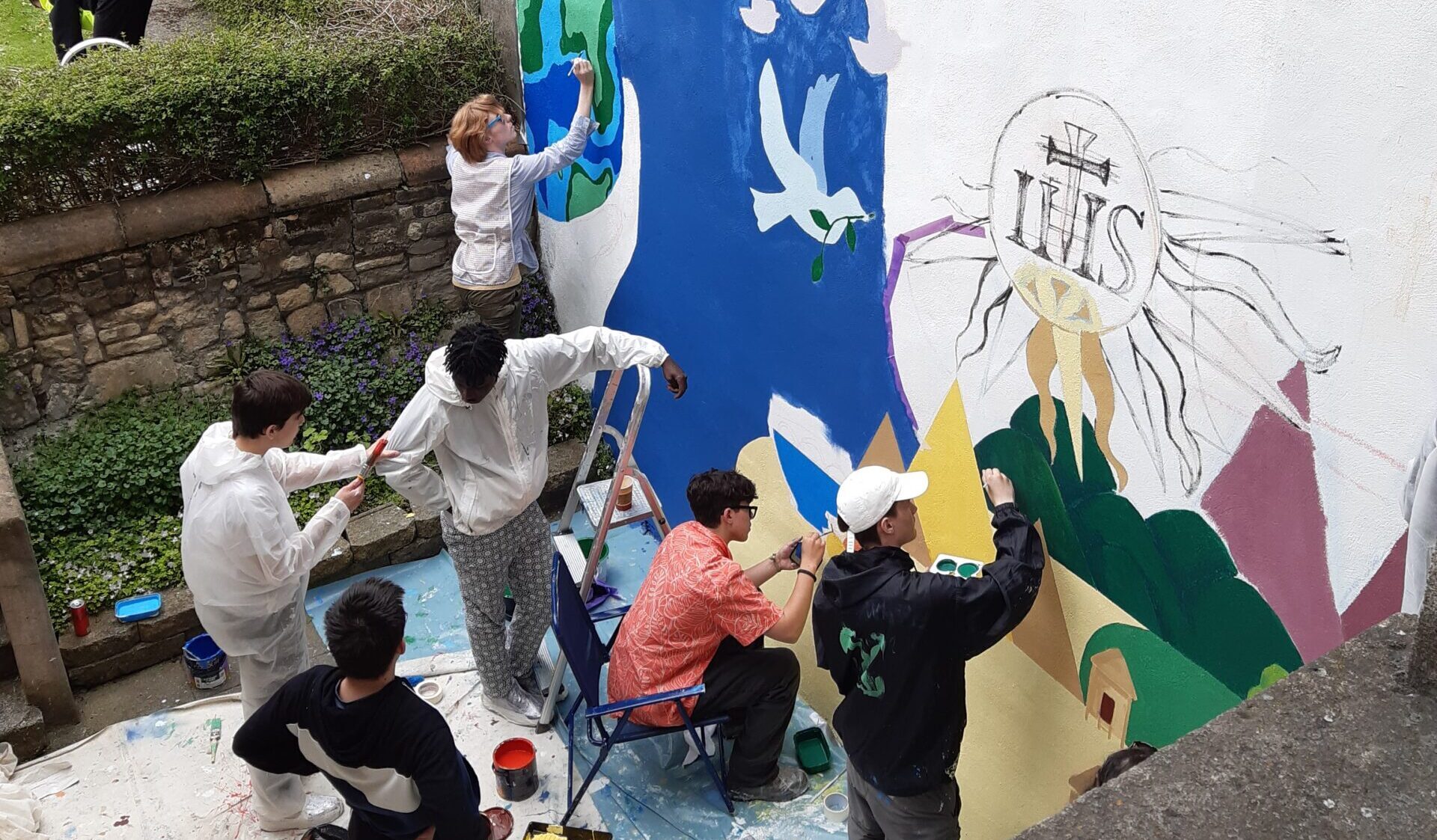 On day two, we met Mr O'Rourke's uncle who came to visit us at IJI. He was a very nice older man who clearly had a passion for his work, and he clearly had an influence in Mr O'Rourke's life.
"The mural project was one of the highlights of the year for me and I truly learnt a lot not just from painting but about teamwork and working in cooperation and making the whole piece come together to show one image." – Cyril
As you can see from the pictures as the week went on, we progressed quite well, working 6-7 hours per day in order to achieve the final result we wanted. Overall, it was the most enjoyable work experience I had done the entire year. Working on such a large-scale art project was new experience for me as well as almost all the members of my group. I definitely feel more confident in my artistic ability now and I'm glad I pushed myself out of my comfort zone. Additionally meeting Manar was great. She has an amazing heart, and the mural wouldn't be what it is today without her.
My time at the IJI was one I will remember as the beginning of my path toward impressionable artistic pieces in the following years. I have always had a passion for art, and I intend to maintain this hobby going into my adult life because, in my case, art serves as a portal for creativity and stress relief.
"It was a great time. We all had so much fun. And I will cherish these moments my whole life. During this week I also could develop many skills in terms of painting and shading figures. I am grateful that we have been given the opportunity to paint the mural and hope that it will bring pleasure to the people." – Benedict
Even though it took lots of hard work to accomplish the 'Laudato Si' mural, the hospitality of the IJI Team, alongside working with the talented artist Manar had me looking forward to every day of it.
I'm incredibly thankful for the commitment and the contributions Manar was able to make, as we wouldn't have the mural you all see in the pictures without her. She displayed her talent through swift, detailed work and outstanding colour theory.
It's also important to mention the dedication and support of all my friends working on this project alongside me. The main factor which kept us all smiling and enjoying ourselves was the bond we shared, allowing us to work together efficiently while exchanging laughs and playing loud music.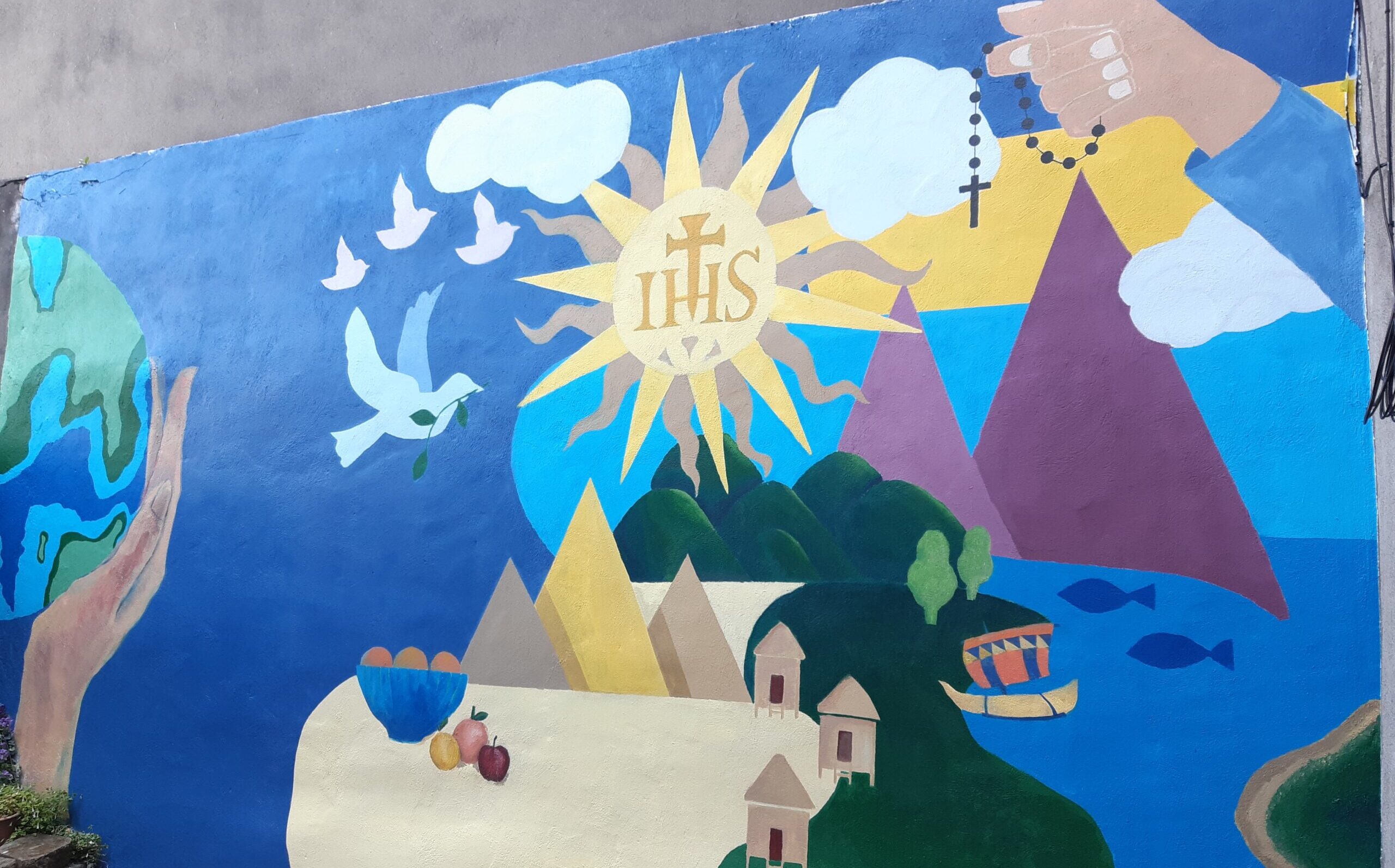 "Although we worked for six days, I didn't mind, because of how great the final piece turned out. This mural was undoubtedly the best work experience of the year, and I am very proud of our work." – Javier
All in all, I'm very proud of what Manar, Cyril, Javier, Eoin, Allen, Daniel, Alfonso, Benedict and I were able to accomplish in only six days. This experience was an opportunity for our whole group to grow and bond together and a way for us to spread a bit of positivity back to the local community. The feeling of making people's days with an art piece is truly indescribable, and I know that while this was my first mural, it definitely won't be my last.
Author: Liam Simon-Fellowes.
Manar Al-Shouha, is an asylum seeker who fled her home due to the war in Damascus. She has an upcoming art exhibition called CITIZENS? 9 September – October 23 at Rathfarnham Castle and you can find her art on Instagram @manar_mervat.art.