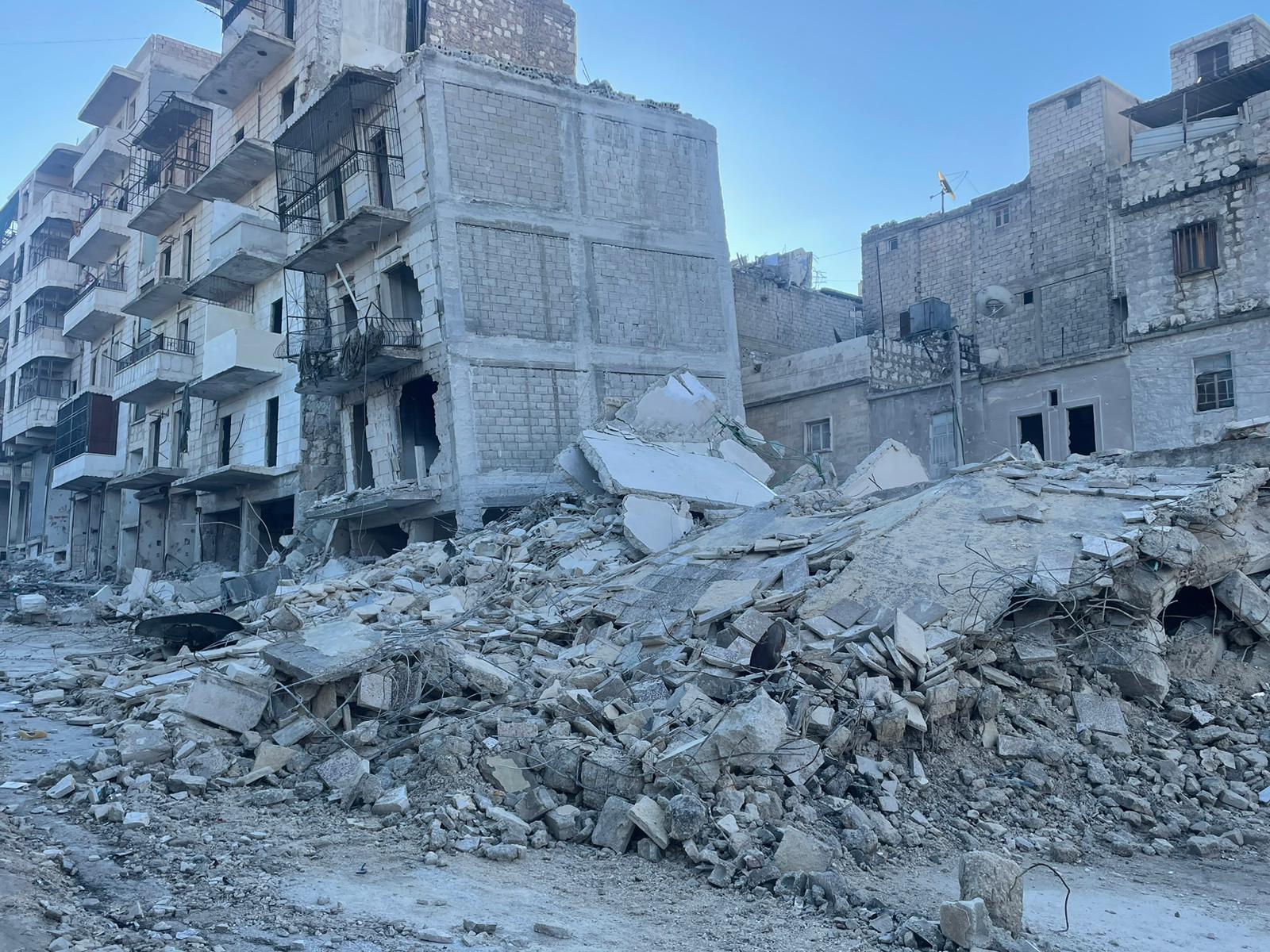 The situation for thousands in Syria is dire as an earthquake last week has caused mass displacement. Since October last year we have been supporting JRS MENA and  JRS Syria to provide life-saving winter kits to families struggling against the ongoing cold.
The earthquake has left thousands of buildings collapsed in a wide area extending from Syria's cities of Aleppo and Hama to Turkey's Diyarbakir. For families these winter kits have become even more critical as thousands are left displaced and at the mercy of the elements.
Irish Jesuit Tony O'Riordan SJ is based in Syria and reports on the situation from the ground, providing us with daily updates.
Tony travelled to Aleppo to lead the JRS needs assessment and early response to the tragedy. "Sustaining life and health is our immediate priority, and we will seek to reopen our health clinics once buildings are cleared by engineers," he says, adding, "We will continue to ramp up our support of basic protection again the cold and elements for people unable to return home. Helping people remain resilient mentally will be a second priority"
Since the earthquake struck Syria, Tony and the JRS team are supporting families with basic aid and food.
We share a written update from Tony who, from the ground, shares with us saddening news but hopeful updates in how the JRS team and local communities have banded together to support each other in the face of tragedy.
A letter from Tony O'Riordan SJ, dated: 10th Febuary 2023.
On the upside, the sun is shining today in Aleppo and the rise in day time temperature  is a welcome respite for the thousands affected and living outside of their homes in emergency shelters, of which there are 126 around the city. This morning I was in the margins of the city where JRS normally operates and where the poorest people live. Their houses and neighbourhood was already dire before Monday's earthquake, but somehow there is new devastation and collapsed buildings. Many of these collapsed buildings still have bodies buried beneath. Last night I saw a chilling image of a large articulated truck with bodies in white body bags. A heartbroken family were there, seek to track a loved one.
Such sense and stories are common here. This morning during a visit to one of the emergency shelters I was talking to a man who for over 12 hours was talking to his brother and family members who were trapped. Unfortunately available rescue efforts were just not enough to get the family out from the tons of rubble and that family perished.  
They are in deep shock and their sense of safety and security has collapsed along with many of the buildings.
Listening to survivors too, It is hard to take in the level of terror they have lived through during the earthquake. They are in deep shock and their sense of safety and security has collapsed along with many of the buildings. However we have conducted a number of Psychological First Aid sessions and I can see after these sessions healing taking place.  JRS will continue this focus on the psychological and spiritual aspect of this emergency.
Today we gathered the large pool of JRS volunteers – many had not slept in their homes since Monday, many of their homes have collapsed. Supporting them in early recovery is key to our wider response. Tomorrow with their help we will re-open our Health Service in Eastern Aleppo, as the buildings are now deemed safe. On Monday we will reopen our Education and Protection service for children. The education buildings require some minor works to make safe some façade pieces that became detached.
With others in the city we are looking at other responses, to immediate needs – food, winter kits, and also looking at how we can support people move back to their homes where possible. This will require time and resources.
Elsewhere in Homs about two hours from Aleppo, JRS is part of the effort of welcoming people from Aleppo and other affected areas who have travelled to Homs for safety.  Yesterday we distributed mattresses to a local hall which received families. Today we are distributing food.
Messages from home and from around the world are supportive and encouraging. So too are the pledges of financial support. Much will be needed. JRS regional and international structures are responding well.  Equally moving is the local support by Syrians at home and abroad.
Personally I am managing well with good energy levels for the long hours and the emotional toll.  One man today pulled me aside and said ' It was the Holy Spirit who sent you to Aleppo…' I guess some nice affirmation!!
If you would like to support Tony and the JRS team as they continue to protect and support the lives of grieving families, please donate by clicking the link below.
Thank You.