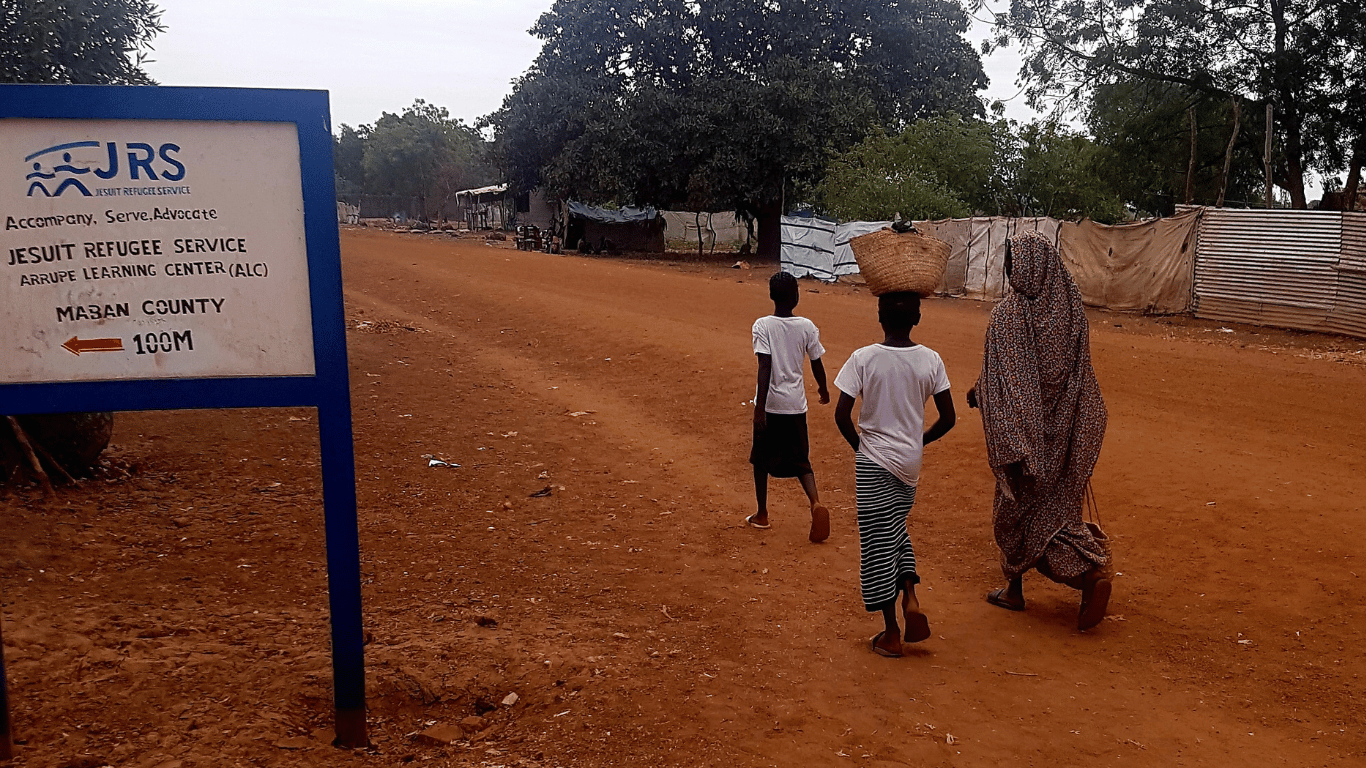 As you may have seen in recent headlines, violence has erupted in Sudan and tensions continue to rise risking civil war. A power struggle is at the centre of the conflict and, with all wars, women and families have their lives torn asunder.
Fighting broke out after weeks of tension between the army and the powerful paramilitary group, the Rapid Support Forces (RSF). The capital, Khartoum, is at the centre of violence but clashes are reported across the country and at least 500 people have been killed and thousands are injured since mid-April.
According to the UN, 50,000 people have fled Sudan and the number of those who are internally displaced cannot be determined to date. Most refugees have fled to South Sudan – meaning humanitarian need and assistance has doubled especially in the North near the border.
Maban refugee camp is situated in the North of South Sudan and our JRS partners have rallied alongside UNHCR to coordinate assistance as refugees cross borders seeking safety.
Noelle Fitzpatrick, Director of the Jesuit Refugee Service South Sudan, gives the latest update on the emergency response to the refugee crisis from the city of Renk in the Upper Nile State. She and her team are providing psychosocial support and essential services for the influx of refugees into South Sudan as the armed conflict in Khartoum and Darfur between rival factions of the military government of Sudan intensifies.
These people include Sudanese refugees, South Sudanese returnees who have been living in Sudan for some years, and other migrants and asylum seekers.
Noelle says:
"We arrived well and Fr Akile and the Catholic Church are accommodating us. The needs on the ground are huge as we are dealing with an emergency but UNHCR (the UN Refugee Agency) and Partners are helping.
UNHCR & Partners were happy to see us around and are helping us set up a place to do our work. We are currently receiving referrals for people that need psychosocial support (PSS) and physiotherapy services. Plus we are just being there with people especially those who sought shelter at the Catholic Church and the school nearby."
Noelle continues:
"We are also referring to our partners people in need of medical help and Non-Food Items (NFIs), and we are providing information for those who feel lost"
Right now, thousands are in a state of shock, fear and confusion. Many have lost loved ones and Sudan is in a violent political limbo as both sides continue their power struggle with no indication to back down.
Our thoughts are with the people of Sudan and we hope they are met with solidarity by neighbouring countries where families seek refuge.
You can help Noelle and the JRS team as they continue to support war victims in great need