World Gratitude Day is celebrated on the 21st September annually and is a day for reflection and a mindful pause in our busy day to day lives.
As its name suggests, Gratitude is about taking the time to be thankful and look at the positives in our lives whether that be the small things, like being present and at peace in the moment or being grateful for the blessings in our lives and the friends, loved ones and company around us.
Gratitude can come in many forms but in our work in international development, the small things can mean the world to people.
Water is something that is often taken for granted on this side of the globe – but in the contexts in which we work, something as basic as access to clean and safe water is a struggle.
Last year, our Water Appeal focused on bringing the gift of water to marginalised communities. The East African region is faced with an urgent need to address the effects of climate change as extreme weather brings long periods of drought and flash flooding that ruins water sources.
When Rainfall is less than normal, stream flows decline, water levels in lakes and reservoirs are falling, and available safe and clean water is becoming more difficult to collect – water shortages in these regions are a matter of life or death.
Partnering with the Development Office of the Eastern Africa Province our water appeal will address water shortages due to droughts and other climate challenges.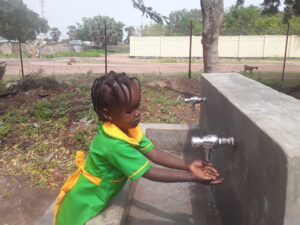 The appeal was focused on fundraising in Irish Jesuit Schools for life-saving water resources from village boreholes to school water tanks and the needed piping and drainage systems to harvest, irrigate and collect water.
On World Gratitude day, we want to take this moment to thank our supporters, especially the 'Jes' for coming out in force to support schools and communities overseas!
From Pilgrim walks and long hikes carrying jerrycans to school bake sales and sports, your fundraising events have made a huge impact and will give marginalised communities the gift of water which will improve the lives of people now and for future generations to come.
We are so excited to share updates of this amazing appeal – so watch this space!
From all of us at IJI – Thank you, Thank you, Thank you!