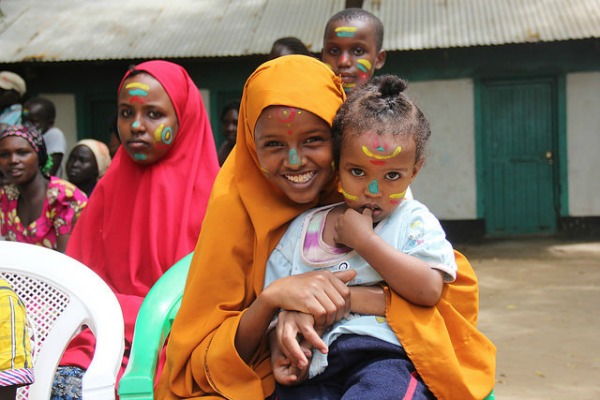 The JRS Safe Haven house dozens of children in need of protection and guidance in Kakuma refugee camp. (Angela Wells/JRS)
The sprawling refugee camp of Kakuma in Kenya is amongst the top 10 largest in the world. Children, teenagers, women and men can live there for many years. At the same time new asylum seekers, mostly from South Sudan, continue to arrive in great need of assistance. The Jesuit Refugee Service (JRS) is there on the ground to help.
Coping with ongoing and new needs
Kakuma residents sometimes feel trapped by their situations. They are people who have fled conflict, drought and oppressive political regimes. Those refugees who are living for a long time in Kakuma face disillusionment and are constantly in need of psychosocial support to enable them to deal positively with their situation.
Newly arrived refugees receive debriefing sessions, individual counseling sessions and group therapy to help them cope with the unfamiliar circumstances they find themselves in. JRS offers them new skills in safe environments through a range of educational, recreational activities and psychosocial counseling.
Acquiring new skills in Safe Havens
Particular aspects of JRS' work are caring for people with special needs and those who are survivors of sexual violence—usually involving wife battery, assault, abduction or early marriages.
Temporary protection of women and children who are vulnerable to danger and exploitation is provided in the Safe Haven shelters.
Acquiring new skills means going back to formal schooling and literacy classes and also engaging in counseling and healing art therapies to come to terms with painful pasts and move on to positive futures.
These services have made an impact on the lives of the refugee community and greatly improved their physical and emotional wellbeing as a result.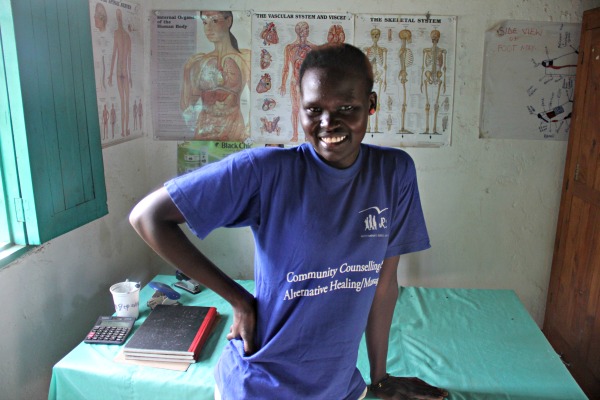 Kakuma refugee camp. (Angela Wells/Jesuit Refugee Service)
Fighting stigma: mental health challenges and disability
Improving the social, functional and cognitive skills for people living with mental and physical disabilities is a special focus.
Awareness raising on mental health issues and disabilities is an ongoing effort by JRS to promote understanding of others' conditions and is carried out within the camp schools and the wider refugee community. People of all ages with disabilities such as cerebral palsy, autism, visual or speech impairment and mental retardation can go unnoticed and are continuously being identified and registered so they and their families can access the support they need.
The Mental Health programme has been at the forefront in advocating for the rights of persons with mental health challenges and other forms of disabilities. As a result it is the most popular programme for persons with mental health issues. It has been fighting stigma against persons with mental health challenges and those with disabilities and
JRS reports there has been an increase in understanding and a reduction in stigma compared to previous years.
Children with special needs
Mental health training is offered to parents of children with disabilities. Children with special needs face a lot of challenges when it comes to accessing educational services within the camp. For example there is only one school that has special needs facilities to cater for children with hearing impairments. Children living with disability are sometimes neglected, receiving no education and are therefore a burden on their already struggling parents or guardians.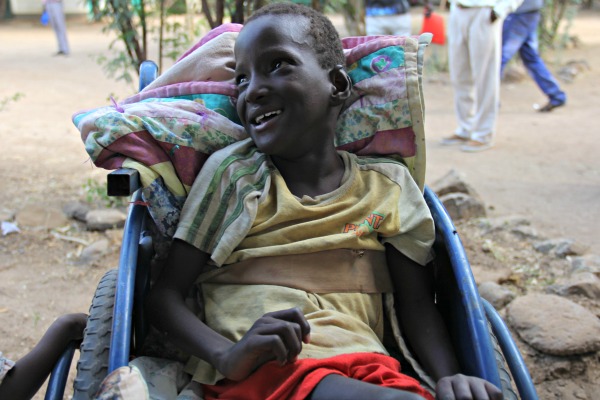 Kakuma refugee camp. (Angela Wells/Jesuit Refugee Service)
The yearning to affirm life
Despite the hardship experienced by refugees in Kakuma and the mounting challenges to JRS staff, there exists a strong will to live often with a determined hope for a better future.
These qualities were described as a 'yearning to affirm life' by Jenny Cafiso the then Director of Canadian Jesuits International, in an interview last year with the Irish Jesuit Missions.
While Jenny confirmed that it could be all too easy to allow discouragement to creep in, she recalled time spent with Libyan people in a refugee camp. There they told their stories: some had experienced real hardship, brutality, loss, conflict, and war.
When asked if they ever felt overwhelmed, despairing or even suicidal, the question took them by surprise. Their answer was a definite "No". Because as they explained, communities, families and parents are never alone and always have to take care of each other.
Jenny felt strongly that people, who have a right to be hopeless, don't succumb to it — such is their yearning to affirm life. She concluded: "If you want to see a hopeful vision of the future, ask the mothers of the children of war."
Irish Jesuit Missions and Misean Cara support JRS' works in Kakuma Refugee camp. You can too through the Mercy in Motion Education Campaign.
Author: Collated by IJM communications, 13th October 2016