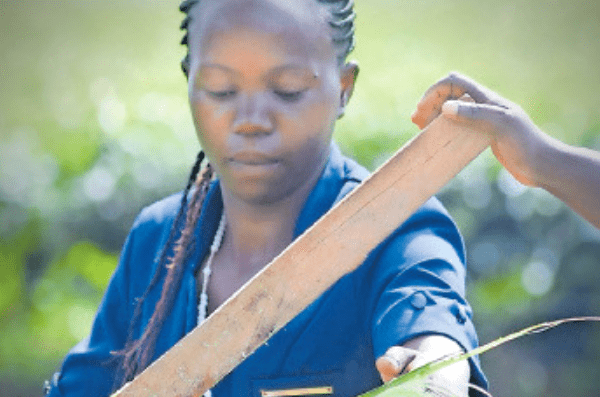 A young Kenyan woman who took part in a project run by the Jesuit Hakimani Centre in Nairobi has gone on to develop a unique and innovative business idea.
Assumpta Khasabuli makes hair extensions, braids and weaves from sisal, a natural fibre derived from plants. This biodegradable material which is usually used for making rope and matting is an environmentally-friendly alternative which could come to replace the synthetic weaves that women currently use.
She braids her own hair using the extensions, and says "I make my hair using the sisal hair extension and for over a year, I have never experienced hair loss. In fact the more one recycles the hair extension, the softer they become." The extensions are also less expensive than the synthetic versions, and Assumpta sells them locally to hairdressers and friends in Kakamega.
The Jesuit centre's 'Think Positively, Alternatives Exist' (TPAE) project focuses on poor and rural young people in Kenya who can't afford third-level education. The aim of the programme is to provide these young men and women with the knowledge and skills to create their own livelihoods. Instead of depending on formal employment, which is scarce, these young people learn leadership and management skills and become entrepreneurs who create and run their own businesses.
Last year, Assumpta topped a business incubation programme by Jesuit Hakimani Centre (JHC), beating the other 54 contestants to clinch the Sh100,000 prize. "The money boosted my business. I used it to buy raw materials, purchased dye and chemicals to smoothen the sisal fibre. I have also worked on the branding of the products." Immaculate Shakaba, a project officer at the centre says there is room to improve the sisal hair extensions. "When we took the youth through incubation, we challenged them to come up with unique idea. Assumpta's idea stood out, but we are working on how to bring on board specialists in the beauty industry to advise on the improvement of the product."
Assumpta's story has been getting a lot of attention in Kenya. It was featured on KTN News on 9th May, 2019 and also made the national press, in an agriculture pull-out magazine called "Seeds of Gold" in the Daily Nation on 25th May, 2019. When she showcased her idea at the Regional Exhibition of haircare company Darling Kenya, who are experts in quality hairstyles and extensions, Assumpta was contacted by the company's Corporate Social Responsibility (CSR) Manager about a possible investment by the company in her product. She has also been shortlisted to appear on Lions' Den Season 4 (the Kenyan equivalent to Dragons' Den). If Assumpta can convince the judges to invest in her business ideas she will benefit from mentorship, seed capital, business loans and corporate partnerships which would add immense value to her enterprise.
The success she has had so far because of her innovation means that Assumpta, who is the sole bread winner for her family, is now able to support them. The project has also created employment opportunities for at least five people in her village. We wish her continued success.
Jesuit Missions Communications, July 2019
(Photo: Elizabeth Ojina | NMG)