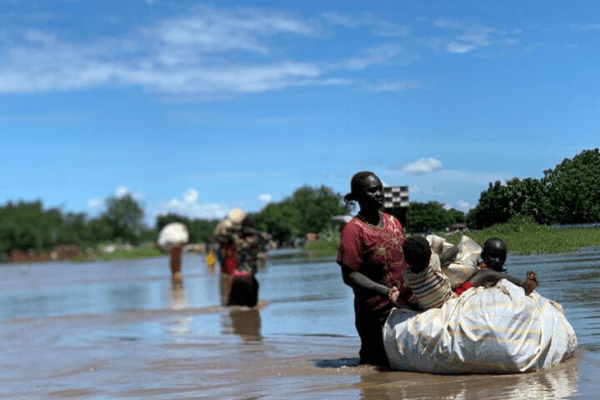 Thousands of people, such as this mother and her children, have been forced to seek higher ground. Photo: Jesuit Refugee Service
The response to our emergency appeal for the flooding in South Sudan was overwhelming. Tony O'Riordan SJ and JRS are very grateful for the support.
Devastating flash floods displaced hundreds of thousands of people in South Sudan earlier this year, putting lives in danger and cutting people off cut off from food and shelter. The situation is now improving. Your generous donations have helped significantly but the destruction caused by this crisis will not be fully resolved for a long time.
Heaviest rain in forty years
In October [2019], heavy rains which were said to be the worst in forty years led to flooding in Maban, and much of the surrounding region of Bunj was submerged. At 2am one morning the waters entered the Jesuit Refugee Service compound, flooding the classrooms and student sleeping areas. The water affected movement around Maban and left people stranded. Humanitarian activity in the region was curtailed as all refugee camps were cut off due to sections of the access roads becoming too dangerous to cross. The airstrip was also under water affecting the transport of food and essential supplies to the region, and UN aid vehicles were unable to reach refugee camps as roads were impassable.
The JRS team and students of the centre were working together to overcome the challenges this presented. Refugee students were staying in the JRS compound until the road was made safe, along with local staff members who were displaced.
Situation becomes an emergency
A few days later, the situation had significantly worsened as more rain had fallen. Water levels in the Jesuit Refugee Service (JRS) compound were more than a metre high, meaning that the premises and all vehicles were beyond use. O'Riordan reported that land in the immediate vicinity of the compound was "a disaster zone", and an emergency was declared. The humanitarian crisis deepened as thousands of displaced people looked for any high ground or patches of dry land to escape to, while aid in the region was badly affected as NGOs evacuated their staff for safety.
Climate change effects
The effects of climate breakdown are increasingly evident in South Sudan, with extreme weather events, and irregular rainfall patterns causing droughts and flooding. Due to the country's instability, poverty, low literacy rates and persistent food insecurity, the country and its people are very vulnerable to climate change. Because of a heavy dependence on agriculture, its livelihoods and food supply are particularly vulnerable to the effects of climate change and it is poorly equipped to cope with the chaos caused by crises like this one.
Refugee Community
Maban is close to the border with Sudan, and has hosted refugees since before South Sudan gained independence in 2011. It is currently home to more than 150,000 refugees and internally displaced people. This population is heavily reliant on aid from humanitarian agencies and is extremely vulnerable. Jesuit Refugee Service in Maban runs teacher training, education and literacy programmes to enable people (from the refugee camps and the host community) to work towards self-reliance. It provides accommodation for students to make it possible for them to attend their classes. The flooding meant that the JRS compound was closed until significant repair work could be carried out.
This was the second time that classes have been disrupted and aid work halted in recent times. In July 2018, the compound was attacked and vandalised, causing serious security concerns and a loss of computers and exam results. Tony O'Riordan SJ stayed in Maban after the attack to ensure that the compound was made secure and classrooms were repaired so that the students could return as soon as possible. This time, he and seven JRS staff members remained in the compound to begin the restoration of the property. Other NGOs in the region have evacuated more than 100 staff members.
O'Riordan said of the flooding:
"It is overwhelming to see the scale of need, but what concerns me most is the terrible combination of flood, inaccessible populations, hunger, sickness and a reduced capacity to respond. However it is heartening to come from a meeting now with our local psychosocial staff, who are themselves affected badly by the flood but who are ready and willing (and eager) to go among the people in the name of JRS and listen, and do a needs assessment."
A lack of access to shelter and food, coupled with a looming sanitation crisis caused by the flooding, threatened thousands of people's lives. Donations from Irish Jesuit Missions supporters helped JRS to offer food and essential items to people at that critical time, and are being used to rebuild the infrastructure that was destroyed and the supplies that were lost to the water. Thank you to all of you who generously donated to this emergency campaign.
Update from Maban
Tony O'Riordan SJ has updated us on the situation from Maban and expressed his gratitude at the help he and the Jesuit Refugee Service have received.
"Our key priority has been to restore our full range of services following the flood of October 14. By mid-November we had all of our pre-flood services running, having made initial repairs to the compound and the Arrupe Learning Centre so that we could operate again. The biggest challenge we face is the condition of the road which is impeding mobility. Just last week, water levels rose enough to affect some stretches of road making some routine destinations difficult to reach.
We have been addressing the need for food, shelter and basic necessities among the host and refugee population. Food is being brought to remote villages which are still cut off and inaccessible to ordinary vehicles. We are distributing plastic sheeting to provide shelter and help people make repairs, and also giving out non-food essentials including soap and clothing.
Sincere thanks for the various contributions to our appeal following the floods. The solidarity and the practical support is very much valued."