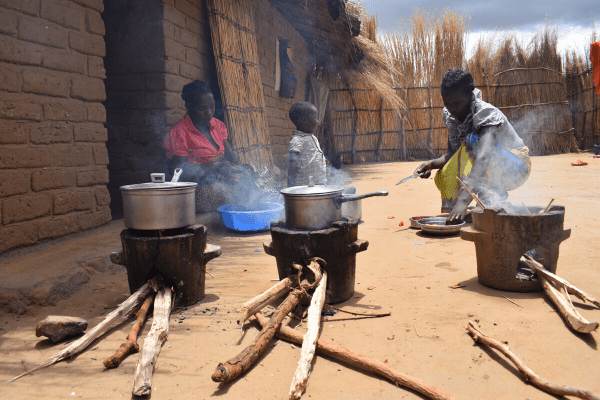 Martha Phiri, a Project Officer at the Jesuit Centre for Ecology and Development responsible for the promotion of the fuel-efficient ceramic cooking stoves says "The demand for ceramic cook stoves is overwhelming. Last year we distributed them to nearly 1300 households, and we plan to reach out to an additional 2500 households this year. This will just be a proportion of the existing demand in this area".
A ceramic cook stove uses less than 40% of the wood that is normally used by a three-stone fire to cook the same amount of food, and releases less far smoke as the wood burns. The stove also retains some heat after the wood burns out. Because of this, the stoves are wanted by all households in the area.
They are locally made by groups whom the JCED works with, who receive technical know-how on their production. The stoves are then purchased from the group and distributed to households in villages the JCED works in. The centre is currently training a new group is in how to make the stoves, which will provide them with an income and increase the number of stoves that are made and distributed in the region.
Queen Mwale is one of the people who received an energy-efficient cooking stove from the JCED in Kasungu, Malawi.
"Since I started using chitetezo mbaula (cooking stove) for cooking and heating, my family no longer suffers from respiratory diseases due to the inhalation of excess fumes from a three-stone fireplace. The same quantity of firewood I could use for two days, I now use it for a week. I have more time to care for my family and take part in economic activities and my children have more time to do their school work. Thank you to the Jesuits for giving life to my family".
Adrian Makasa Chikwamo, SJ, the Director of the Jesuit Centre for Ecology and Development, reports:
"We are translating the Jesuits' Universal Apostolic Principles into real life experiences for the communities we work with by providing them with an efficient energy source for household cooking, which preserves trees and forests and protects the natural environment".
The Jesuit Centre for Ecology and Development is grateful to its partners on this mission, especially the Irish Jesuit Missions in Dublin.
Author: Martha Phiri is Field Officer for Energy at JCED, Malawi