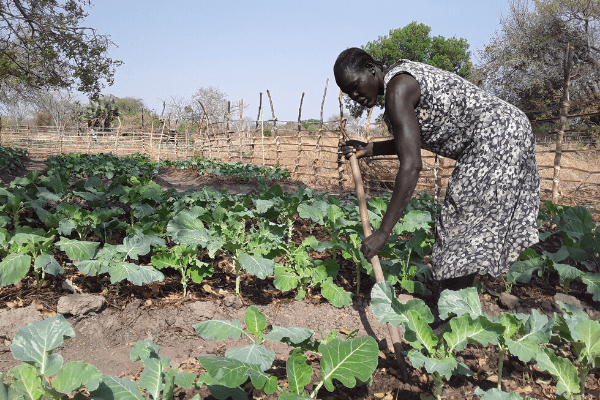 This precarious situation and the long history of war and conflict inspired the Society of Jesus in Eastern Africa in 2010 to open a new project to empower South Sudanese people to be self-reliant. The Multi-Educational and Agricultural Jesuit Institute of South Sudan (MAJIS), which runs short courses on sustainable agriculture with a special focus on vegetable production, beekeeping, poultry production, animal husbandry and agro-forestry, is one such project.
Hundreds of people, the majority of them women, have graduated from the courses, but face the challenge of inadequate water and safe plots of land to apply the agricultural knowledge and skills they have learned. MAJIS offers some of the graduates or participants of the courses plots of land within the boundaries of our farm, where they can access to water, as well as closer supervision and accompaniment from the programme officers. Other graduates or participants from neighbouring villages have been organised in groups of 35, which form outreach programmes. Each one operates within a piece of land that is donated and owned by the local community. MAJIS supports each group by drilling a borehole for each them to provide water, as well as seeds, expertise and tools.
In 2019, 148 people graduated from the MAJIS short courses; 108 were women, and 67 of these widows. These graduates are now managing their own plots where they are producing vegetables as well as keeping chicken, bees and farm animals. For many women in the programme, MAJIS has lifted their living standard by offering them an alternative to dependence on food aid. As people dependent on pastoralism, in an era of cattle-rustling and climate change, having a reliable income-generating activity cushions them from starvation. And for many widows in the group, who do not have a husband to provide for them, the programme helps them to support their children. Income from the produce helps these people to afford basic necessities such as food, medication, clothing and school fees for their school-going children.
Ayieda Turdit Magok, one of the women who graduated from a vegetable production course and now manages her own plot says
"MAJIS program has benefited me a lot. I make 3,000 South Sudanese pounds a week (equivalent to 11 US Dollars). With this money, I'm able to send my children to school, buy them food and cloths, and treat them when they fall sick. In November last year, I managed to buy one goat, this is a great saving for me as I can sell it in case I encounter a great need in the future. I feel this program has changed my life and the life of my children."
Social Support Systems
Interacting during the trainings and working together as groups, either while digging or watering crops, helps women in the groups to build social support systems. I occasionally find our them sitting together after work or around the hand-pump when fetching water to share their joys and hopes, and the griefs and anxieties of living in South Sudan. When I listen to their sharing, I often appreciate how these groups help them to make friends among themselves that can bolster them emotionally especially when they are feeling down or overwhelmed by stress or loss. Other practical benefits of this dimension of MAJIS programs include creating forums for comforting and enhancing feelings of security and family.
This supportive relationship also enhances opportunities and social networks through which MAJIS has been able to help the local community and government to think through alternatives on how to solve problems affecting the people in Rumbek.
Author: Augostine Edan Ekeno SJ, is the Director of MAJIS. March 2020