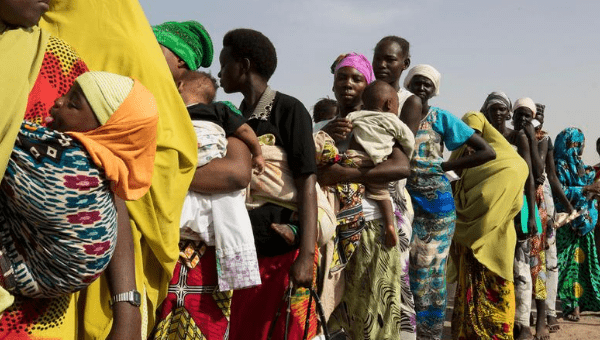 Refugees and asylum-seekers are people who have endured the trauma of being forced to leave their home and travel long distances to find a safe place to live. This stress, combined with the many other challenges they face, takes a toll on their psychological and emotional health.
To enable JRS staff to help the refugee community to process their trauma, they were trained in skills including child-friendly interviewing and counselling techniques.
Kakuma camp is located on the outskirts of Kakuma town, in northwestern Turkana County, Kenya. The camp surpassed its capacity by more than 50,000 people, after an influx of new arrivals in 2014. Following negotiations between UNHCR, the National Government, the County Government of Turkana and the host community, land for a new settlement was identified in Kalobeyei, 20km from Kakuma town.
Today, Kakuma camp and Kalobeyei Integrated Settlement have a population of 196,050 registered refugees and asylum-seekers. JRS has set up an additional centre at Kalobeyei offering psychosocial support and complementary healing.
Covid-19 Pandemic
Earlier this year, JRS received emergency funding from Misean Cara through Irish Jesuit Missions to help JRS prepare for the Covid-19 pandemic. Funding helped to provide essential food supplies for the refugees – staples like maize, vegetables, fruit and meat – to prevent the most immediate cause of illness, undernourishment. To date, there have been no reports of Covid-19 infection within the camp, but the number of cases in Kenya continues to rise.
Safe Haven
On average, a refugee is expected to stay in the Safe Haven for a maximum of six months during which time it is expected that a permanent solution to the problem faced will have been put in place. But depending on the severity of the particular case – such as threats of murder by family – the person will sometimes need to stay in the Safe Haven for longer, as there is not always a safe place to discharge them to.
As well as coping with the psychological and social problems within the refugee community, the JRS team was also faced with cases of suicide and attempted suicide by refugees; which was overwhelming given the capacity of the team. The risk was mitigated through partnership with other agencies for referral of people who needed medical attention and training was given on suicide prevention and intervention. JRS now seeks to increase its number of trained counselling psychologists to support more interventions and save additional lives.
Benefits to the Kakuma Residents
The complementary healing services that were added to the counselling service made a great impact on the community, who benefitted from both services. It was observed that the results of therapy were felt much sooner and with increased positive results. Training provided throughout the life of the project has had a positive impact on JRS staff as well as the community. As a result, those attending counselling services experience improved coping strategies and wellbeing. Having a team of two social workers under the Safe Haven programme boosted the services offered to the residents and the community. More cases of sex- and gender-based violence were assessed and referred for services in the community. The programme conducted 12 awareness campaigns in the community on gender-based violence, informing the community on the forms it takes, reporting mechanisms, and how to cope as survivors.
Within the safe haven, the residents were trained on self-awareness, empowerment, peer to peer relationships among the teenagers and parental skills. The project offers HIV/AIDs training to women and girls housed at the safe haven. Most women and girls who experience gender based violence end up acquiring other health complications including sexually transmitted infections including HIV/AIDS that require specialised medication, or have serious injuries (wounds). Art/play therapy and the counselling that is offered to children and adults respectively, has helped them to process and heal from the trauma they have endured.
The structured activities offered at the safe shelters including adult literacy, tailoring, hairdressing, baking and mat weaving has improved the residents' potential to converse in the official Kenyan language and acquire skills that will be beneficial in the community by being useful to earn an income and move towards self-reliance. The project has also impacted communities through reduction of stigma towards disability. Residents of the camp now show a great deal of acceptance towards people with disabilities and parents of children with special needs have reported that their neighbourhoods have learnt to embrace their children and to treat them with compassion.
Paula's Story
Paula* is a 17-year-old girl from Southern Sudan. She was referred to Safe Haven by a child protection service. Her uncle wanted to forcefully marry her to his friend whom he collected a dowry from in Sudan. Before she was admitted to the shelter with her sister, she was moving from house to house but could not get a foster family due to the constant threats and attacks from her uncle, who was using his networks in the camp to intimidate her.
Despite these challenges, last year Paula was awarded Windle Trust International scholarship for getting the highest marks in the 2018 Kenya Certificate Primary Education (KCPE). Safe Haven gave her access to psychosocial services and physical security. She is now progressing well in her studies and other extra-curricular activities. Her performance and discipline in school is so outstanding that it has drawn a lot of admiration from her peers and teachers.
The Safe Haven programme has equipped Paula's elder sister with livelihood skills including hairdressing and tailoring. Her sister who is the household representative is talented and creative in the various structured activities. She has used her skills to make bags that are for sale in its tailoring shop.
Paula's interaction with other teenagers in the centre who are in similar circumstances has strengthened her and helped in her recovery journey. She would like to reach a higher educational level and hopes to become a doctor. In future, she hopes that peace will be restored in her country so that people can live there without fear.
Funding and Ethos
The Kakuma Camp Psychosocial Support project has been funded by Misean Cara and IJM, with additional funding from BPRM and Xavier Network members.
The project reflects the missionary approach to humanitarian work in several ways. The principles of the Jesuit ethos and of 'cura personalis' – caring for the whole person – were implemented throughout. Staff put an emphasis on understanding the background of each person as well as their strengths and limitations to forge trusting relationships. As such, service was offered without discrimination with the acceptance of others as they are while serving with love.
*name changed to protect her identity