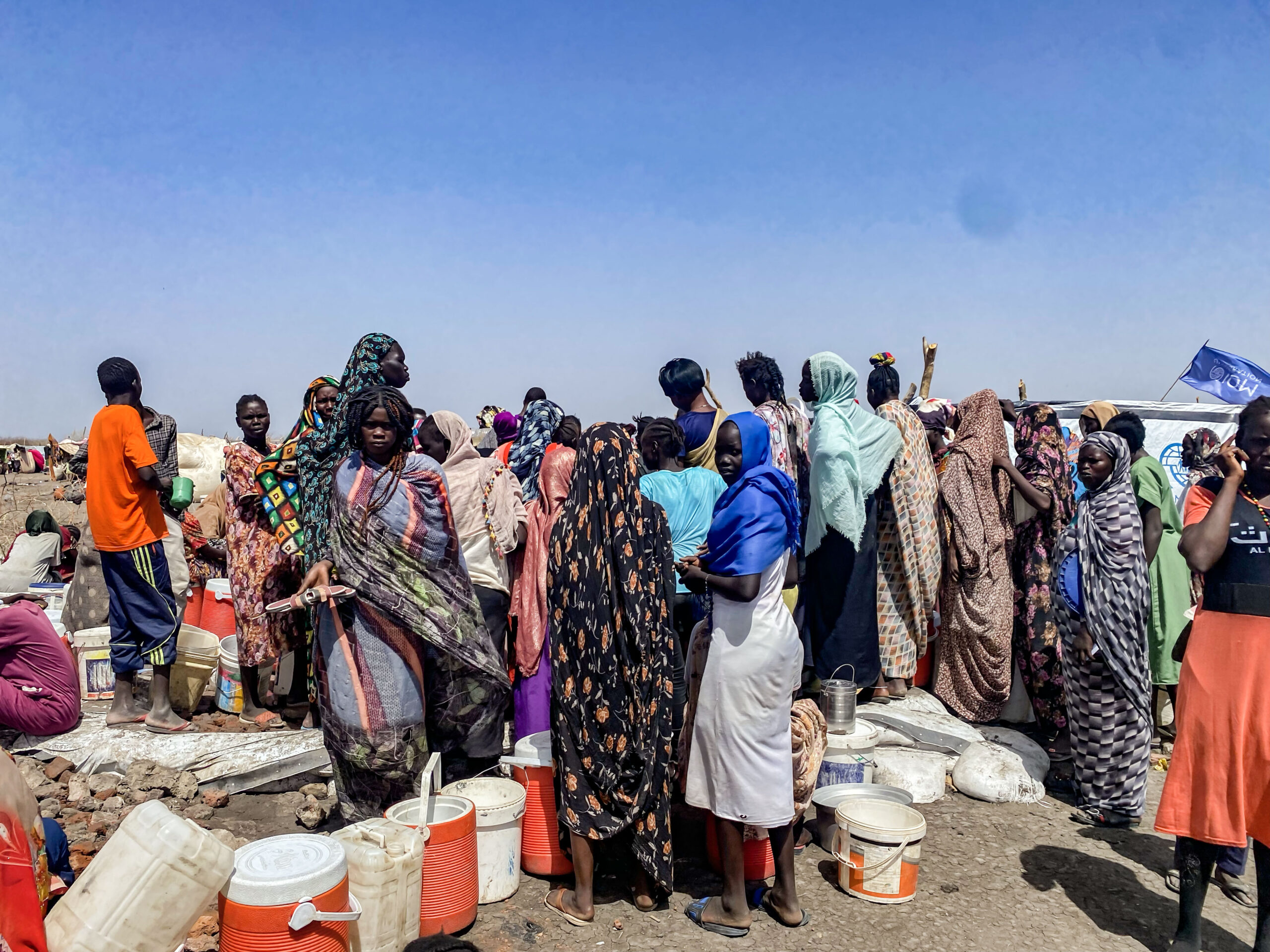 This Word Refugee Day, here at IJI we wish to amplify the voices of those in turmoil, as violence continues to spread across Sudan forcing thousands to flee their homes crossing borders into South Sudan as well as neighbouring Egypt, Ethiopia and Chad.
According to the IOM (International Organisation for Migration), the conflict has led to the displacement of more than one million people inside the country, the vast majority of whom are women and children.
The conflict as well as causing mass displacement has also put hundreds of families' at risk of hunger due to food shortages and soaring prices making it even more difficult for civilians to access sufficient food in addition to lack of access to safe drinking water increasing vulnerability even further.
As you can imagine, as unrest continues, the lives and futures of children are put in jeopardy as schools are forced to close and the education of thousands of children and young people is placed on hold impacting not only their future development in the long term but their emotional and social wellbeing also.
The health sector has also seen disruptions in services, with health centres close to combat zones facing attacks on facilities. Meanwhile, hospitals that continue to operate are only treating emergency cases.
At IJI our thoughts and prayers are with the people of Sudan and thousands of refugees doing their best to survive.
Working to support our peers at the Jesuit Refugee Service (JRS) in South Sudan – the teams across the country north at the border are accompanying refugees through a number of actions, from distribution of basic necessities and psychosocial support to creating safe spaces for children and safe transport for resettlement and the referral of people in need of medical care and mental health services.
You can support this vital humanitarian work & help us accompany those in need.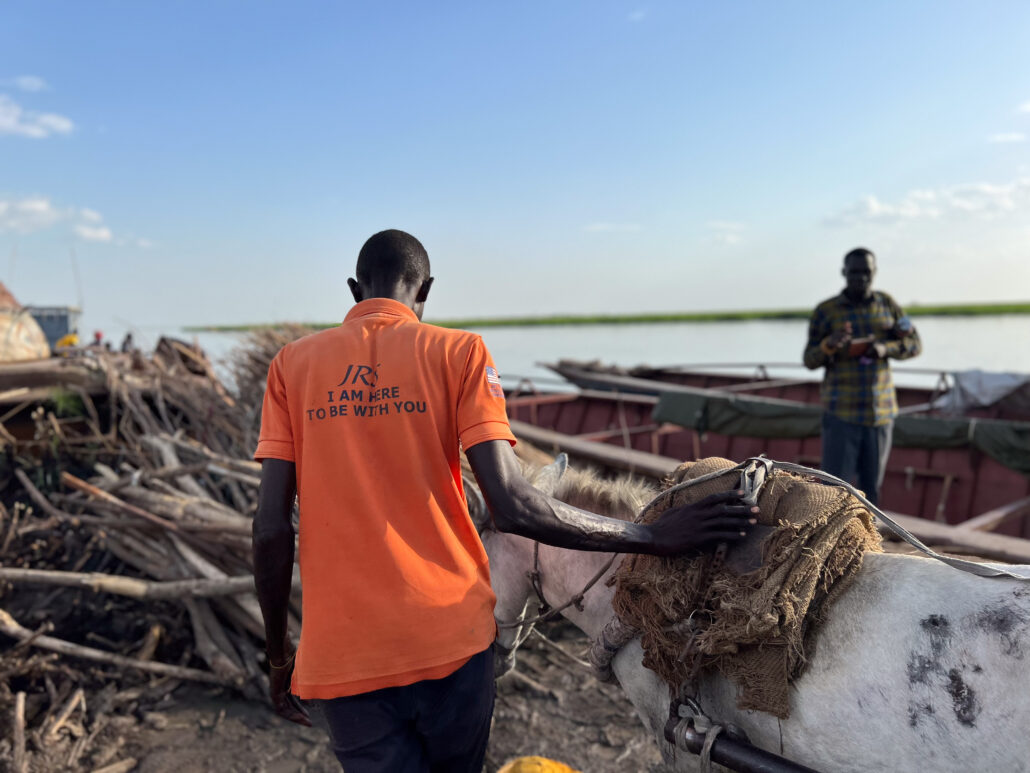 Below are testimonies from 3 refugees who had fled South to Renk, a town in South Sudan.
These are their stories.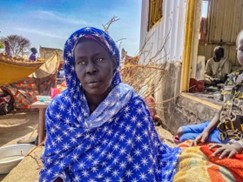 Madelaine Antonia (female, 39) Displaced person in Reception Centre.
Madelaine came with her sister, brother and her six children between 6 months to 24 years. A widow, she used to work selling chai in the street.
She was at home late April when she started hearing shouting and some noise. Around the corner from her home she saw three dead men on the ground. They had been shot. It was in that moment that she and her family decided to flee Sudan as violence escalated.
They left with nothing.
One of her children, who is 13 years old, is disabled due to a leg deformity. Meaning they could not start walking as many other people were doing. Madelaine went with her eldest daughter desperately looking for transport that could take all the family, leaving the rest of the children waiting at home.
After walking for 10 hours, they found a bus that could take them to the border, so they returned home gathered the children and left.
It took three days to arrive to the frontier, to Joda and as they travelled there she describes seeing lots of people running away. It was very frightening.
Although relieved to have crossed the border, Madelaine worries for her children as the journey has taken its toll on her family, many of her children have grown sick and she worries for them.
Speaking of her time in Joda, Madelaine explains how she still is fearful. Once she went to fetch water and some women attacked them and did not allow them to get the water they needed.
She wishes to leave South Sudan "There is no future here. I am alone with my children… this is not a safe country for us. I just want to leave. About Khartoum, I would like to go back… but we need peace to come back first."
When asked about the future, she says she wishes for her children to go to school, to be safe, and build a future.
Mario Mabor (male, 52)
Mario was a refugee in Sudan. He is a teacher for children from ages 0 to 6. He also led a refugee-led organization, Artisan of Peace, focused on the use of drama and art for peace and reconciliation.
"I left because in Khartoum we had no more water, no food, no security, and no services".
They waited for two weeks locked at home in Khartoum expecting the violence to finish, but when they saw it was not reaching a clear end and that the basic needs provision was at risk, they decided to leave.
"There was army everywhere… the children were traumatized because of the sounds of the bullets". He explains that the children would not understand what was going on, and they kept asking. So he had to do his best to explain every day to the children what was happening in the country – but there was so much uncertainty.
"Since we could not go to work, we would not be getting paid. So, providing for our families was becoming every day more complicated."
In April when the violence broke out and the bombing started, Mario was at the school with his pupils. They kept the children in the school and as soon as they heard the gunshots stopped, they fled.
On their way to the border, he explains how they saw many militaries and paramilitaries all over the road. They even saw episodes of fighting between RSF and SAF. (For info on the conflict: here)
 He complains that government schools do not provide education for peace. "Children need it. Children need humanity." It is important to educate children about peace because "children are the generation of the future."
"In Sudan, Communities are divided based on tribalism. But when it comes to theatre/drama, they all come together."
"Sometimes, the oldest students have grievances that are not genuine, that are imposed by the community. We need to make sure the children learn the message of peace not to fall in these grievances."
About the situation in Renk, he complains that the conditions are not good. "People are fighting over water".
"We need to spread the message of peace. We need to work with them [the returnees in Renk], and offer music dancing and theatre to the children, the youth and the adults."
"An Artisan of Peace is the one who promoted life together, discussion, dialog, awareness raising… and it is key to include women. In our culture, if the woman is happy, the whole family is happy."
Joseph, (Male, 25)
Joseph is South Sudanese, is an actor and is one of Mario's students.
"Drama is good for bringing people together. For reconciliation. Peace is everything. Without peace, there is nothing."
He complains even in Renk, where people are running away from war, you encounter conflict and violence. While in Renk, he explains there was one big fight among two different communities that escalated very quickly and finished equally fast. In that moment of chaos, Joseph lost his youngest son and it took him more than one day to find him. "I am sad… I was so afraid for my boy"
"I hope I can continue doing my drama".
He says there is the need for such a project around the arts and peace, especially in Renk because needs are great and tensions can escalate at any moment.
When asked, what is an Artisan of Peace/a peace maker, he replied "is the one who makes people change their minds."