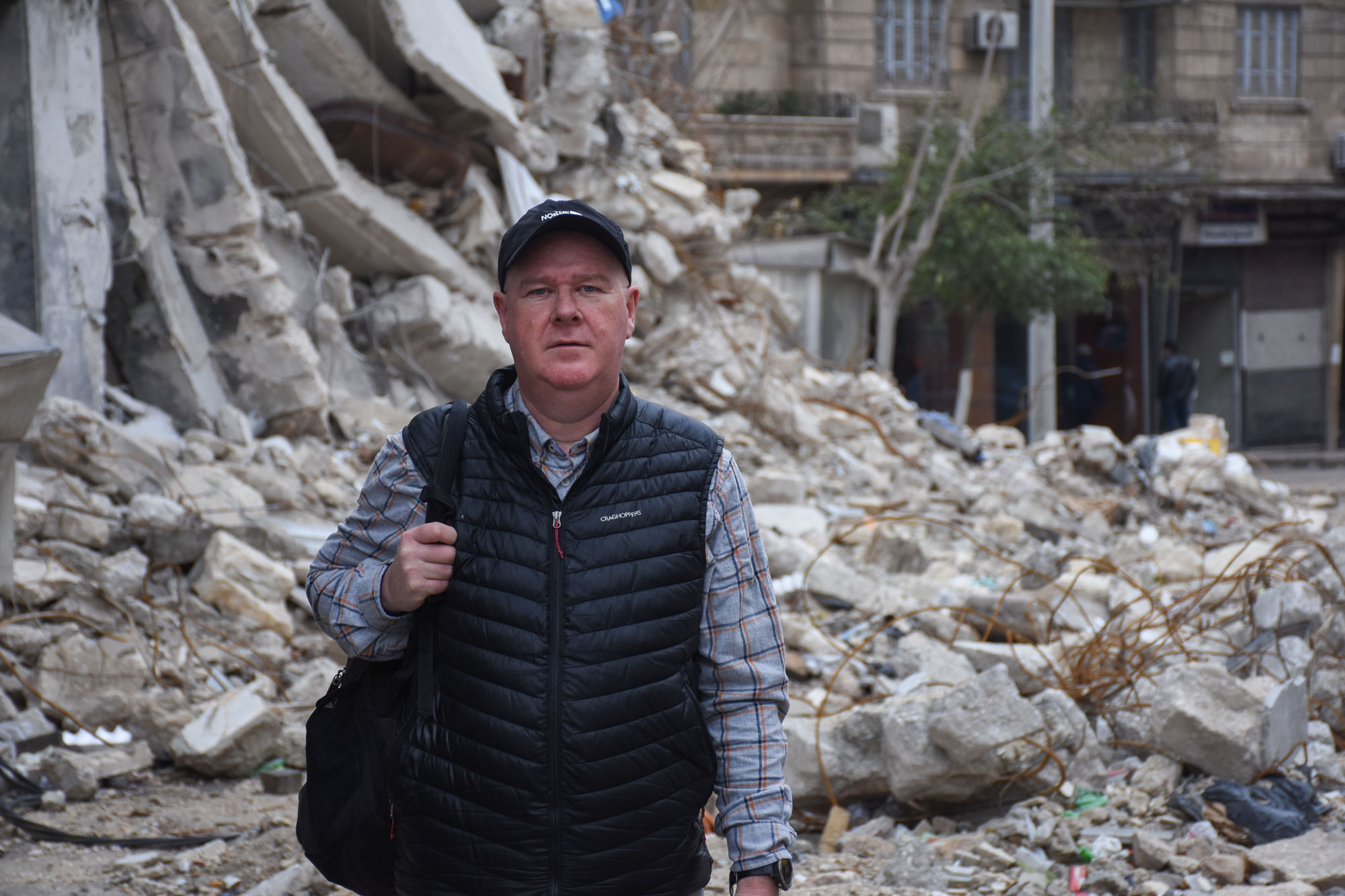 Six months ago, a 7.8 degree magnitude earthquake struck Syria, affecting tens of thousands in Homs, Al-Kafroun, Damascus
and Aleppo.
"The response of the people of Ireland to the Syria earthquake has been profound. This tragedy has resonated with our supporters more than anything I've seen before in my 15 years as Director at the IJI."
John K Guiney SJ
Our office has worked with other Jesuit NGOs and Mission Offices across the US, Canada, Europe and Australia in this crisis – yet the response from the Irish has far outweighed that of others. Jesuit Refugee Service (JRS) Syria has met half of the funds they need for the earthquake response. The needs are acute and are as basic as food, shelter, and warm clothes.
The people of Syria have suffered so much already, and the earthquake has left them re-traumatised and fragile. Life for so many families has been extremely tough, with the war, huge destruction, the lack of electricity and fuel to warm houses in a very cold city. Even before the earthquake happened in February, 61% of people in Aleppo were food insecure and access to non-food items like winter clothing and blankets were becoming inaccessible compared to previous years.
Our very own Tony O'Riordan SJ was in Syria at the time of the earthquake issuing warm clothes with the funds raised from our IJI Winter Appeal. That appeal saved the lives of many, as thousands were forced to face the elements in the aftermath of the earthquake as many buildings, homes and infrastructure collapsed. One mother, who was forced to sleep outdoors, thanked God for JRS, saying: 'God sent you to us, your warm clothes for my children came at the time I most needed them.'
Cork man, Tony, is leading the JRS Syria earthquake response on the ground, accompanying survivors and providing immediate needs of food, warmth and counselling. With your support, JRS Syria has been able to:
Accompany 40,000 Syrian children, women and men.
Provide 10,963 medical consultations in gynaecology, paediatric and general practice and the JRS Health Centres in Eastern Aleppo.
Distribute food parcels to 7,800 families which are designed to support family meals for 25 days.
Provide 2,000 children and 6,800 adults with Psychological First Aid
Provide 500 people with individual psychosocial sessions
Provide 7,000 people with Earthquake Safety Information
Continue the afterschool program and provide a safe space for children.
Tony's team in Syria are now conducting phase two of the emergency response which is around food shortages and providing families with supplies to sustain them for one month. The response of JRS Syria is focused on Aleppo city – one of the worst impacted areas, but the team is also working with families who fled Homs and surrounding towns as well as those displaced in Damascus.
The work and compassion of JRS has been astounding as the team has rallied to support families in desperate need and we have been so moved by the immense support from all our friends, supporters & donors.
"Sharing photographs of people in Ireland hosting bake sales, coffee mornings, sales of work, has brought tears to the eyes of many Syrians we serve – it has let them know Ireland is thinking of them – that the people of Ireland have not forgotten the hardship lived day in day out by those in Syria."
Tony O'Riordan SJ.
THANK YOU
Your generosity in supporting our Syrian Earthquake appeal has brought hope to people's lives and made a massive difference. So, from Tony and all the team at IJI we want to give a massive THANK YOU to everyone!
From the knitters, the bakers, the quizzers and card players to parish collections and many school and sponsored events – it has been amazing to see so many men & women for others in action!
If you would like to support Tony and the JRS team as they continue to protect and support the lives of grieving families, please donate by clicking the link below. Thank You.