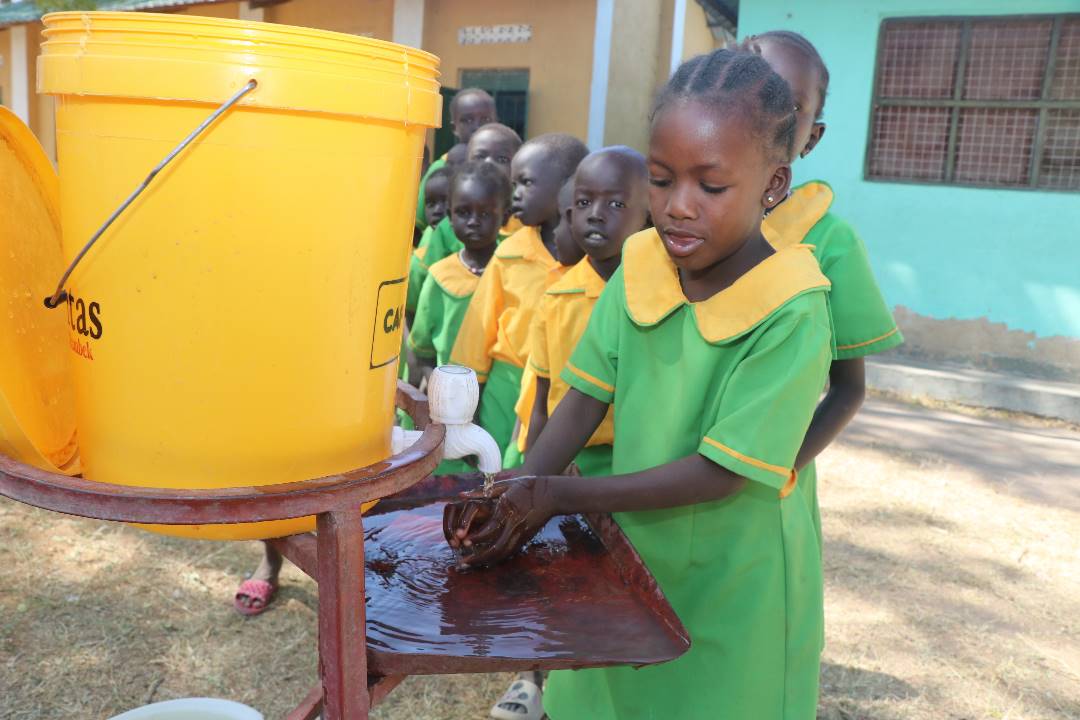 The East African region is faced with an urgent need to address the effects of climate change as extreme weather brings long periods of drought and flash flooding that ruins water sources.
Water shortages are having devastating effect on pastoral and farming communities, with the United Nations warning that more people could face starvation unless humanitarian interventions and climate adaptation measures are taken. Rainfall is less than normal, stream flows decline, water levels in lakes and reservoirs are falling, and available safe and clean water is becoming more difficult to collect.
The Development Office of the Eastern Africa Province is attempting to address water shortages caused by droughts, by exploring solutions such as rainwater harvesting to provide a sustainable source of water for communities in Ethiopia, Kenya and South Sudan.
Our water appeal was focused on fundraising in Irish Jesuit Schools for life-saving water resources from village boreholes to school water tanks and the needed piping and drainage systems to harvest, irrigate and collect water. The 'Jes' came out in force to support schools and communities overseas!
We have been so moved by the support and solidarity from all the Jesuit Schools across Ireland. From Pilgrim walks and long hikes carrying jerrycans to bake sales and sports, your fundraising events have made a huge impact and will give marginalised communities the gift of water which will improve the lives of people now and for future generations to come.
From all of us at IJI – Thank you, Thank you, Thank you!
Below is a letter from Fr Allan Ggita SJ, who is the director of Development for the Eastern Africa Province:
I am very grateful to the Irish Jesuits International (IJI) for supporting our works in the provision of much needed water facilities at our schools.

On World Water Day on 22nd March 2023, it was stated that, there are over 2 billion people living worldwide who don't have access to safe water. In many of the areas where we work this is a challenge faced by those we serve.

During the Covid-19 pandemic the need for water to promote handwashing and good hygiene was brought to the fore. Even before the Covid – 19 pandemic we have been working to supply and store water throughout our institutions in Eastern Africa. This has been particularly so in the educational establishments which we manage and run or support.

Back in 2020 with IJI support we ran the very successful "Tippy Tap Campaign". This ensured that handwashing facilities were made available to a number of our works in the province. Having such facilities near toilets/latrines and where people eat and the promotion of proper handwashing has gone a long way towards the reduction of infections and illnesses. Having such facilities in place is vital but so too is ensuring that there is a consistent supply of water for not just hygiene and sanitation but also other purposes.

In the majority of the places where we work there is minimal provision of water by local government authorities. This means that we need to rely on independent means of getting water. This includes rainwater harvesting, tanks for storage and the sinking of shallow wells or the drilling of boreholes.

Some of the places where we work are arid and semi-arid areas and prone to periods of drought. Loyola Secondary School in Wau is a school in such an area. It is vital therefore that when there are rains that there are facilities to harvest and tanks to store the rainwater and when there is no rainfall that there are other means of accessing water for drinking, cooking, washing and cleaning.

Our schools also look to see how they can impact positively on the environment through tree planting and also from a nutritional point of view through growing crops and vegetables. Water is needed to sustain these actions.

We would like very much to thank the students of the Irish Jesuit schools for embracing this campaign so wholeheartedly. Your solidarity and financial sacrifice will make a huge difference to the lives of the students at Loyola Secondary School in Wau in South Sudan, at Abey Mado School in Ethiopia and at St Joseph's Technical Secondary School and 3 local primary schools in Kangemi, Nairobi, Kenya.

May God Bless you and your families at this time.
Fr Allan Ggita, SJ