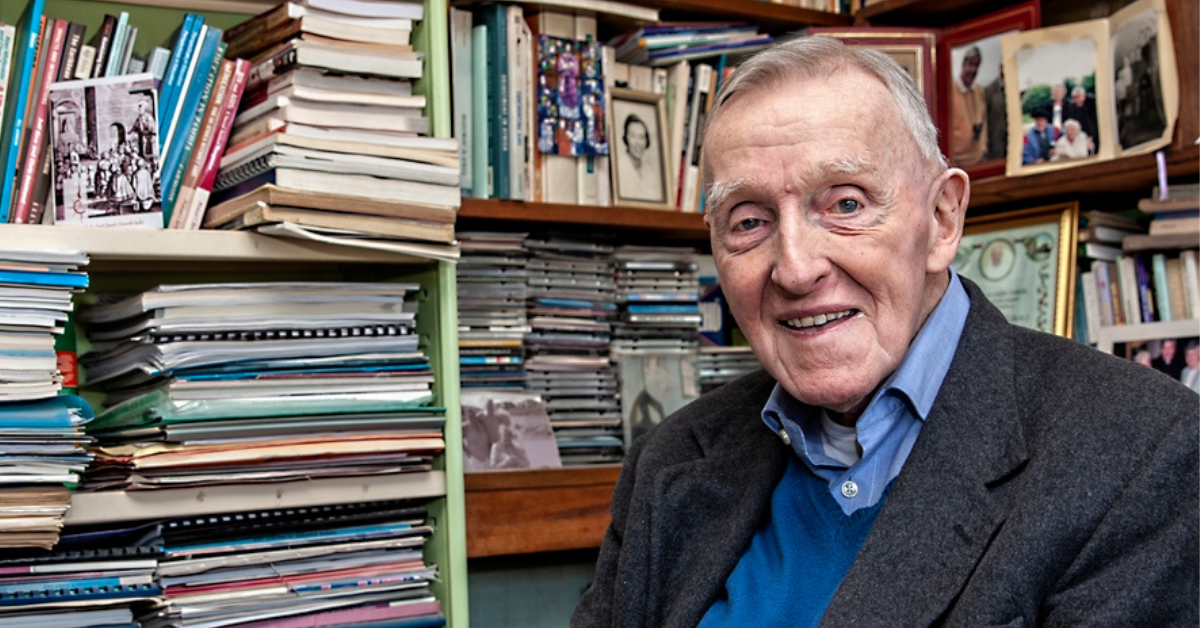 Tributes have poured in for Irish Jesuit, Michael J. Kelly SJ, who died peacefully on Friday, 15th January 2021 in Zambia, the country he had called home for most of his life. Fr Kelly was renowned worldwide as an educator and activist in HIV and AIDS, and received many accolades in his lifetime for his groundbreaking work.
President Michael D. Higgins called him "a true hero" and acknowledgements from others who knew him reveal a man who was not only pioneering in his vision, but humble, generous and kind.
Biography
Born in Tullamore, Co. Offaly, in 1929, Fr Kelly joined the Society of Jesus (Jesuits) in 1946 before going on to study Mathematics at UCD, graduating with an MA in Mathematical Science in 1952. Three years later, he departed Ireland for Northern Rhodesia, which would become the Republic of Zambia in 1964.
Fr Kelly's long and productive working life was primarily spent in Zambia in education, as a teacher and administrator at secondary and university level. He became a Zambian citizen in the 1960s, a decision he says he never regretted. He said of the Zambian people "I am deeply indebted to them for the sincerity with which they welcomed me into their lives and society." In later years, he was deeply saddened by the numbers of people who were dying because of the country's AIDS epidemic and vowed to address the problem, which is where he truly found his calling.
Extraordinary Positivity and Compassion
President Michael D. Higgins, who in 2012 presented Fr Kelly with the Presidential Distinguished Service Award for the Irish Abroad, paid tribute last week to his impact on healthcare in Zambia and across the globe.
"As an academic, writer and educator, Fr Michael made an immense contribution to improved health outcomes for many people in Sub-Saharan Africa. Through his work with Irish Aid and several multilateral organisations, he was an inspirational figure to health workers, aid workers, humanitarians and diplomats from Ireland, Zambia and beyond."
Like many others who have honoured him since his passing, President Higgins also remarked on the personal qualities and embodiment of the Jesuit ethos, which made Fr Kelly more than just an intellectual.
"Fr Michael was renowned, not only for his intellect, but for his extraordinary positivity and compassion. He epitomised the great work of Irish missionaries in the education and health spheres in so many parts of the world. His humanity shone through in his work and in his encounters with all who were fortunate enough to have met him."
The Presidential award was far from the only accolade that Fr Kelly received during his lifetime. He was honoured several times in Ireland, being awarded an Honorary Degree by University College Dublin in 2006, and also by the Royal College of Surgeons in Ireland (RCSI) in 2012.
Since 2006, Irish Aid has honoured his achievements and cemented his legacy through the Annual Father Michael Kelly Lecture, timed to coincide with World AIDS Day (1st December).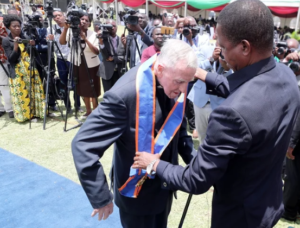 Zambia also recognised his tireless advocacy and education in the area of HIV/AIDS. In 2018, he was conferred with The Order of Distinguished Service by Zambian President Edgar Lungu, in State House, Lusaka.
A Wish to Die in Zambia
Irish Jesuit Provincial, Leonard Moloney SJ, recalled visiting Fr Kelly, whom he called "a simply outstanding Jesuit brother" in 2004 in Lusaka.
"I remember him bringing me to a care home for people with HIV/AIDS. It was a very moving experience. And I also remember his garden full of all sorts of fruits and vegetables, he was passionate about gardening and was a great gardener himself."
A more recent trip to Zambia with John Guiney SJ, Director of Irish Jesuits International, imbued Fr Moloney with the sense that Fr Kelly was at peace where he was. "I really had the sense that this was his home. I was right about that for he soon told me that he was not going back to Ireland and that he would like to die in Zambia. So I am glad at least that his wish was fulfilled today."
Pádraig Swan, Director of Faith and Service Programmes in Dublin's Belvedere College reflected on the years of connection that he and the college had with Fr Kelly and the other Irish Jesuits in Chikuni, Zambia. He said "Michael was a good friend and inspiration for me. He always enjoyed any visit we made to Luwisha House and my last visit was in May 2019 as part of the ongoing Frank Wafer project in Chikuni."
The two men were regular correspondents and had been in touch with each other just a few weeks ago, for Christmas. Pádraig shared their last exchange with us.
"As you can see from that mail he was up to speed with events in Europe and Ireland. I am heartened that he said he was doing 'better than any time during the past year'. I recall him telling me on my last visit in 2019, just after his 90th birthday, that he was still enjoying life and that God must have some plans for him that He allowed him live so long. He was very grateful for that long life and lived it to the full."
Irish Jesuits International board member, Kevin Carroll echoed this sentiment and recalled Fr Kelly's great humanity. He reflected that "Zambia had become his earthly home and he was greatly loved there. He radiated goodness, especially with his infectious smile and he saw the value in everyone, having that wonderful capacity to relate to people at all levels."
A Bit of a Feminist
In March 2020, Fr Kelly was honoured in Ireland by being featured on a postage stamp released in time for St Patrick's Day. The stamp was part of the 'Irish Abroad' series produced by An Post to celebrate the diaspora.
It was not the first time that he had been honoured as a distinguished member of the diaspora. In 2016 he was featured in the new EPIC museum in Dublin, an interactive showcase of the Irish abroad
He said of the inclusion, with typical good humour –  "The museum Director has informed me, as a matter of courtesy, that they are featuring my story in the visitor experience and will continue to do so for the coming ten years. I have no idea what aspects of my 'story' are touched on, but it is reassuring to know that at last I have found my proper niche – as a museum piece!"
On the commemorative stamp, Fr Kelly was featured between two Irish women – Mary Elmes, who died in 2002, and who saved the lives of hundreds of Jewish children in Paris during the second World War, and author Edna O'Brien. His juxtaposition beside O'Brien – whose Country Girls trilogy of novels was banned in the 1960s by the Irish censorship board and denounced by senior church and political figures – was surprising. But the writer and Fr Kelly, who described himself as "a bit of a feminist" shared a forward-looking approach and had more in common than might be first assumed.
"O'Brien and Kelly have lived on different continents but share at least two things in common; they've lived their lives on their own terms, and have had a remarkable impact on the lives of many others."
He told the Irish Times journalist that in his approach to tackling the devastating 1980s AIDS epidemic in Zambia, "It became fairly clear that if you are talking about prevention that you must also be talking about stopping infected semen reaching a woman, or infection from women reaching the man, and that, bluntly, meant condom use."
It was not the only time when Fr Kelly made thought-provoking statements. In 2020, he demonstrated that age had not tempered his pioneering spirit, telling a Zambian newspaper
"Yes, I did say that I looked forward to the day when we might have a female Pope. But I don't expect that I will live long enough to see that day! It will be a long time in coming, but I feel that it must come so that women – the other half of the human race – are duly recognised in the Church for the role they can play, no longer just as handmaidens and servants, but as full and equal ministers of God's word and of the sacraments."
As Pádraig Swan noted, "At his age he wasn't worried about offending anyone and he called it as he saw it."
Light Will Follow Darkness
As the Covid-19 pandemic began last year, and uncertainty and fear gripped the world, Fr Kelly remained upbeat and retained his ability to look to the future with hope. An article he wrote in March 2020 compared the pandemic restrictions and worry with the war, and felt assured that light would follow the darkness.
"As the poet Shelley said, "O Wind, if Winter comes, can Spring be far behind?"

At the time of writing, a long wet winter in Ireland has given way to a bright sun-filled spring. Just as surely, the dark uncertainty of the coronavirus pandemic will give way to health and well-being."
Sadly, Fr Kelly did not live to see the end of the pandemic or a return to health and wellbeing. The light to follow the darkness, for him, was at the end of his journey. Just last year he told a journalist he was "looking forward to going home. And by "home", he is not referring to his native country – Ireland – but to Heaven."
Fr Kelly was laid to rest in his beloved Zambia on the 18th January 2021. His funeral, a joyous celebration of his life, was livestreamed and watched by almost 400 people.
We will remember him through his groundbreaking AIDS work, which will remain as his legacy to the world, and also recall his smiling face and his words of wisdom. And as Winter once again turns into Spring, we will honour him by looking for the light in the darkness.
Ar dheis Dé go raibh a anam dílis.
Main photo courtesy of PL Curran.